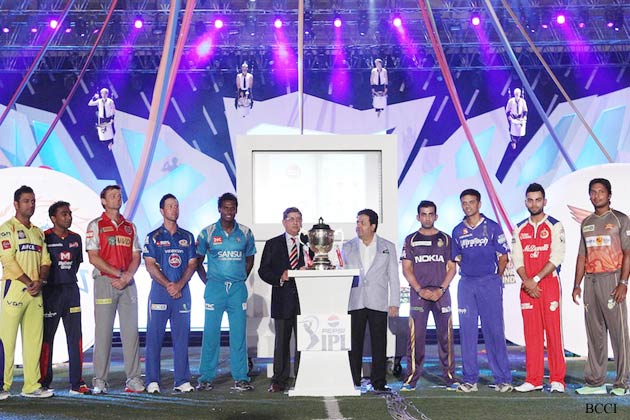 As the Sixth edition of the Indian Premier League kicks off, Cricketnext and IBNLive sports editor Jamie Alter joined IBNLive readers for an interaction on the cricketing side of the show.
Q. Sun risers the new team is mutation of Deccan Chargers. Will the change bring in better performance in them? Asked by: sundar1950in
A. I don't see Sunrisers doing much better than Deccan did in the last two seasons, largely because the squad is the same. The bowling support for Steyn is thin, and the batting is even weaker without Dhawan.
Q. Kerry packer, Lalit Modi, the game changers in Cricket have not had any grand recognition from the establishment,even the format stands accepted. Why? Asked by: sundar1950in
A. That's a good question. The cricket fraternity, largely the traditionalists, have always had seen such moguls and scions as threats. Perhaps its because they didn't have a direct connect with cricket before they threw money at it and started separate cricket leagues. Its not been the case in the West. Its definitely not an Indian mentality either. I think its largely because Packer and Modi came in with something different, which looked to break away and add some pizazz to cricket.
Q. Over the last 5 seasons, Mumbai Indians have always struggled with the opening combination, How do you think they will go about this time around? Asked by: Murali Mohan S
A. It could be a problem this time too. I'm not sure Ponting is the best option to open. Dwayne Smith is the next best bet, but he's too patchy and that also means Mumbai have to drop another overseas player. Their top four overseas stars would be Malinga, Pollard, Ponting and now that they've forked out a million bucks on him, Maxwell. Maybe Maxwell will open. There's also James Franklin. I would have someone like Rayudu open.
Q. Twenty twenty/IPL is a sport or entertainment? Asked by: sundar1950in
A. Sundar, its 'cricketainment'.
Q. Dear Jamie, Two things. Will the IPL performance Impact the future of Gambhir and Sehwag in International cricket? If yes how much? If they do well, will it ensure place in the team and if they fail again, is their intl cricketing career over? Asked by: Narayan
A. Tough to say, Narayan. Gambhir earned an ODI recall in 2008 due to his IPL success. There have been others too. Gambhir is still a part of the ODI team, so the focus would be on Sehwag. Can a strong IPL season get him back into the ODI squad for the ICC Champions Trophy and the tri-series in the West Indies? Sure. If it does not, I think it will be hard for Sehwag to come back into the ODI team. As for Tests, that's a long shot now.
Q. Chennai got undue advantage restricting SL palyers..MI has match winner Malinga..DD has jayawerdene..there absence may cost them the match and may affect the team which qaulify fot the palyoff.may be the match in chennai CSK can win because of Malinga absense and fail to qualify for last 4 and CSK can qualify..this is not good for spirit of the game..what you say Asked by: Mumbai Fan
A. It we're talking about one match, it won't be a big deal. The onus will be on teams playing in Chennai later in the league to do well before that, so that in case they stand to be significantly weakened before they play CSK in Chennai, they have a good footing on the points table. The crucial part will be in the knockouts.
Q. Why don't they market international cricket as much they do the IPL? Asked by: sohail
A. You can direct that question to the board presidents of the BCCI, CA, ECB and CSA, Sohail. As I see it, its just the shortest format that really sells right now. Apart from England where you get mostly full houses for Test cricket, and sometimes in South Africa and in Australia if a good team is touring at Boxing Day, you get poor crowd turnouts. People's attention spans are shorter today; they don't want to see so many draws. And there are so few gripping draws these days.
Q. CSK under DHONI will be in a better spirits due to Dhoni's recent performance as captain. will this give advantage to CSK where the team composition is different from that of an Indian team which succeeded against the OZ? Asked by: sundar1950in
A. Dhoni the IPL batsman and Dhoni the Test batsman are two different players. I dot think runs against a third rate Australia will affect how Dhoni does in the IPL.
Q. Mumbai Indians retaining most of their good players for last few sessions, at the same time other teams required to change their well performing players. Is it a good approach? Asked by: Mathew
A. CSK and Mumbai have retained largely the same nucleus. CSK have won the IPL twice, and made the knockouts every season, ending as runners-up twice. Mumbai have yet to win the IPL. So its not just about squad retention. Its so much more. Consistency, home-and-away success, team combinations, so name three.
Q. Who would be the Indian players to watch out for,as players for the future? Asked by: Narayan
A. Mandeep Singh, Iqbal Abdulla, Sachin Baby.
Q. Which team has the most balanced squad.. Asked by: Kajul
A. CSK.
Q. Most of the test playing nation have started circket league..Big bash, BPL,SLPL..carrabian crikcet league..why these league not geting much eye balls.. Asked by: Raj Kunderwar
A. Prize money, lack of clout, star power, and the BCCI's control.
Q. Opening ceremony didn't inspired much..lets see what IPL'13 hold for the audience in terms of excitement..which is team you are supporting.. Asked by: Kama
A. There's only one team I support during the IPL, Kama. That's my fantasy league team - CLR James. Do you play FL?
Q. RCB are having 14 pacers in their squad..what strategy do you feel they have with the bunch of pacers..are they trying to play 4 pacers per match and trying to bowl opposition out.. Asked by: Rohit
A. RCB bought seven players at the auction, out of which six are pace-bowling options: RP Singh, Moises Henriques, Jaydev Unadkat, Pankaj Singh, Ravi Rampaul, Dan Christian. With Zaheer as the bowling spearhead, they definitely are looking at more depth. Zaheer is aging and Vinay Kumar didn't do much in the past. Will they play four pacers? No.
Q. One word.. Which team is ur pick this season? Asked by: deepak krishnamurthy
A. To win the title? RCB.
Q. Chennai got a kind of advantage.SL players will not play in Chennai..with players like Malinga.jayawardene who can win matches on their own missing in Chepak..is this not out of spirit of the game..why chennai should be allowed to have advantage..they can win matches due to absence of key players from other team and go on to play the knockouts..there must be something for Chennai to balance this..they must be told to win to win at least 9 matches rather than 8 to qualify for playoff..what you say.. Asked by: Jiva
A. That won't happen, Jiva. Its totally unfair, I agree.
Q. Many countries have started their Leage...is cricket going the footbal way..palyers are interested in club games rather than national interest..many palyers are taking retirment from international cricket to prolomg their club carrier..why is this happening? Asked by: Arjun
A. There is much more to be made as a freelance Twenty20 cricket player. The latest is Owais Shah. The list is growing. I don't see anything wrong in it. Look at Pollard, he's purely a T20 player. He can't play Tests and in ODIs he's average. So let him become a T20 freelancer.
Q. With teams appointing overseas players as captain 1 place out of 4 for overseas player is blocked..with India player as captain team has 4 options to chose..how good is this strategy of appointing foreign player as captain.. Asked by: Anil dal
A. Maybe that is a genuine strategy. But when you look at the teams that have overseas captains - Angelo Mathews (Pune), Mahela Jayawardene (Delhi), Kumar Sangakkara (Hyderabad), Adam Gilchrist (Punjab), Ricky Ponting (Mumbai) - there are not really any great options apart from these. Tendulkar and Sehwag don't want to captain. Harbhajan was tried and Mumbai don't seem to have much faith. And there are no stand-out names in KXIP, Pune and Hyderabad. So I don't think its necessarily a strategy.
Q. Why is Laxman not selected in any team? Asked by: Siddharth
A. Because he's just not made for this format and he's injury-prone.
Q. Which is your favourite cricket format..Test, ODI or T20? Asked by: Amit
A. Tests with a capital T.
Q. RCB previously depended a lot on Gayle..do RCB has the fire power to lift the cup minus Gayel? Asked by: jatin
A. No other team is so singularly influenced by one man's success. RCB will struggle without Gayle.
Q. Hi Jamie, do you see Unmukt Chand as a potential player to win Young Indian Performer award this time? Who are the other players to watch? Asked by: yogran
A. Unmukt for sure, if he gets playing time. I've mentioned three more earlier in this chat.
Q. The craze of IPL is going down every year...it reflects in the viewer turnout in stadium..TRP's..Adds..will IPL survive in future.. Asked by: Komat
A. I hope not.
Q. Will IPL be a platform for return of Sehwag and Gambhir? Asked by: Siddharth
A. It could. I've addressed this earlier in the chat.
Q. What is the main issue with "strong" teams like Mumbai and Bangalore? Where do they lack exactly? Asked by: Yogesh
A. RCB lack bowlers, Mumbai lack a second reliable opener and a lead spinner.
Q. Do you think IPL has done more good to world cricket that bad ? Asked by: Siddharth
A. Good to the players, bad to the health of Test cricket.
Q. Can pointing take MI to IPL glory..after his international retirement he has flourished in the Australian tournaments.. Asked by: Kavi
A. Are you asking me if Ponting will be influential for Mumbai? As a batsman, not really. And as a captain, his success was largely due to the strength of the teams he led. He has limited T20 experience and in fact was not a keen member of the T20 fan club. He was rather bitter in 2009 about it. So to now see him being hailed as the man who could change Mumbai's fortunes is a bit surprising. I think he will find it hard to lead a squad as diverse as Mumbai.
Q. Home team are now will not have a say in the local pitch..how good is this..is it not good to have the home team decide the kind of pitch they want..this will really serve the purpose of home and away format..when team will have different wicket in different places to play..what your take? Asked by: Chondon
A. All this hardly matters in the IPL, Chondon. Its a hit and giggle format.