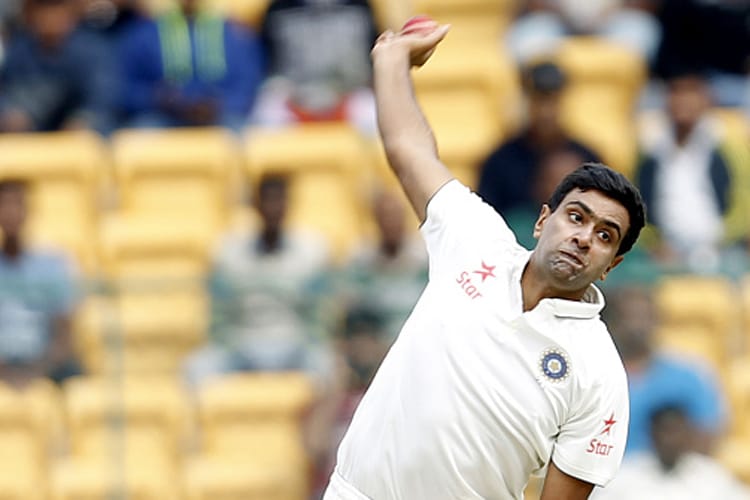 Former India cricketer Sanjay Manjrekar says variety in Ravichandran Ashwin's bowling stands him apart from his peers and the off-spinner can be useful for India in overseas conditions too.
Ashwin has emerged as one of the fastest wicket-taking bowler in Tests of late and his 169 wickets in just 31 Tests speaks volume of him. The Chennai bowler also turned out to be the turning point in the ongoing series against South Africa as his 24 wickets in three Tests powered India to a historic series victory over South Africa after 11 years.
He single-handedly broke the backbone of Proteas in the third Test in Nagpur, taking 12 wickets for just 98 runs.
Manjrekar sung praises for Ashwin in the post-match interview. "R. Ashwin was once again India's hero. He picked up 12 wickets in the match for just 98 runs. It was his 15th five-wicket haul in his short career and it is a remarkable feat," Manjrekar was quoted as saying by the BCCI TV.
Comparing Ashwin with his fellow spinners, Manjrekar said the former had the edge because of flight and guile in his bowling. "I think what separates Ashwin from Ravindra Jadeja and Amit Mishra is that Ashwin relies on flight and guile for his wickets. He even bowls slower with the new ball. Mishra and Jadeja don't beat the batsmen too often with flight, but look to exploit the pitch more."
Manjrekar said Ashwin has qualities of becoming a world-class bowler. "The way Ashwin is bowling is a very good sign for Indian cricket. He can be successful overseas too. His performance proves that he has become a world-class bowler."
In Nagpur, South Africa hit a new low as India bowled them out for 79 runs in the first inning and 185 in the second essay. South Africa lost the Test by 124 runs and series 2-0. Although South African batsmen were in tatters for most of the time, Manjrekar says they can take cue from the fact that Hashim Amla and Faf du Plessis showed resistance in unfavourable conditions and knitted 72 runs for the fifth-wicket stand.
"South Africa must get some credit for the way they fought on the third day. At one stage it looked like the match would be over by the lunch session but they stretched it to the final session. Hashim Amla and Faf du Plessis proved that if you trust your defence, don't panic and get some luck going your way, you can definitely bat for long hours on this (Nagpur) pitch. The two did stay for a long time, but found it difficult to score and that was a setback."
The fourth Test starts at the Ferozeshah Kotla ground in the Capital from Thursday. While India can aim at a clean sweep, South African can win the Test to salvage some pride.