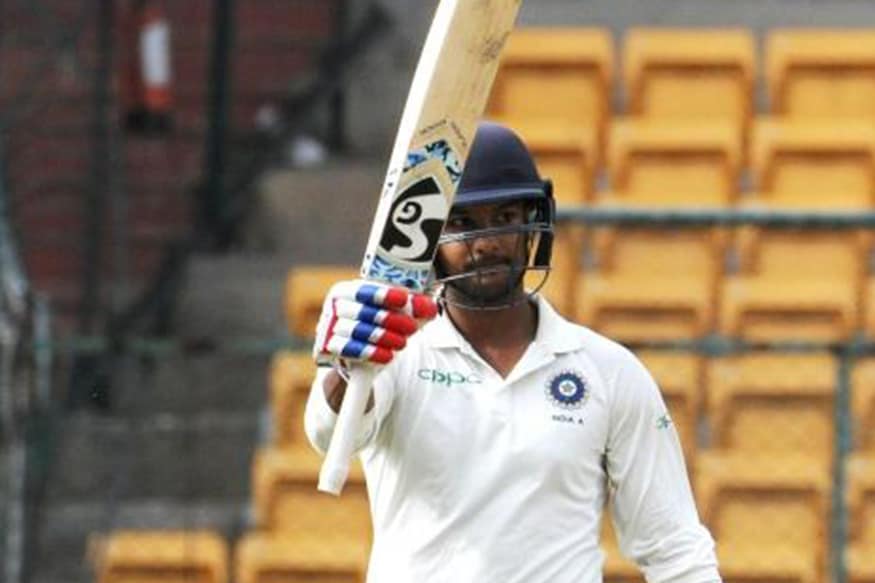 Despite scoring over 2,000 runs in the domestic circuit last season, Mayank Agarwal is yet to receive his maiden India call-up. However, the Karnataka star says that he is in a good state mentally and wants to keep on scoring runs.
Agarwal scored a record 1160 runs in 13 innings in Ranji Trophy 2017/18 and carried his sensational form over to Vijay Hazare Trophy, scoring 723 runs in eight innings for his team. The 27-year-old feels that he has been batting really well and wants to continue doing so wherever he plays and whichever jersey he dons.
"I think I am very happy with the progress. I am very happy with the way I am batting. I am in a great mind space and I want to continue batting and scoring runs," Agarwal told Firstpost.
"Scoring 2000 runs in a domestic season is not a joke. I am very, very happy with the way I am batting. Yes, I did not have a good IPL. I have to look at my performances as a whole season and not just one tournament. I cannot say that I need to do well only in this tournament. I understand that I have not done well in IPL but if I have to look at whole year, I think I am batting extremely well," he added.
Recently, Agarwal traveled to England with India A. He slammed two centuries in the one-day series but failed to carry the momentum over to the unofficial Tests against England Lions and West Indies 'A'. Calling the experience as a 'great exposure for him', Agarwal said that facing Duke balls in English conditions will acted as a learning curve for him.
"I think it was a fantastic tournament, we got to learn a lot. It was a great experience to play in England for the first time. It was great to play for the first time against the Dukes balls in English conditions. It gave us great exposure," Agarwal said.
"The challenge as a batsman was that you were never set. There is a lot of wind and the ball keeps moving almost all day long. And in a match, it is very important that when you are set, you take your team through. It is crucial because it is not easy for a new batsman going in to start hitting the ball from the word go. Facing the Dukes ball was a nice experience and a great challenge," he added.
Agarwal also jumped to the defence of his Karnataka teammate KL Rahul, who hasn't had a good time in the five-match Test series against England so far. In three Tests, Rahul has scores of 4 & 13, 8 & 10, 23 & 36. Calling him a 'fighter', Agarwal said that a big knock is 'just around the corner'.
"To be really honest, I am not too concerned about his batting as he has been batting well. I wish the best for him. I know KL is a fighter and a big score is just round the corner for him. The way he is batting and the mindset that he is in is great. He is adding a lot of value to the Indian team as a fielder as well," Agarwal said.