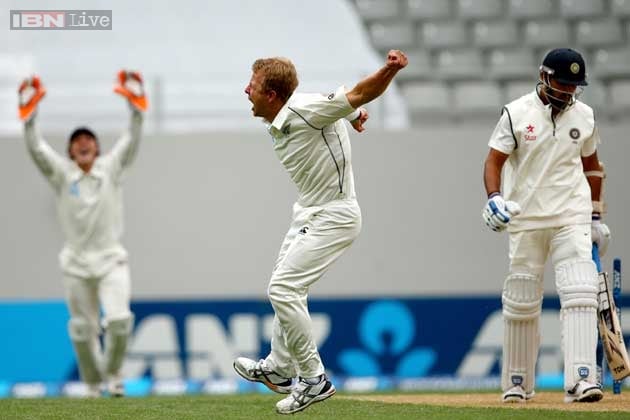 Auckland: New Zealand captain Brendon McCullum praised left arm pace bowler Neil Wagner for helping his side beat India by 40 runs in the first Test on Sunday even though he was named Man-of-the-Match for his first innings double century.
McCullum scored 224 in the first innings to anchor New Zealand's 501, which proved to be just enough as India's captain Mahendra Singh Dhoni had threatened to snatch a win with an aggressive approach after tea on the fourth day.
"Definitely nervous times, right the way through that run chase," McCullum said in a televised interview after India had been bowled out 366 while chasing 407 for victory.
"They acquitted themselves immensely well in that second innings and put us under an immense amount of pressure. I would have taken 400 as a run chase before the game started but today I wanted a few more in the bank when they started to put together the partnerships."
Wagner, however, took four wickets at crucial times on Sunday as the hosts dismissed India after tea on the fourth day at Eden Park.
"He hasn't had a lot of luck in the last 12 or 18 months in terms of getting wickets but I think he thoroughly deserved those wickets today," McCullum said.
"He probably turned the game. ... I think (his) performance typified everything that was going well for the side and I was delighted that he got some rewards."
India had looked to be in control of the match for much of Sunday as Virat Kohli and Shikhar Dhawan crafted a 126-run partnership that left them well placed after lunch to seal victory in the final session.
Wagner, however, dismissed Kohli for 67 then got Dhawan to nick behind to wicketkeeper BJ Watling for 115 before New Zealand took the second new ball just before tea and grabbed a wicket either side of the break to give them the upper hand.
"We lost wickets at crucial times," Dhoni said of his team's run chase. "When we got close to the new ball we lost a wicket then the new ball we lost a couple more, which made it tough for the rest of the batsmen."
FOLLOW ON
While McCullum praised Wagner, his double century set up their ability to attack the Indians when they batted, bowling the visitors out for 202 but he chose not to enforce the follow on, which caused debate amongst pundits and fans.
McCullum said the decision had been one he made with input from the bowlers and senior players in the team and one he realised many would have second-guessed had they lost the match.
"Everyone has their own opinions and at the end of the day you have to make a decision. You live and die by those decisions and thankfully we're living at the moment.
"But you have to continually back your instincts, get as much information as you can from your bowlers and your senior players but at the end you have to be the one who makes the decision.
"When they were sitting 220 for two or three the decision wasn't looking so good but we still managed to hang in there. To get a Test victory over this India team is no small achievement ... and one we will certainly remember for a long time."