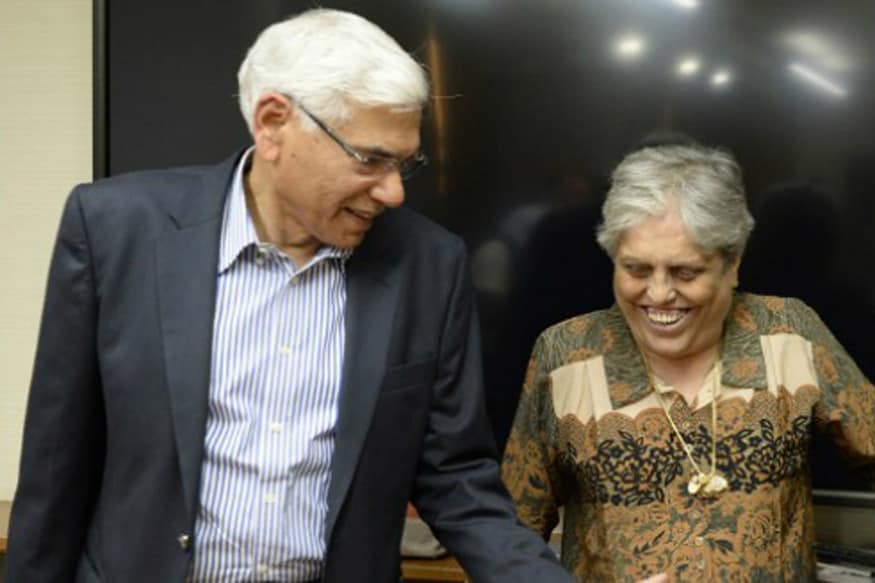 The dissonance, indeed acrimony, between Vinod Rai and Diana Edulji appears to well suit the great writer John le Carre's satirical observation that "a committee is an animal with four back legs".
The Supreme Court-appointed Committee of Administrators (COA), of which Rai and Edulji are remaining members, has run into its worst nightmare: it appears to have turned on itself. Apart from tarnishing their image, this has serious repercussions for Indian cricket.
Rai and Edulji have been pulling in opposite directions on the issue of selecting the coach for the women's cricket team after star player Mithali Raj sparked a major controversy, questioning Ramesh Powar's role and conduct during the World T20 in which she was kept out of the semi-final of the tournament.
A series of leaked mails, starting with Mithali's long tirade against Powar followed by those from others including captain Harmanpreet Kaur, vice-captain Smriti Mandhana and BCCI acting secretary Amitabh Choudhary not only riled the situation, but has showed up fissures between Rai and Edulji too.
Rai has now decided to appoint a three-member panel including Shanta Rangaswamy, Kapil Dev and Anshuman Gaekwad to select the coach. This sparked protest from Edulji, who claimed that nobody in the COA, which now has only two members, enjoyed veto power.
Rai and Edulji were both handpicked by the Supreme Court to ensure the reforms that were meant to improve the state of Indian cricket are smoothly implemented. While Rai enjoys a hefty reputation as a former bureacrat and is senior in age, Edulji is a former India captain, and the only cricketer in the committee, as was expressly mandated by the Supreme Court.
What caused the unrest between the two was Edulji coming out openly in support of Harmanpreet Kaur and Mandhana who have pitched for retaining Powar. But this was to reveal a deeper divide for it seems that she and Rai have been in disagreement on various issues in the past.
In her statements regarding the women's coach, Edulji raised the issue of the Indian men's team coach selection being influenced by the captain. In mid-2017, on Virat Kohli's insistence, Anil Kumble was removed as coach. Incidentally, she had been dead against this.
For a quick recap, Kohli fell out badly with Kumble and put up his objections to the authorities that run Indian currently, COA and BCCI. After some months of backroom maneuvering, Kohli's wishes were acceded to, a process for selecting a new coach was hurriedly put into place and Kumble was replaced by Ravi Shastri.
A testy Edulji has argued why, if the authorities (read Rai and BCCI CEO Rahul Johri) could agree with changing the coach on Kohli's insistence, they should now disregard what Harmanpreet says and wants?
The logic in this is undeniable, though Edulji perhaps could have handled the volatile situation with greater discretion and patience instead of jumping into the Harmanpreet-Mithali melee.
As part of the COA, it would have been prudent to hear out all sides before voicing her opinion. This could have given her more elbow room in negotiating with Rai and Johri, though even that is moot given that they clearly have not been on the same page for a long while now.
Edulji, it might be recalled, had also taken a very strong position on the allegations of sexual harassment against Johri. She wanted the BCCI CEO to demit office or be removed instantly. Rai appointed a three-member inquiry committee that ruled in Johri's favour, but Edulji remained unconvinced.
While there is obviously the immediate impact this bickering will have on women's cricket, what is also a concern are the ramifications this unsavoury squabbling between the COA members will have on the larger matter of Indian cricket.
A four-member panel when originally constituted almost two years back, the COA has whittled down to two. Historian Ramchandra Guha resigned barely six months after the committee came into existence, and banker Vikram Limaye not much after.
Since then, Rai and Edulji have been in charge in what's become a roller-coaster ride to implement the Justice Lodha recommendations assigned to the COA.
The `old guard' of the BCCI has been recalcitrant in accepting the changes, which has led to a cat-and-mouse game between various state associations and the COA over the past 18-20 months. Both sides have been beseeching the Supreme Court to intervene and resolve the issue, but the matter lingers.
The 10th status status report filed by the COA in October highlights that 17 state associations have been substantially compliant to the Lodha recommendations, 10 partially compliant, while 7 have been non-compliant.
What is significant is that almost two years of the COA being in existence, no association is yet totally compliant.
There are pros and cons to arguments on both sides, a few of which have been taken into cognizance by the apex court. But without speedy dispensation, the situation has become extremely politicised, and consequently, several controversies have been allowed to fester.
Having embarked on this exercise, it is now incumbent on the Supreme Court to resolve this deadlock as soon as possible and prevent it from becoming a total farce.
Justice Lodha, while clarifying in the media that there while there was no veto power for anybody in the COA, has chastised both Rai and Edulji for making a "spectacle of themselves."
This is scathing criticism of the COA's functioning. Rai and Edulji need to settle their differences, buckle down to the task that has already taken extraordinarily long.