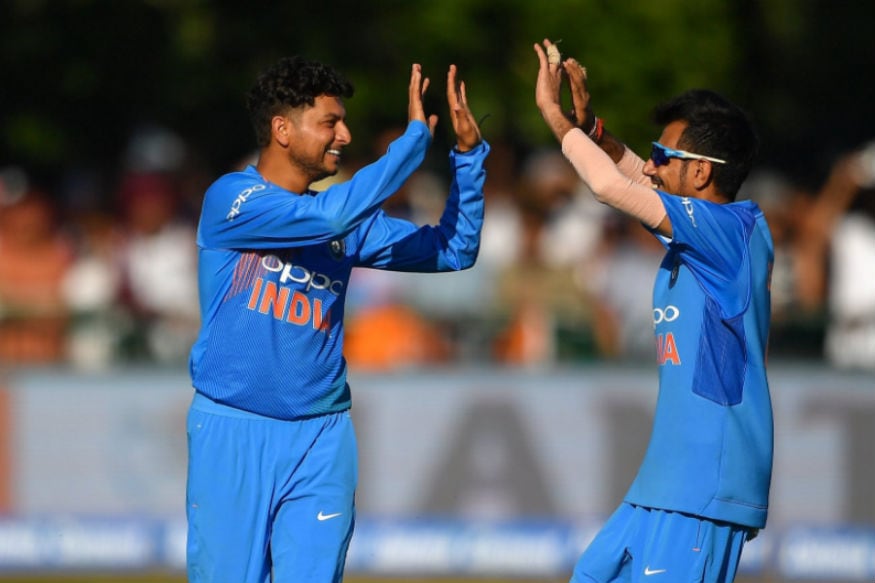 Oh dear, poor Merlyn came under a great deal of flak after England were routed by India in the first ODI. But what can an inanimate bowling machine do if the skill of batsmen against wrist spin itself is so dubious.
A bowling machine is a wonderful contraption, but its usefulness is supplementary to intrinsic ability and experience in the middle. No amount of practice in the nets against a bowling machine is a substitute to the technique and intelligence required during match play.
Although England's batsmen had more success against India's wrist spinners - Kuldeep Yadav and Yuzuvendra Chahal - in the second game, taking them for a combined 111 runs in their 20 overs while losing four wickets, they remain suspect against the challenge.
That's because unlike in a controlled situation like facing a bowling machine, on the field you have to confront bowlers who are plotting and scheming to get you out in various ways, sometimes in the same over. The dynamics of play in real time are completely different.
Fundamentally, England's problems have stemmed from the fact that they've been trying to read Yadav and Chahal off the pitch rather than from the hand, just before or when the ball is bowled, as most successful batsmen through the ages have shown.
Playing off the pitch reduces response time. This may be necessary when the track is crumbling and how it will behave is uncertain but not otherwise. In fact, on most pitches, this becomes a serious limitation against bowlers who deliver from the back-of-the-hand.
Fathoming a wrist spinner is never easy. It requires fine technique and deep understanding of the skills and repertoire of the bowler who can get the ball to turn either way with virtually the same action.
Master batsman Viv Richards has spoken of his struggles against B S Chandrasekhar in the 1970s, and the time it took for him to come to terms with the unorthodox leg spinner. Indeed, even at the height of his prowess, Richards confessed that he often read Chandra wrongly.
Chandrasekhar was a freak, on his day impossible to bat against. But if one of the greatest batsmen in cricket can be troubled by wrist spin, imagine the plight of lesser mortals! And the problems grow manifold if batsmen have not been exposed enough to this kind of bowling, as is the case with the current crop of English players.
Wrist spin, which seemed a dead art in the 1980s, has seen a revival in the modern era, initially through Abdul Qadir, and in his wake Shane Warne, Anil Kumble, Stuart MacGill, Mushtaq Ahmed all of whom enjoyed successful international careers.
Inspired by these bowlers, wrist-spinners abound today. And not merely for that. Cricket's become more result oriented, seeks wicket-takers, which has made them much in demand in all formats.
But success is not guaranteed. This is not dependent only on the inadequacies of batsmen, but the ability of the bowlers concerned. Wrist spin is a difficult skill and unless the bowler has both guile and control, he can be taken for plenty.
Apart from strong fingers, wrist, arm and shoulders, these spinners need a sharp mind to stay ahead of a batsman, a big heart to take punishment when it comes, and the mental toughness to turn things around quickly.
All the successful orthodox wrist-spin bowlers mentioned above – even going back earlier in history to the likes of Australians Clarrie Grimmett & Bill O'Reilly
-- had superb control, were always attacking, and had the ability to outthink batsmen.
Wrist-spinners must necessarily be wicket-takers. They can't be overly erratic and certainly not defensive. They are not stock bowlers. Their usefulness is not defined by how they keep batsmen quiet, rather how quickly they dismiss him.
To be match-winners, they will have to be risk-takers, which is where the role of the captain becomes crucial. If the captain is afraid to take chances and support him, a wrist-spinner is unlikely to succeed, let alone thrive.
In Kohli, both Yadav and Chahal have someone who encourages to them to be aggressive all the time. Both are unafraid to toss the ball up even when under attack from batsmen.
The crux, of course, is that that even wrist-spinners have to keep improving to remain relevant. The time for this can be extremely short these days given the number of matches being played across formats in which they can be found out and become ineffective.
Brad Hogg, who like Kuldeep Yadav bowled left-arm wrist spin, had a brief career simply because he did not evolve. The mystery in his bowling vanished quickly and he lost his place. Similarly, Indian leg spinners Amit Mishra and Piyush Chawla.
How Yadav and Chahal progress from here remains to be seen. Interestingly, their current form and success has not only had the English batsmen bamboozled, but also created a dilemma whether they should not be in the squad for the five-Test series against England.
Skipper Virat Kohli fuelled the speculation further after the first ODI by saying that he was tempted to include both. That would have had India's first choice spinners over the past few years, R Ashwin and Ravindra Jadeja, sweating in anxiety.
It certainly can't be a simple decision to overlook either Ashwin or Jadeja. While their overseas record is not as impressive as at home, both are hugely experienced. That matters a lot in Tests. Both also add heft to the batting and reduce India's tail.
To include both Chahal and Yadav in the squad could upset the combination. However, given the psychological grip Yadav has over England, it may be impossible to keep him out. Indeed, he might even be first choice spinner in the playing XI.
With the Test squad is to be announced in the next few days, the selectors and team management have a delightful, if vexing problem on hand. The suspense grows, but so does the excitement that any challenge to status quo brings.