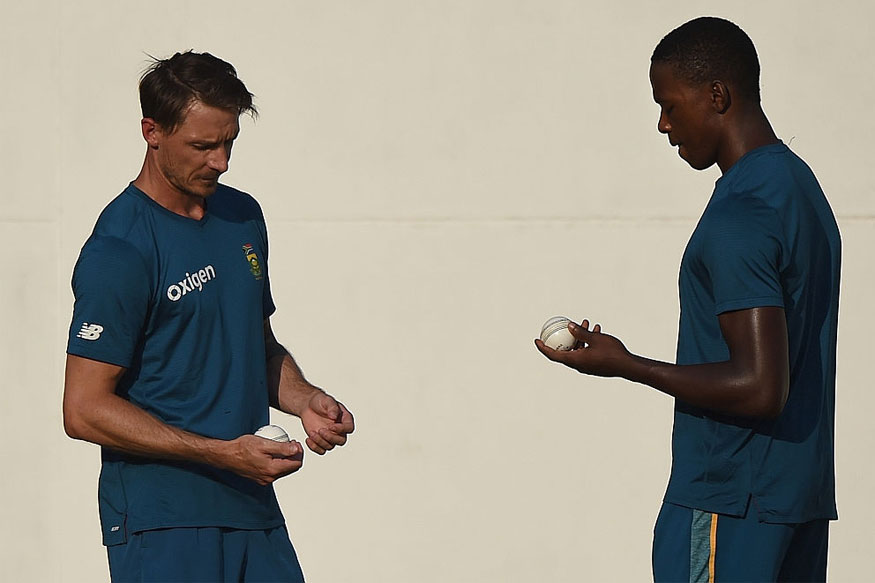 South African head coach Ottis Gibson believes Dale Steyn, who is set to play his first One Day International since October 2016, is still one of the best two bowlers in the country and his experience will add value to the unit when they play Zimbabwe in a three-match ODI series.
"With his experience, (he's a natural mentor) anyway because that's the kind of guy he is," said Gibson. "He's talking to the guys around the group, and to have his experience there, whether he plays or not, (is great). There's nothing to say he'll play every game, but to have him in and around the dressing room and the nets passing on his experience can only be a good thing for the guys.
"Once Dale is fit, to me he's still one of the best two bowlers in the country, other than KG (Kagiso Rabada). And he's gone away and he's proven his fitness, so he comes back and we'll see how he goes in the next couple of games.
"He's someone who's still clearly very passionate about playing for his country, and we'll make an assessment on Dale in this series and the next against Australia, the next six games, and we'll see how we go forward from there."
The South African team will have a new look against Zimbabwe with seniors like Faf du Plessis and Hashim Amla missing out due to inuries, while Quinton de Kock and David Miller have been rested for the series. Gibson wants all his players to make every opportunity count if they want to cement their spot in the 2019 World Cup squad.
"Every person that gets an opportunity now will know that there will be less and less opportunities going forward, so you have to make every opportunity you get count at this stage," he said.
"We've looked at some guys, and this series and the next one to my mind - and I've spoken to the selectors about it already - are probably the last sort of opportunities to see guys we've discussed but haven't had the opportunity to see yet. I think by the time we get into the Pakistan and certainly the Sri Lanka series in the new year, that we'll be looking to pick the team that we think is most likely to be the team that goes to the World Cup. So this is an opportunity to look at one or two other players."
Meanwhile, Dean Elgar, who last played an ODI in October 2015, has been added to the squad as a replacement for Amla. Despite being an integral member of the Test outfit, Elgar has never managed to break into South Africa's limited-overs team since 2015. Elgar only has 98 runs in six ODIs at an average of 24.50. However, Gibson said he is a like for like replacement for Amla. Heinrich Klaasen and Christiaan Jonker are the other two players who are being looked at as prospects for the World Cup.
"When you look at this squad that we have right now, Faf is missing, Quinny is missing, Hash is missing, and there's no real seniors," Gibson said. "Dean is a like-for-like swap for Hash. Again you think about the World Cup, and this is thinking a little further ahead, and then you look at Dean's record for almost every county he's played for in England, then clearly he comes into the conversation. So, this gives us an opportunity to see Dean as a like-for-like replacement for Hash, and see how he goes. He's always made it clear that he's still keen on playing one-day international cricket, and this gives us an opportunity to see him in that position.
"We wanted to see Klaasen a bit longer, and Christiaan Jonker came in and did quite well for us in the T20. His numbers in the franchise system are pretty good. What we've set out to do from the outset is to try have almost two players for every position. We know what David [Miller] can do. He's not had a lot of runs recently, but this is a chance to see Christiaan in that position so we can then assess both of them and see which one we can take forward."
The 31-year-old Jonker made his international debut in a Twenty20 International against India where he scored a 24-ball 49 and Gibson seemed pretty impressed with his uncomplicated approach.
"I liked that he came in and he was just uncomplicated," Gibson said. "He just watched the ball and hit it. And he obviously understood his game and his strengths really well. And he probably also understood that if you're going to play international T20 cricket you need to be a little fitter, so he's gone away and worked really hard on that and hopefully he can give a really good account of himself over the next series."
While the likes of Temba Bavuma, Chris Morris and Vernon Philander are out of contention at the moment, Gibson said they are still part of South Africa's World Cup plans. Philander is out at least till November due to an ankle injury, while Morris, who injured his back during this year's IPL, returned to action this week for Titans in South Africa's domestic season.
"My problem with Morris, there's a little bit of a cricket problem, but the bigger problem is fitness I think," Gibson said. "Not in terms of general fitness, but in terms of staying on the park. Morris in the last three years has had a lot of injury issues, more so than cricket issues, and I think once he's fit and strong then I think his real talent will come to the fore. That's the message that I've given him already.
"We know what Morris can do, and we want him to be as fit as he can to allow himself to do what we know he's capable of doing. Obviously, he's back to fitness now and he's playing for the Titans, which is fantastic, and if he can play the next month and a half, two months for the Titans and getting really hardened to cricket, then that's obviously very good for us."