Michael Hussey heroics press the eject button for RCB
On Friday, Hussey came to the fore with a winning performance against RCB en route CSK's three-wicket win and entry into the final against Mumbai Indians.
Updated: May 23, 2015, 11:03 AM IST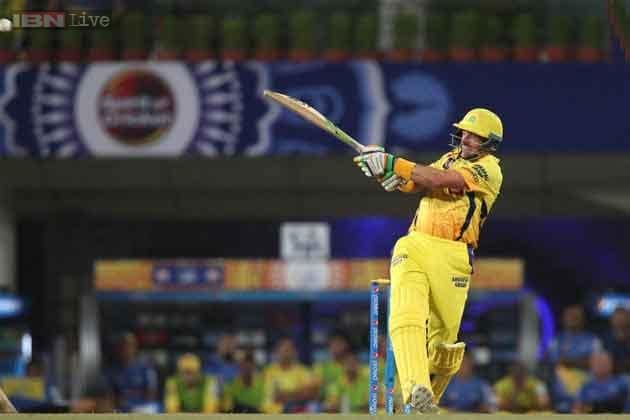 Michael Hussey would soon turn 40 but his hunger to perform or score runs has not gone down even after retiring from all forms of international cricket.
Warming the Chennai Super Kings bench for most part of the season due to opener Brendon McCullum's presence, Hussey was like a hungry leopard waiting for his chance to pounce on his prey and when the moment came, the former Australian middle-order batsman did not waste any time to make full use of it.
On Friday, Hussey came to the fore with a winning performance against Royal Challengers Bangalore en route CSK's three-wicket win and entry into the final against Mumbai Indians.
Speaking to iplT20.com, Hussey spoke about a lot of things - one of them being coming back to cricket after a bit of a layoff.
"It is very satisfying to contribute in such an important game. And it is even more amazing to get to yet another final. The history of this team has been really phenomenal but it will be really nice to finish it off on Sunday," said Hussey.
Talking about his innings, Hussey added, "It was difficult out there, no question about it. We needed someone to bat through the overs and take the team as close as possible. MS (Dhoni) and I were telling each other, 'We are finding it difficult and it is going to be twice as difficult for the new batsman coming in. So we should just try to stay in and take it as deep as we can'. Unfortunately we both didn't make it till the end but we took it pretty close."
The partnership between Hussey and Dhoni turned out to be crucial at the end and reacting to the importance of their combined effort, Hussey said, "It was just about making sure we built a partnership and try to be really busy. It was a difficult wicket to hit on; we had to run really hard between the wickets, constantly look for ones and twos and get the odd boundary away. It wasn't a big total to chase, so we knew if we just kept the positive intent going and take it close, a couple of big ones in the end would get us home."
Mr. Cricket has always been a big fan of Dhoni and his hitting prowess but against Bangalore, the big shots were coming from the Auistralian bat.
"Well, I didn't finish it. I wanted to be there till the end but we still needed about 30-odd runs when I got out. As for me being more aggressive than MS, as I said, it was difficult for a new batsman to come in and start hitting. After he had invested 20-odd balls in the middle, he knew what was going on," said the 39-year-old Australian.
Turning 40 and still playing like a 25-year-old is a rare combination but Hussey's athleticism can put any youngster to shame. Hussey took a blinder to get rid of the dangerous Mandeep Singh and he seems to have enjoyed it too.
"You don't have much time to think, really. I didn't know if it would carry, so I just thought I will try and get there and get my body behind the ball. Thankfully it carried deeper than I thought it would. It was a crucial wicket. Mandeep is an important player and he has been batting really well. So, I was really thankful that it stuck," Hussey said.
Speaking about the home ground for CSK and the loss against Mumbai Indians, Hussey further went on to say, "We get great support here. It is MS's home and for us it is home away from home. It is a wonderful stadium - it is amazing to have a stadium like this in a city like Ranchi. I have actually played here a few times and I have really enjoyed the experience. It is a fantastic place to play.
"We were really disappointed to lose to Mumbai, no question about that. It was a great opportunity to go straight to the final. The most important thing for us was to not dwell on it too much. We had to pick ourselves up really quickly and come here with a really positive mindset without carrying any baggage from that loss. It wasn't easy - I certainly was grumpy. But it was important to stay positive and tight as a team," Hussey said.
Now that CSK have qualified for the final, this will be their sixth summit clash in the IPL, something which no other team has achieved so far.
Talking about the showdown with Mumbai Indians in the final, Hussey ended the conversation by saying, "I hope so. I really do. It is going to be a great match. I am hoping it sort of works out like 2013 where we beat Mumbai Indians in the first Qualifier to go straight to the final and then lost to them in the final. This time we lost to them in the qualifier and hopefully can turn the tables on them in the final. They are a great team and have been playing some really good cricket. So we are going to have to be at our best. We have to look to just start the game well and hopefully our confidence will grow from there."
---
---
Team Rankings
Rank
Team
Points
Rating
1
Australia
3028
116
2
New Zealand
2406
115
3
India
3085
114
4
England
3882
105
5
Sri Lanka
2454
91
FULL Ranking
Rank
Team
Points
Rating
1
England
5405
123
2
India
5819
119
3
New Zealand
3716
116
4
Australia
3941
109
5
South Africa
3345
108
FULL Ranking
Rank
Team
Points
Rating
1
Australia
6047
275
2
England
5959
271
3
India
9319
266
4
Pakistan
6009
261
5
South Africa
4380
258
FULL Ranking