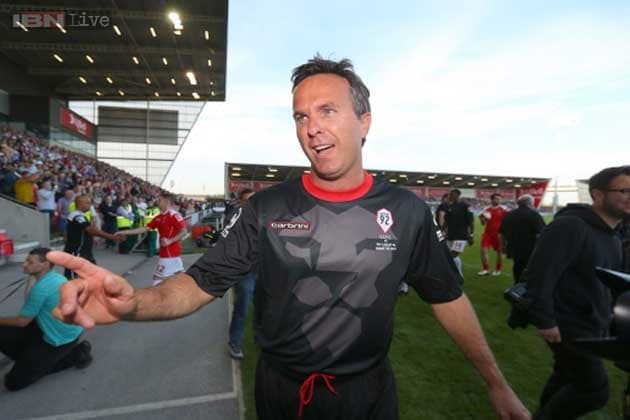 Bangalore: Michael Vaughan, the former England captain, has said he is open to talking to the England and Wales Cricket Board about a management role with the team following Paul Downton's resignation as managing director on Wednesday.
Vaughan is understood to have had a breakfast meeting with Tom Harrison, the ECB chief executive, on Wednesday.
"For the first time since retiring six years ago, I am open to a conversation with the ECB," Vaughan wrote in his column for The Telegraph.
"I am passionate about English cricket. I love the game and I always want England to move forward and be successful. I have a vision for the game and I think I will be one of many ex-players who will be more than willing to talk to the ECB to see what exactly the role is and how much influence it will wield over the future structure of our game."
Downton's departure has somewhat shifted the focus from the England team that is currently on tour in the Caribbean after a first-round exit at the 2015 World Cup. But Vaughan made it clear that merely being a figurehead won't bring about change as far as their cricket was concerned.
"The brief has to be wider and more powerful than Paul's to have any real impact on England," he wrote.
Warning that England's problems were deep-rooted, he said, "English cricket does not have a Harry Potter to wave a magic wand. Sacking Downton is not suddenly going to turn England into Australia or suddenly unearth a battery of fast bowlers or batsmen who can smash the ball 360 degrees.
"We do not have an English Premier League to immerse players in a competitive environment where fearless cricket is the norm. It was not Paul's fault the players performed so timidly at the World Cup."
Refusing to put the blame on Downton alone for England's abject surrender at the World Cup, he called for greater accountability from players.
"They cannot just blame the coaches, the England and Wales Cricket Board or the managing director. In fact I don't care about their excuses. The best players coach themselves and take a risk because they know that is the right option."
One of the burning issues over the last year under Downton has been ECB's handling of Kevin Pietersen, who was sacked following England's 5-0 Ashes loss in January 2014. Pietersen, who turned into a Twenty20 freelancer in the aftermath, sacrificed his Indian Premier League contract with Sunrisers Hyderabad last month and signed up with Surrey in a bid to resurrect his England career.
Vaughan rallied behind Pietersen and said the fallout must be firmly put on the backburner and only runs should be a criterion for selection ahead of their home summer. "Kevin is back playing county cricket and he has to be in a system where players are judged on performance," Vaughan wrote.
"People have to be old enough and mature enough to look each other in the eye and say we have messed up. KP has done some bad things but so have some of the other players in the England team. They have got to be man enough to accept it is about winning. It is about picking the best 11 players to win games for the team. Captains, managing directors, coaches, selectors and players will be judged on winning and playing a brand of cricket people want to watch."