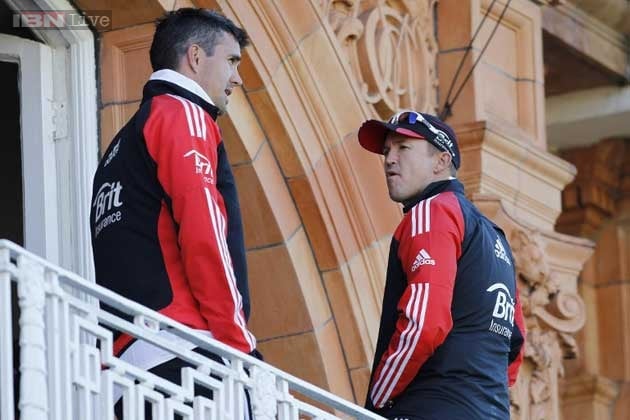 London: Michael Vaughan ridiculed a leaked England and Wales Cricket Board (ECB) report into Kevin Pietersen's alleged misbehaviour during the Ashes whitewash in Australia as the fall-out from the controversial autobiography of England's all-time leading run-scorer showed no sign of stopping.
Among the 'offences' of which Pietersen, effectively sacked by England after their 2013/14 5-0 Ashes thrashing in Australia, was accused were "staring out the window" and "looking at his watch" during team meetings led by then coach Andy Flower.
It also said he whistled after being dismissed in the final Test in Sydney, and told his team-mates to get thicker skins when they complained of criticism of their performance in tweets by his friend Piers Morgan, the television interviewer, when England were 4-0 down in the Ashe.
Embarrassingly for the ECB, the document also incorrectly spells England captain Alastair Cook's name as "Alistair".
Former England captain Vaughan derided the ECB document, telling Twitter he had "never read as much b------- in all my time".
Vaughan added: "Never laughed so much... England are 4-0 down in the Ashes and it's because of @piersmorgan tweet."
The ECB insisted the email received by the Cricinfo website was not the official dossier compiled by Flower, the subject of heavy criticism in Pietersen's book, but rather an internal email draft drawn up by their lawyers.
Pietersen brushed off the email's contents on Tuesday.
"They couldn't even spell Cooky's name right. It is a joke. I am done with it," said South Africa-born former England captain Pietersen.
As well as Flower, Pietersen also criticised a group of senior England bowlers, including now retired off-spinner Graeme Swann, and currently injured wicketkeeper Matt Prior, whom he accused of creating a "bullying" culture by demanding some fielders apologise on the field for dropped catches but not asking the same of their friends in the side.
Swann denies bullying
Swann, who controversially retired after the third Test with England 3-0 down, used his column in Wednesday's Sun newspaper to refute Pietersen's allegations.
"There was absolutely no bullying. Sure, bowlers shout at fielders if they are out of position or not concentrating," Swann wrote.
"A bowler or wicketkeeper delivers a bit of a kick up the backside -- just like a goalkeeper shouts at his centre-half. This is international sport, not the Under-11s.
"If Kevin or other players can't take a b*****king for being unprofessional, for being out of position or seemingly not trying, they are in the wrong business."
Swann added: "I must stress bowlers never had a go at fielders for dropping catches or a genuine mistake. It was when somebody was out of position or too busy waving to the crowd."
But it was the attack on Prior, who Swann said was behind Pietersen's reintegration into the England side after he was briefly dropped in 2012 for sending texts critical of then captain Andrew Strauss to South Africa players, that most annoyed him.
"Matt was the one guy telling everyone we must work with Kevin, that he's a brilliant batsman and we need his talent," Swann added.
"Kevin's attack on Matt is, dare I say it, a bit like bullying."
When Swann returned from Australia, he praised Pietersen's attitude and stood by those comments in his Sun column.
"I've said all along that Kevin was fine in Australia until the point I left the tour before the Fourth Test," Swann said.
"So what changed? It must have something to do with Prior and Flower because he seems to have a vendetta. And, of course, he has a book to sell.
"Well, there is one ever-present feature in all this. Kevin shouldn't be called KP, he should be called CD - Common Denominator."