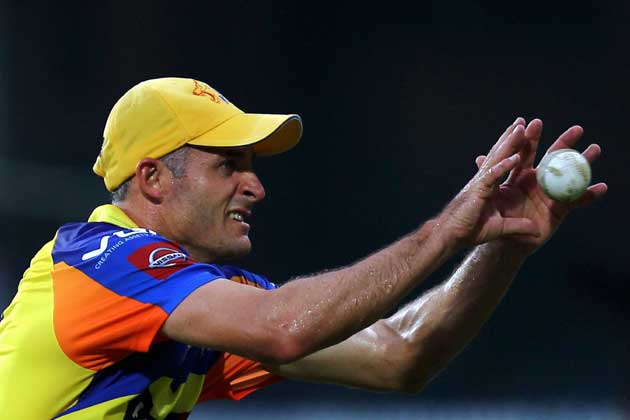 Chennai: Chennai Super Kings coach Stephen Fleming feels Michael Hussey's retirement from international cricket will work in his team's favour in the ongoing 6th Indian Premier League, as the batsman would be available for the entire season.
"It helps and since Michael and (Murali) Vijay had great partnerships. There have been ups and down in 20-20 cricket but it has been very good for us," Fleming told reporters Friday, the eve of their opening match, against Mumbai Indians. Hussey retired after the Sydney Test against Sri Lanka in January. The former New Zealand skipper said CSK would look to give local fast bowlers opportunity to prove their mettle till pace spearhead Albie Morkel joins the side.
"You will see that CSK is more considerate with Indian bowlers. May be we can give (opportunities to) one or two Indian pacers in the team and have some small options with the likes of Morris until Albie Morkel come back. We are excited about providing chances to the local talents." "We will put another all-rounder in the team. We have a core of seven very good Indian players. At number seven (Ravichandran) Ashwin, in particular, play the role of all-rounder and with the likes of Dwayne Bravo, we get the all-round skills. We have the top six to cover."
Fleming thought Ben Hilfenhaus was a good buy. "Ben is a good buy this season. We have good skills. Dirk Nannes, Albie Morkel, Christopher Morris. We have a lot of players to choose from. We are very conscious about strategy as well. I have had just three or four days to know these players from close quarters." Asked how important a role strategy plays, Fleming said: "We are lucky that we concentrate on consistency. Kolkata has also been doing well during the last couple of years showing strategic consistency. Last five years have been great but it is a fickle game.
"We pride ourselves on top and try and get too much emotional about the results. You have a more stable environment for players to come in and be calm within the team. It is about evolving." Known to be slow starters, Fleming was asked if the side would hit peak form at the onset this time around. "We know the fact that we are slow starters. It is not by design. First year we won four games in a row and it has not been good enough in the other previous events.
"This year we are more confident that we have the core of Indian players very high in the squad and still feel the confidence after their win against Australia in the Test series recently. We have improved in areas where we were not sufficient. "We cannot keep confused about what style of cricket we need to play. We are trying to be conservatives as much as we can since there is competitions within the squad, which is a difference in challenges this year. It is up to me and the coaching staff to manage the situation."
On the wicket at the M A Chidambaram Stadium, he said, "We have a good record here. But now we do not know what is going on with the wicket. It looks good. It is not a tough wicket to play on but require a good assessment and adjustments. "We have been able to come up with adjustments quickly. Starting tomorrow we do not what to expect but it looks a good
track."
And on the role of coach, Fleming said, "The coaching job is to create an atmosphere where the players are comfortable to play enough naturally. Form cannot be considered for 20-20 cricket and concentrate on an environment for consistency. We have got a volatile game."