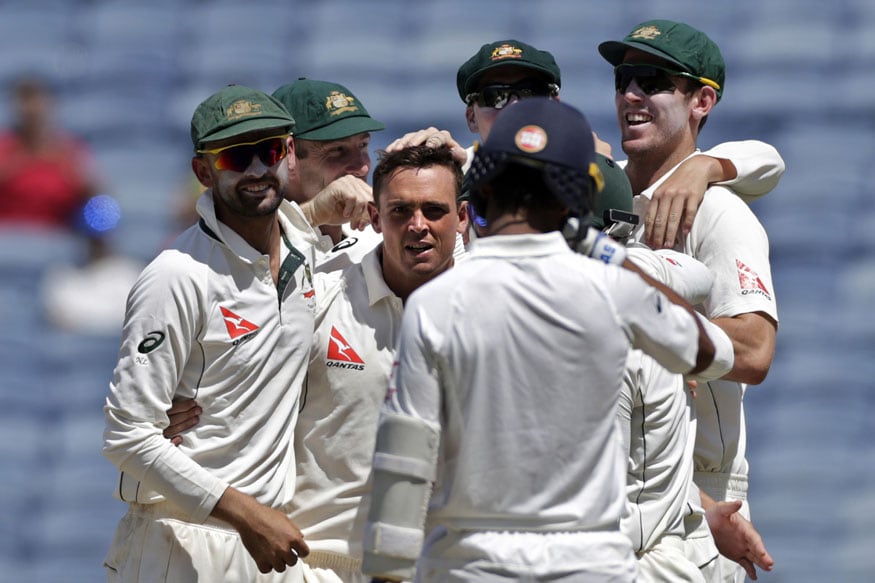 Pune: Minor tweaks to his bowling after the lunch break made all the difference for left-arm spinner Steve O'Keefe who claimed a career-best six for 35 to put Australia ahead in the opening test against India on Friday.
Playing only his fifth test and first in India, O'Keefe took all his wickets in the space of 24 deliveries, including three in one over, to trigger a spectacular collapse and help Australia bundle India out for 105 in their first innings.
Australia skipper Steve Smith handed the ball to O'Keefe as early as the second over of the innings but the 32-year-old hardly made an impact as the Indian openers Lokesh Rahul and Murali Vijay handled him with ease.
Also Read: Steve O'Keefe, Steven Smith Put Australia on Top in Pune
During the lunch interval O'Keefe returned to the practice nets to work with former India left-arm spinning all-rounder Sridharan Sriram, who is mentoring Australia's slow bowlers on the tour.
It immediately bore fruit as he ran through India's batsmen to pick up his maiden five-wicket haul.
"I'd been working in the nets with some other variations, just changing the seam angle and arm angle," O'Keefe said, also thanking captain Smith for backing him. "You probably don't notice it, but for me it made all the difference.
Australia lost nine consecutive tests in Asia before arriving in India, who are the world's No. 1 side and are undefeated in their last 19 tests.
The team's last victory in India was in 2004 and they have a chance to break that jinx after taking a lead of 298 runs with six wickets in hand.
But O'Keefe was not ready to think too far ahead.
"Right now, we'll enjoy. We had a good day, but that's all it is," he said. "We all know how good this Indian team is, how well they can bat, and even in spinning conditions they are exceptional players."
@media only screen and (max-width:740px) {
.quote-box{font-size:18px; line-height:30px; color:#505050; margin-top:30px; padding:22px 20px 20px 70px; position:relative; font-style:italic; font-weight:bold}
.special-text{font-size:24px; line-height:32px; color:#505050; margin:20px 40px 20px 20px; border-left:8px solid #ee1b24; padding:10px 10px 10px 15px; font-style:italic; font-weight:bold}
.quote-box img{width:60px; left:6px}
.quote-box .quote-nam{font-size:16px; color:#5f5f5f; padding-top:30px; text-align:right; font-weight:normal}
.quote-box .quote-nam span{font-weight:bold; color:#ee1b24}
}