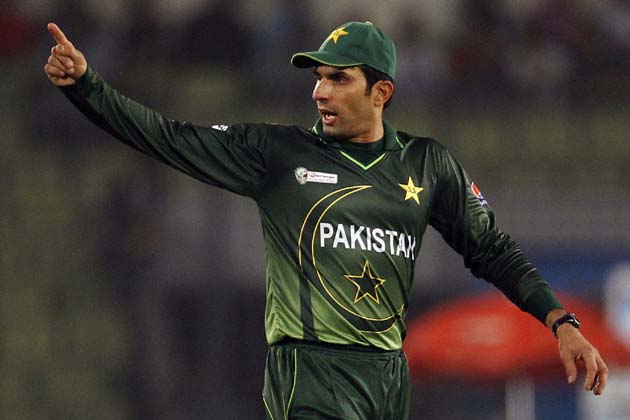 Lahore: Ecstatic from the news of international cricket returning to Pakistan after three years, Pakistan captain Misbah-ul-Haq is now hoping that his team will get to play against India in a bilateral series soon.
Bangladesh and Pakistan cricket boards announced on Sunday that the former would play an ODI and a Twenty20 match in Lahore on April 29 and 30. This will be the first visit by an ICC Test-playing nation to Pakistan since the terrorist attack on the Sri Lankan team in 2009. Misbah said he was happy to hear about the series being played in Pakistan. "One of the most difficult things for me or the rest of the Pakistan team players has been to play away from home all the time in the last three years. It was disappointing not to get a chance to play in front of our people and on our own grounds," Misbah said.
He is also optimistic that the efforts by the PCB and its Chairman, Zaka Ashraf, will help in bringing more international cricket to the country. On cricket relations with India, Misbah said he would like to see both teams playing against each other more regularly. "We need to have a regular bilateral series because nowadays when we play after a long gap, there is a lot of tension associated with our matches, and there is extra pressure on the players [as well]. If we play regularly against each other I think it will be better for people of both countries," Misbah said.
Other former Test players also welcomed Bangladesh's decision to tour Pakistan. "It is a good news although it would have been better if they had played a proper series. but at least the ice is finally going to break and the credit must go to the present Board set up for making efforts to revive international cricket in Pakistan after the unfortunate incident of 2009," former captain Rashid Latif told PTI.
Former Test captain Moin Khan also welcomed the return of international cricket to Pakistan. "I think the Pakistani people deserve more international matches and the ICC must support us more in our endeavours," he said.