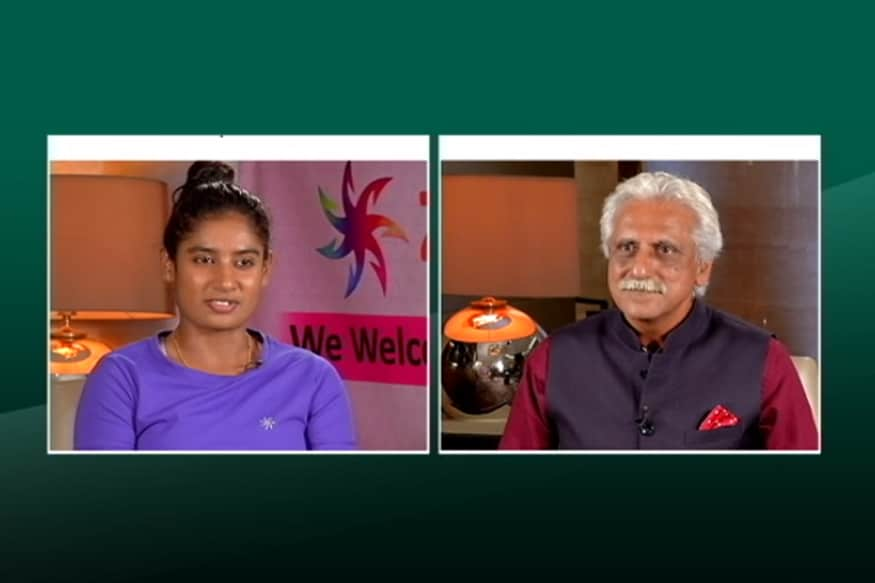 New Delhi: The Indian women's team missed on a historic World Cup triumph by just a whisker as they lost the final of the tournament to hosts England right at the end of the match last week. This was only the second time that India played in the final of the ICC Women's World Cup and the performance of the young guns showed that this certainly won't be their last.
Skipper Mithali Raj now holds the unfortunate stat of losing two world cup finals but she is happy because she feels that women's cricket is on up in the country. After returning from their campaign in England, she spoke exclusively to CNN News18's resident cricket expert Ayaz Memon (Cricketwallah) in Mumbai. Here is transcript of the entire interview -
Q) It's been 72 hours (during the time of the interview) since that match and have you had any sleep as yet or you have been kept awake?
A) Well, when we were in England, obviously the defeat hurt us a lot, so it took a while but as soon as we came back to India the reception was overwhelming since then been giving a lot of interviews all of us.
Q) When you say defeat hurt you a lot, when you look back at the tournament now you got benefit of the hindsight when you went there you had to qualify for the tournament and then of course went pass new Zealand and defending champions Australia when did you start believing that this team would go all the way to the finals?
A) I think the first game itself said it all, because beating the host in the first game of the tournament was itself a huge morale booster for the team, and England is one of the best sides in today's women's cricket and beating them in the first game posting 280 against them itself shoes that each one of us are capable of being a match winner, and during the tournament everybody played a very significant role in respect of which match, heather it's the bowler stepping up or batters putting up a good total on the board, at some point everybody stood up for the team and that has got us till eventual quarter finals against New Zealand, even after two defeats in was important to regroup and understand that ,if we want to make it to the semis or the finals, it is important that we make a comeback after a defeat. Hats what I believe that champions are made off its not just one good run, we always have those couple of defeats and then you have to step up and be your best in the main important games, the team responded very well against New Zealand, against Australia and we made it to the finals.
Q) I know this is prickly, but what went wrong in the finals, now again you have got the benefit from the hindsight was it lack of experience, was it nerves, or just a big occasion?
A)I think it was lack of experience playing in a big occasion, the venue ,playing in front of the packed crowed and knowing everybody's eyes were on us, and also the fact that all of us were playing our first finals, world cup finals at lords, such a huge occasion for each one of us, maybe at the time when it was a pressure game there was a situation where the match could have either ways whether to England or to India and maybe in the middle we had inexperience of facing the pressure being calm which lacked I think it is because of the young girls.
Q) So when we saw you sitting down after being dismissed by run-out you were sitting there wasn't so much of equanimity in your expression, I didn't seem that you were in tense, what were you feeling inside?
A) I knew that this team could still do it because 225 comparatively to the targets which we chased or put up to 280 and 275 is comparatively less, so 225 was still a gettable target provided i had the batters in the middle and at that point of time there was two good partnerships so i still knew we were still in the match.
Q) When the team left from India four-five weeks back there must have been about ten media people. Perhaps, when you came back ten times that much. That's been the scale and the magnificence of this women's team. What do you expect now going ahead from here personally and for women's cricket?
A) Women's cricket is in a very important phase now that we have given ourselves an opportunity to attract so many people to follow women's cricket. Now it's important that we'd be consistent of being in the top four in the world and there will be a lot of hard work to go in because after every World Cup there is bound to have changes in the squad. And there will be young faces in the crowd, in the next One Day World Cup in four years' time. It's also important that we would be in news by playing good cricket and there should be a follow-up after this - maybe a series or ICC Champions Trophy that starts from Oct and whenever we play the matches should be televised. That's what gives us perks of becoming a women cricketer and continue using this platform so it is important that the matches should be televised irrespective of where we play and who we play against. A lot of people ask me about whether I am going to retire because people, I think, got me wrong when I said that this is my last World Cup. I meant One Day World Cups comes once in four years so who has seen four years from now. So that's I why said this could be my last World Cup. But as an international cricketer I still have 2 or 3 years to go and as long as I am fit and confident about my form I will continue to serve my country.
Q) There is a possibility that you might play the next world cup also you will take it year by year as it goes ,you did mention this is the time women's IPL could be looked at, just to play the devil's advocate is there pool of talent available in India support this?
A) Well somewhere you have start, maybe if two years ago you would have asked me I would have advised no because that time even the national side was not of that level, people were not aware of women's cricket that if would have started early it may not have caught up but now with what we have achieved in the world cup and people standing up and appreciating women's cricket, I think if we have a league now maybe be as you have mentioned pool of players in domestic structure may not be of that quality but at least in a year or two they will come up and gap between the domestic and the international cricket would considerably reduce with the girls getting expose to the culture and interacting with the international cricketers.
Q) What's been your mantra for playing and captaining the team, just watching from outside u you look cucumber cool, mentally, physically what do you do?
A) preparation is always done prior to the tournament, I work a lot when I am preparing just before the camp and tournament is where I am relaxed I try not to get nervous not to burden myself with expectations from people or my own self, I try to be composed during the tournament but preparation begins much before the tournament, as people think that I don't show any emotions but there is a lot happening within me, it's just that I am not someone who is very expressive.
Q) But you seem to be reading a book when you are waiting for your turn to bat?
A) I was expecting this, it is something which is asked very often now a days well I never started my career reading a book, I was very young and when I made my debut for the country or even for the Indian railways, I was the youngest baby of the team and when I played with my seniors who were half of my age if I was 16 they were 28,so I was difficult for me to reach up to them and think like them, so I use to be alone so I thought the best way to keep myself busy was to read books., and one more factor is that when you sit outside and watch your teammates play sometimes there is a good spell and you see your batters struggle, so you are already preparing yourself before you even enter so I didn't want to do that I wanted to go there and analyze myself so it is always better that you are sitting out and not forcing yourself to think something other than what you can do on the field, so it's important that I am not there in but I am sitting out and I am being composed and whatever the situation is I will deal it once I am there.
Q) I must tell you that Sunil Gavaskar used to play and I he was an abide reader but between matches only on flights and he use to read only pulp fiction because he said it takes his mind away from focusing on the job so what kind of books do you read?
A) I started with crime thrillers than biography but there is nothing particular that i am interested in but anything that interest my mind I just pick it up and read.
Q) I want to ask you few more questions about yourself because people really want to know what Mithali raj is all about, are you very fond of music.
A) I don't listen to music much nor I am a movie buff, I only watch movie when I am in the camp because usually the girls tells me to tag along and watch a movie it would be different ,so I said ok.
Q) How do you manage the team it's not always easy, yes you are the leading batter so obviously it makes a big difference to people who look up to you, the age difference, and the captainship?
A) It is difficult to lead so many characters in the dressing room ,each one is different but again i think even as a captain I have grown from 2005 that's my first tour as a captain in the world cup and ever since I have come a long way even as a captain, I have always believed that I am not a born leader, I have really developed leadership quality over a period of time obviously doing mistakes there are times when those mistakes have taught me a lot, and learning from others I mean even as a leader you still can learn from your team mates and hoe to deal with situations and today I enjoy leading more.
Q) Who are your favorite players men or women?
A) Well, I don't really have favorites, but there are players whom I have always admired Karren Rolton from Australia she is very consistent so I believe that even I should be more consistent as her, she had a long carrier as well and Hamlet from India she plays the spinners very well, I always enjoyed playing with her I the middle and as far as men cricketers there are quite a number think Sachin Tendulkar obviously for being a batter, Rahul Dravid and Michel Beven and Rikey Ponting.
Q) Is fitness becoming the important mantra in women's cricket? Because from the time you started till now so much has evolved, changed in this game. You saw Hermanpreet Kaur hitting sixes. Even in regular IPL ground in India where men play would have gone for a six, so obviously there is a lot going on in the women's cricket now?
A) Yes, with the T20 format everyone realises the importance of power. It has become a power game and its important to be fit because it will help you to last longer. I guess that's why every cricketer indulges in being fit, eating right. It has become more of a pressure game irrespective of which level you play - whether it is domestic or international you have competition. Every series every match standard rises so you have to catch-up with the current in the world and being fit also gives you confidence to take the field.
Q) Women's cricket is on the cusp and India certainly offers a major breakthrough going by what fervour there has been in the interest of the people. So what do you think that the establishment should do about getting more matches to play and exposures and also from the fellow players what would you think would enhance the stature of women's cricket?
A) I have seen how Australian cricket or England cricket board has promoted women's cricket in their country. Whatever endorsements they have from the board they always have the men and women together which we started last year - the Nike. The T20 World Cup, we had the new outfit where both men and women have endorsements so something like that should continue to happen where you see in the billboard where women cricketers along with the men cricketers. And we need to have more matches in the domestic structure because the more matches we play the better we get and not in the nets. Yes, you need to have more international series because your team needs to have the feel of the international cricket. You know, once in two or three months, like earlier when we used to have the matches at the beginning or the end of the year, middle of the year we hardly had any games. So now there should be constant matches going on and these matches should be televised because if you don't have continuity people lose interest to follow. Now that we have generated so much of interest we should take advantage of this situation where women's cricket is in media and there is something to write about women cricketers.
Q) When I first met women cricketers about 40 years back they were running from pillar to post to get money even for kit and travel. A lot has changed now where I believe you flew in business class and all the girls had independent rooms. Maybe when you started that was not the case?
A) When I started we were still under WCI. BCCI came in 2007. I think even the government should start supporting the women's cricket. With men cricketer, they are under BCCI so they are paid well but women's cricket at some point was under BCCI but still we needed government support, people's support because in the end we could not generate the revenue that the men cricketers did. Now I hope that the things will change. Now if you organise a series there will be a lot of people to turning up for the matches. Even the domestic cricket we played it was not marketed well, only few of our well-wishers were there. We used to spread the news that we are playing national series now but that should not happen with the current situation. It should be marketed well. Even railways, for that matter, Indian railways is the only institution which gives jobs to the women cricketers. I think corporates should step up and form teams so that you give jobs and encourage girls to take up sports. Because at some point when you look back, you want yourself to be financially independent as well so if you have a job nothing like it.
Q) But you have had support from the corporates in the past. People have supported you, even now are supporting you?
A) Well, right now, Indian railways is the only institution that gives job. 95% of the women cricketers are employed with the railways right now.
Q) Promoting you as a player - is there any support that comes in from a professional standpoint?
A) Now I think it will change. Earlier, yeah there were few sponsors but again it was important for them. They need to have a face which is known on television, where, as our matches were not televised, people knew me by my name and not many knew me by the face so they would not recognize me if I stood beside them but if I introduce myself then they would relate – Ok, you are a women cricketer and all. Now that they have seen me on television, now we are more recognized faces.
Q) Apart from railways has support come from other quarters also?
A) In past couple of years I have been sponsored by Zeven - personally a company I have thoroughly enjoyed my association and I still do. They have great stuff and it is important as an athlete to have good pair of shoes and your clothing so that you are confident enough to get in and forget about your equipment because in the international level you need to have the best of equipment that will help you to deliver your best skills.
Q) Your team has played so wonderfully in this World Cup. There seems to be a very good balance in the team especially in the bowling attack where pace bowlers, spinners even the batsmen. Do you think this team can take the momentum through?
A) Well, I am sure but again it depends on matches you get to play because to have a momentum and continue to have that momentum are two different things. Earlier, at a start of a series, we start from the beginning to create a momentum. By the time we could find the momentum the season was over and the next series is after eight months so even if I am in a good form, in the next series I have to again start from the scratch. So, if you have 5 or 6 series in a year we can continue the momentum and you will grow as a player, mature as a player quickly. Because in the past debutant should take 2 years because in 2 years you play 4 series but now current generation with the ICC championship every year you get 3 to 4 series so the experience you gain is far better than it used to be in previous years.
Q) What is it that you want to do now?
A) I will first heal my broken heart. I will take some time and plan for the T20 World Cup because that is the next big thing next year and also the ICC Championship. Now I don't want the team to play the qualifiers. We are number two in the world, we should be in the top three.