New Delhi: IPL franchise Delhi Daredevils have called up latest sensation Mohit Ahlawat for a trial on Wednesday after his smashing triple hundred in a local T20 match on Tuesday made him an overnight hit.
Mohit slammed 300* while playing for Maavi XI against Friend's XI in the Friends Premier League at the Lalita Park in New Delhi's Laxmi Nagar area.
Coached by Sanjay Bhardwaj, also childhood coach of former India opener Gautam Gambhir and former India U-19 skipper Unmukt Chand, Mohit has struggled quite a bit and his coach his really happy that Delhi Daredevils took note of his ward's knock.
"He hasn't had anything easy in life. He is a farmer's son and has had to struggle hard to follow his dream of playing cricket. I am very happy that the Daredevils took note of his knock and called him for trial," he told CricketNext.
Also Read: Meet Mohit Ahlawat: The Delhi Boy Who Scored 300 in a T20 Match
Bhardwaj said that it was Sunil Walson who called Mohit to attend the trial.
"Mohit got a call from Walson and was asked to go for the trial. I am keeping my fingers crossed. If he keeps calm, he can definitely impress them. Even though he might come across as an attacker from his latest record, he has a sound technique. On top of that, he is also a wicket-keeper," the coach said.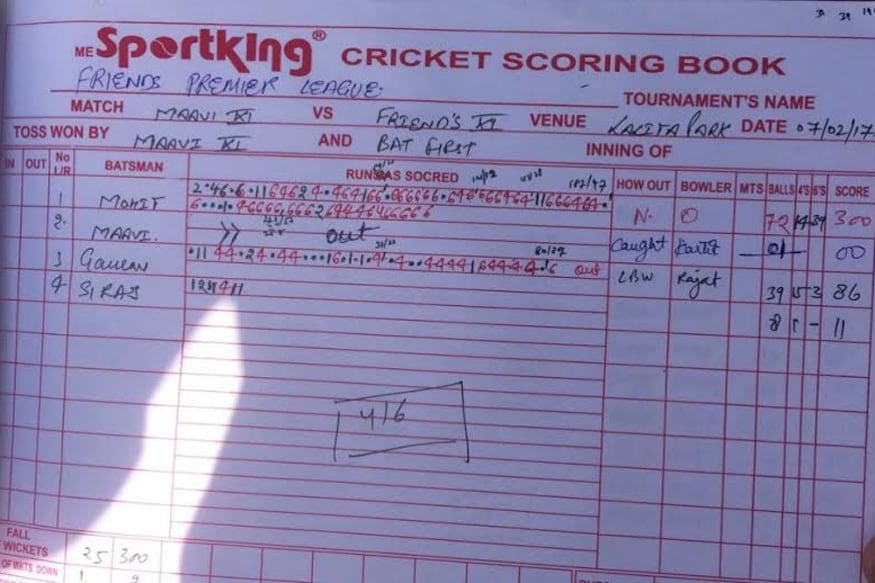 Scoreboard from Tuesday's match in the Friends Premier League.
Delhi Daredevils CEO Hemant Dua also confirmed the development.
"Yes, Mohit has been called for trials. We keep tapping young talent and scouting future stars. Walson will be there to keep an eye on the whole process," he told CricketNext.
Mohit has already made it clear that this is just the beginning and he wants to play for the country.
"The ultimate goal is to play for India as every other player who starts playing the game and I hope I live upto that potential," said Mohit.
@media only screen and (max-width:740px) {
.quote-box{font-size:18px; line-height:30px; color:#505050; margin-top:30px; padding:22px 20px 20px 70px; position:relative; font-style:italic; font-weight:bold}
.special-text{font-size:24px; line-height:32px; color:#505050; margin:20px 40px 20px 20px; border-left:8px solid #ee1b24; padding:10px 10px 10px 15px; font-style:italic; font-weight:bold}
.quote-box img{width:60px; left:6px}
.quote-box .quote-nam{font-size:16px; color:#5f5f5f; padding-top:30px; text-align:right; font-weight:normal}
.quote-box .quote-nam span{font-weight:bold; color:#ee1b24}
}