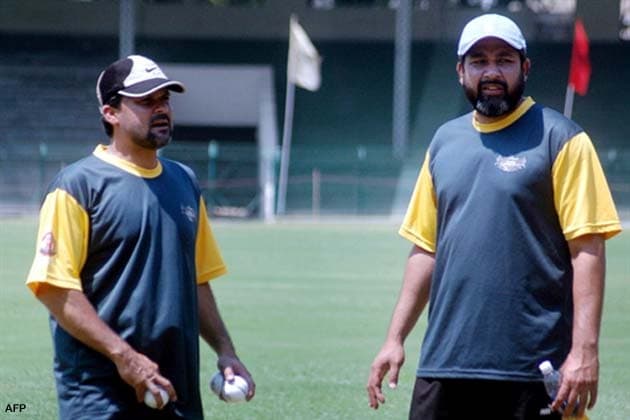 Karachi: Former Pakistan captain Moin Khan has lashed out at the former chief of the ICC anti-corruption unit Paul Condon, who earlier stated that the ACU was aware that in the 1990s and in the following years, all of cricket's leading countries were involved in fixing major matches.
"I don't understand the purpose of his statement now. If the ACU knew that fixing was so widespread, what action did they take to bring the guilty teams or players to book after the ACU was formed in 2000," questioned Moin.
Moin, who now runs his own cricket academy in Karachi, said he was surprised by Condon's statement, but said in a way it was good for Pakistan as it cleared the misconception that only Pakistani players were involved in corruption.
"His statement, in a way, does restore Pakistan's image and confirms that corruption and fixing is not a problem restricted to one team or region; it is a global issue."
"What I want to know is that if fixing was rampant in the 90s and later on, like Condon says, what did the ACU do. Because until now all of the cases brought against players have been unveiled by the police or the media," pointed out Moin.
"His suggestion, to have former players work with the ACU, was given any years ago. Why didn't Condon work on it, why say this now?"
Condon had said not just Pakistan, but other countries were involved in fixing as well.
"In the late 1990s, Test and World Cup matches were being routinely fixed," Condon, the founding head of the ICC's anti-corruption unit, said in an interview with London Evening Standard.
He also spoke about how a Pakistani player who went to England on ACU expenses at the last moment refused to give evidence or unmask those involved in fixing.
Moin said he was not surprised at learning that a player had backed out of giving testimony and evidence because of fear to his family's life.
"Nobody will be willing to risk his family until the ICC, the ACU and the concerned boards provide him proper security and safety. Why should any player run the risk of his family being hurt?"
Moin noted that when the ACU was spending millions, it could have easily spent more money on persuading players to give evidence after ensuring they got proper safety and security.
"It is responsibility of ACU to provide security and safety to a player wiling to come forward if he knows something. But that is not happening now and that is something the ICC must look into."