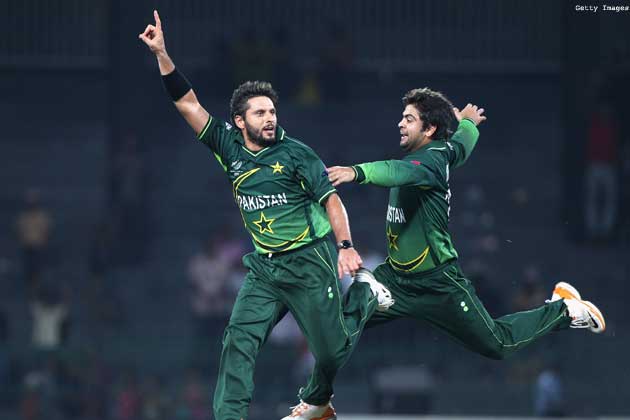 Karachi: Former Pakistan captain Moin Khan has advised experienced all-rounder Shahid Afridi, who is struggling for form, to take a break from the game.
Known as a supporter of Afridi, Moin said that he did not agree with suggestions that it was time for the flamboyant all-rounder to call it a day from international cricket.
"I don't think he should retire. I sincerely believe he can still serve Pakistan cricket for a few more years. All he needs to do now is take a break from the game, spend some time with his family and come back before the India tour fresh and confident," Moin said.
Afridi, a popular cricketer in the country, has come in for sharp criticism after he struggled for form in the recent World Twenty20 in Sri Lanka. Some former players and critics have even blamed his poor form as a primary reason for Pakistan's failure to qualify for the final.
"I don't agree with this notion. Afridi is clearly short on confidence while batting and this is affecting his overall performance. He needs to take a break and regain his focus because he remains a valuable player for Pakistan," Moin said.
Moin also backed seasoned all-rounder Abdul Razzaq who has been issued a show cause notice by the Board for making comments about captain Mohammad Hafeez.
"Perhaps what Razzaq said about Hafeez was not appropriate but I think he was frustrated and upset at not being picked for the semifinal and there is no doubt it was injustice not to play him in such a big match," Moin said.
"I think the Board needs to take a lenient view of the incident as a senior player like Razzaq is more frustrated when he sits on the sidelines in a big match knowing he can do a lot for his team."
Moin said Hafeez's decision not to play Razzaq was not a sensible one, given the experience of the all-rounder.
The former wicketkeeper-batsman also questioned the role and contribution of foreign coach Dav Whatmore.
"Tell me, what improvement has the team made since Whatmore took over nearly six months back. He needs to be questioned," said Moin.