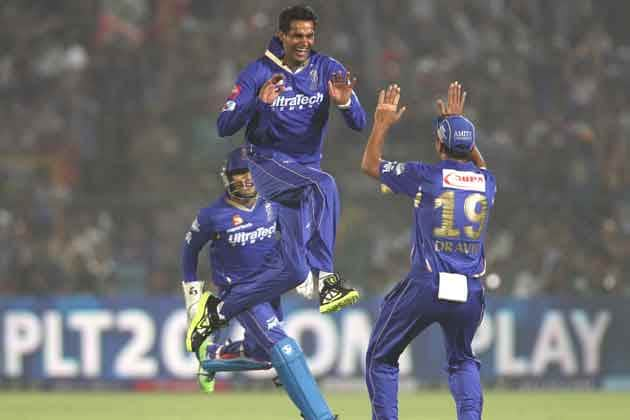 New Delhi: If you have been following the progress of Rajasthan Royals in IPL 6 you may have noticed a similarity between Moneyball, the 2003 book by Michael Lewis that inspired the Academy Award-nominated film of the same name, and the way the Jaipur-based franchise have gone about their work. In a nutshell, Rajasthan have achieved much success - especially at their fortress of the Sawai Mansingh Stadium where they have won five out of five - by putting faith in a number of low-cost but highly effective players.
For the uninitiated, Moneyball is the story of Oakland A's manager Billy Beane who took the aforementioned baseball team to the Major League Baseball play-offs a couple years in a row by using a system called Sabermetrics to choose valuable but significantly low-cost ball players - all with budget roughly one third of the top team's budgets. To offer some perspective, Oakland had a payroll of $41 million as compared to the New York Yankees' $125 million at the time.
Compare that to Rajasthan, who went into February's IPL auction with a purse of $7.7 million remaining to spend, and ended up spending only $639,000, the least among all franchises. They had slots open for 11 Indians and four overseas players and purchased just three foreigners - Australia's James Faulkner ($400,000), West Indian Fidel Edwards ($210,000), and Sri Lankan wicketkeeper-batsman Kushal Perera for his base price of $20,000. Where other teams chased superstars or doled out huge bucks for small players only to not use them (think of Mumbai Indians), Rajasthan
So far Faulkner has proved a very smart buy as he is the current owner of the Purple Cap or most wickets (16 at 10.37 apiece) and in his next to last match produced the first five-wicket haul of IPL 6 as Rajasthan made short work of Sunrisers Hyderabad. The 23-year-old has also been excellent in the field, taking some smart catches and saving runs in the deep as well as nailing run-outs from inside the circle.
But Faulkner is just one example of how Rajasthan have invested significantly small money on lesser-known players to produce strong results on the field. Of those to have played key roles in IPL 6, the likes of 18-year-old Sanju Samson, allrounder Stuart Binny, wicketkeeper Dishant Yagnik and offspinner Ajit Chandila are four uncapped domestic players who have proved smart acquisitions.
Samson's two visits to the crease have produced innings of 27 not out and 63 off 41 balls; both helped Rajasthan chase down targets and Samson was Man of the Match in the win over Royal Challengers Bangalore on Monday. Binny has benefited from extended playing time in IPL 6 and has repaid the faith with a tally of 143 runs that includes a couple breezy cameos as well as three wickets with an economy rate of 6.83. Yagnik was brought in to keep wickets after Perera fizzled in his two outings, and produced a couple punchy cameos apart from performing well behind the stumps. By using Yagnik as wicketkeeper, a spot was opened up to bring in heavier overseas players.
Chandila, who shot to prominence with a hat-trick on IPL debut in 2012, has been used as a new-ball operator and has five wickets from five matches. Jhardkhand seamer Rahul Shukla was another addition during the off-season, and he has impressed with pace. From the overseas options, the Trinidad & Tobago allrounder Kevon Cooper has proved a reliable selection once again with ten wickets an average of 22.
For a side short of international superstars - they have only Shane Watson - Rajasthan have had to rely on smaller players and this has, by and large, paid dividends. The team had a poor campaign last year, finishing seventh in the points table. They are currently at third, tied on 12 points with RCB. What Rajasthan seemed to have learnt is the balance between team and individual performances, with a focus on getting everyone to play at their best level consistently.
If it keeps up and this season ends in glory for Rajasthan, the IPL could have its own Moneyball moment.