For a huge chunk of his cricketing career the West Indian all-rounder Dwayne Bravo has been instrumental in stopping the opposition teams from taking the game away in the death overs due to some intelligent and well planned out bowling performances. But, things have not worked according to script for the champions all-rounder in the current season of the IPL, which has meant that his captain MS Dhoni and the Chennai Super Kings team has had a big problem.
In this season, Dwayne Bravo has played 13 games for the CSK team and as their second highest wicket-taker in the competition, he has only 9 wickets to his name, which is three short of the Indian bowler Shardul Thakur. Out of all the bowlers CSK have used so far, Bravo, with an economy rate of above 10 has been the most expensive bowler with his worst performances coming against the Kolkata Knight Riders and more recently against the Delhi Daredevils where he conceded 26 runs in the final over - against Delhi, Bravo's final over was more expensive than four other bowlers spells. Deepak Chahar, Lungi Ngidi, Ravindra Jadeja and Harbhajan Singh all conceded less runs in the whole game as compared to Bravo's decisive 26 run over.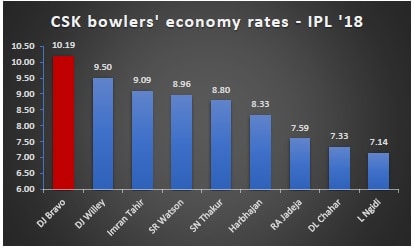 The West Indian all-rounder, who is a crucial part of the CSK machinery has been responsible for four of the six worst bowling performances from the team this season, with his most recent performance against Delhi ranking at fourth on the list, while his spell against KKR was the worst.

Bravo, who has the third worst economy rate among all bowlers used by MS Dhoni's team has also registered the two most expensive spells by a CSK bowler in this edition of the IPL.

Against the Kings XI Punjab, Dhoni will hope Bravo can turn things around as he has a good record with 20 wickets from 14 games against them. The dismal performances of the bowling unit of the CSK has been a big worry for Dhoni and the team management as they head towards the knockout stages. Against the KXIP side, Dhoni and CSK will be worried for their bowling unit as the likes of KL Rahul and Chris Gayle are aware they need a big win and a weak bowling unit is right up their alley.