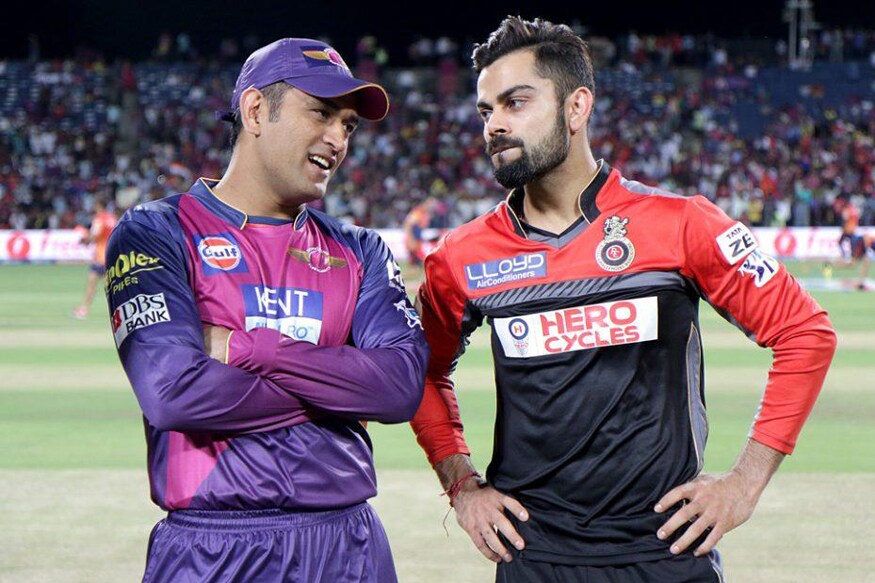 Had anybody suggested at the start of IPL 9 that the teams Mahendra Singh Dhoni and Virat Kohli lead would be scraping the bottom of the points table at the half-way mark, he or she would have been consigned to the loony bin.
Dhoni has an excellent record as captain, particularly in the T20 format. He led India to a win in the inaugural ICC World Twenty20 in 2007 and has won the IPL twice for his erstwhile team Chennai Super Kings, as also the Champions League. His trophy-laden mantelpiece would be the envy of any captain.
Kohli still does not captain India in limited-overs cricket and has been unable to win the IPL in the past few seasons when he has been in charge. But his brilliant current form and undisguised hunger to succeed suggested a massive turnaround in his franchise's fortune.
Of course, given the topsy-turvy nature of T20 cricket, it is impossible to predict the winner of a tournament at the start. But it was generally agreed that the teams Dhoni and Kohli were in charge of would be serious contenders, not stragglers, this year.
Yet, that's precisely how Rising Pune Supergiants (RPS) and Royal Challengers Bangalore (RCB) can be described now, hobnobbing with bottom-placed Kings XI Punjab, all three with four measly points each and prospects of making it to the play-offs getting dimmer with every match.
So what's going wrong?
There are two aspects to the struggles of these two captains and their teams. One is the failure to find the right composition in the squad, and secondly the misfortune of being hit by injuries to key players. Both in conjunction have meant serious trouble for Dhoni and Kohli, though these have come with contrasting reasons.
By common consensus, RCB have the best batting line-up in the tournament. Even an out-of-sorts Chris Gayle is a big threat to opponents. Then comes the in-form duo of Kohli and AB de Villiers, Jodi No. 1 as I call them, followed by the vastly experienced Shane Watson, with the hugely talented KL Rahul, Sarfraz Khan and Sachin Baby to back them.
It is hardly a surprise then that RCB have been notching up scores of 180+ plus regularly. However, it hasn't helped that their bowlers haven't been able to defend such high scores – whether playing at home or away – at times allowing opponents to snatch a win from certain defeat, as happened against Kolkata Knight Riders on Monday.
It is RCB's utter bad luck that Mitchell Starc, the world's best fast bowler in limited-overs cricket, didn't make it to the IPL. The most successful spinner in the World T20, which preceded this tournament, Samuel Badree, also unfortunately broke down without playing a match.
Losing two match-winning bowlers was a body blow, but it must also be said that RCB had not provided a buffer for these bowlers getting injured or losing form. This was because they had, as in previous years, put greater faith in their powerful batting.
This faith is not misplaced for the batsmen have produced runs every time. But the realisation that winning matches, even in T20 cricket, requires wickets to be picked up regularly, has come at great cost.
Dhoni's predicament stems from an altogether different situation. With Chennai Super Kings (CSK) banned for two years by the Supreme Court-appointed Justice Lodha committee investigating into the 2013 corruption scam, he saw the team nurtured with care and imagination over eight years fragmented overnight.
With players from both CSK and Rajasthan Royals divided between two new franchises, Rising Pune Supergiants got Dhoni with much trumpeting and beefed up the team with the likes of Ajinkya Rahane, Kevin Pietersen, Faf du Plessis, Steve Smith and Mitchell Marsh, but did not quite manage to get the overall composition right.
Without taking names, Dhoni has bemoaned the absence of allrounders like Dwayne Bravo and Ravindra Jadeja, and a seasoned bowler like Ashish Nehra, all of who were integral to CSK's success along with the captain and batsmen like Brendon McCullum and Dwayne Smith.
With main strike bowler R Ashwin struggling for wickets, Pune's attack has looked thin. With the batsmen too struggling in the initial matches – Dhoni's own form has been lackluster, Pune could not quite make the headway anticipated after an emphatic win in the opening match against defending champions Mumbai Indians.
The struggle to find the right balance and composition got exacerbated into a deep crisis with a string of injuries that robbed the team of Pietersen, Du Plessis, Marsh and particularly Smith, who had hit a purple patch within a week.
The rich experience and class of these players meant that they would be in the playing XI of most, if not all, matches. Now they were all gone, leaving the side beleaguered. Getting replacements was a minor logistical hassle, but where do you find players of equal caliber?
Pune have to win at least four of their remaining six matches and Bangalore three from seven to have a mathematical chance of making it to the play-offs. Every extra win increases the probability of reaching the last four, but given their track record this season, the difficulty quotient of this becomes extremely high.
Given the unpredictability of T20s, it would be impetuous to write off either. But clearly the road from here is all uphill.