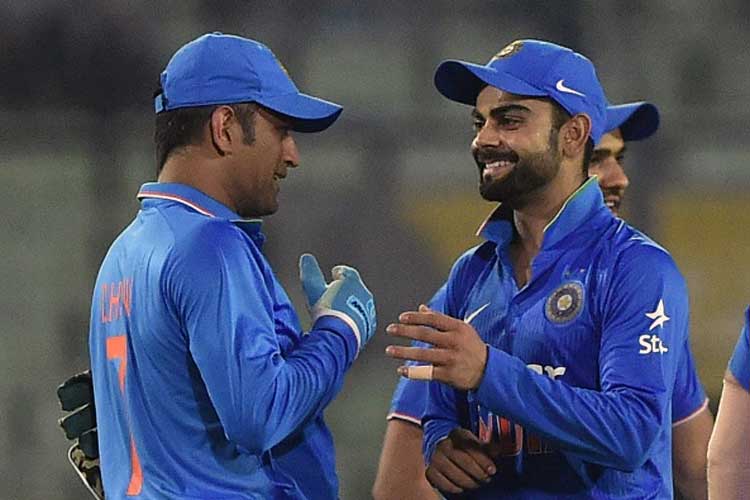 New Delhi: Promises they say are often made to be broken. But not when you are Mahendra Singh Dhoni. Speaking shortly after stepping down prior to the limited overs series against England, Dhoni had promised to be Virat Kohli's 'unofficial' vice-captain and guide the new limited overs skipper. And he did just that in the final moments of the nail-biting second T20I between India and England at the Jamtha Stadium on Sunday.
With England needing 24 runs from the last 12 deliveries, skipper Kohli decided to man the long-on boundary and that is when Dhoni took over. He was seen constantly speaking to senior campaigner Ashish Nehra as the duo plotted England's downfall in the final stages, with Jasprit Bumrah in tow.
In fact, after Nehra gave away 16 runs in the penultimate over, Dhoni took time to set the field as Bumrah marked his run-up to bowl the last over. Even Kohli was seen constantly speaking to Dhoni from the long-on boundary as the former skipper held centrestage.
This is how the last over was played out:
1st Ball: Root was adjudged LBW out but crucially for Bumrah and India it was a dot ball. (8 runs needed of 5 deliveries now)
2nd Ball: Bumrah bowled a slower ball and Moeen Ali hit it towards point to take a single and Buttler was back on strike. (7 runs needed of 4 deliveries now)
3rd Ball: Buttler swung the bat hard but missed the ball completely, adding another dot ball in India's kitty. (7 runs needed of 3 deliveries now)
4th Ball: Another blow to the visitors as a brilliant yorker by Bumrah rattled Buttler's stumps. (7 runs needed of 2 deliveries now)
5th Ball: New batsman Chris Jordan failed to connect but the batsmen made a dash to steal a run. (6 runs needed of 1 deliveries now)
6th Ball: Bumrah bowled a wide yorker and Ali once again failed to connect as the entire stadium erupted in joy as India had snatched victory from the jaws of defeat in thrilling fashion.
Even as Kohli ran in to join the celebrations after the thrilling win, Dhoni once again showed that he is a man of his word.
In fact, going into the series, Kohli had made it clear that Dhoni shall always be his captain and the latter's inputs will always play a pivotal role in his decisions.
Also Read: Virat Kohli Says He Will Decide, Dhoni's Suggestions 'Priceless'
"It's just that I am in charge of decisions now and he (Dhoni) will be giving his views. When Dhoni was in-charge, I have always shared my point of view and thoughts with him. Eventually he has made those decisions. Sometimes it may immediately click and he makes those changes right away. Sometimes he still takes time to follow his instinct more and keep that as option B.
"As cricketers, we understand it is a pretty natural thing to have different perspectives about the game, about captaincy as well. His views will be priceless for me, as well. But I will have my preparation first and keeping his views in mind, maybe I will follow my instinct for a bit more (time) and then maybe switch to a different plan B from a different point of view," he had said.