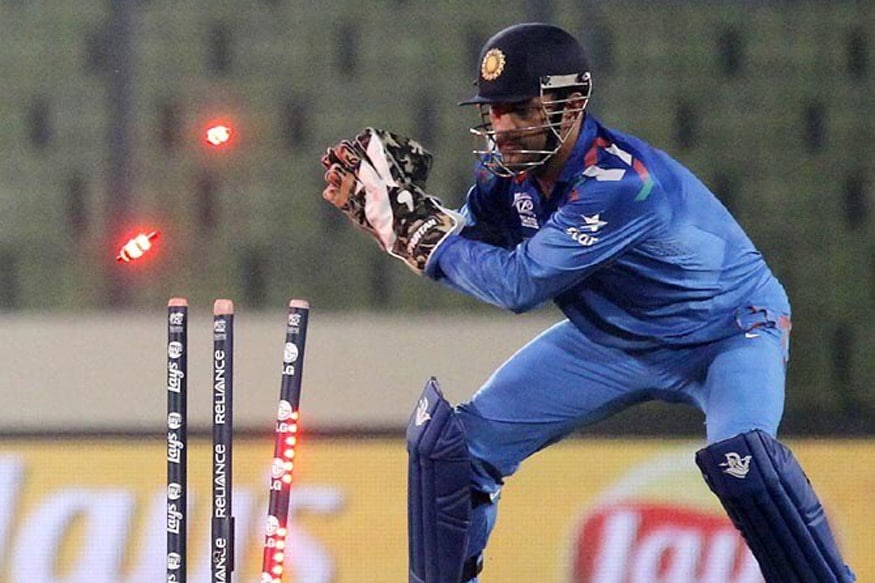 New Delhi: MS Dhoni not just finished the India innings with a six off Sri Lanka skipper Thisara Perera, he also returned to register two stumpings and pick two catches to finish with 4 dismissals behind the wicket at the Barabati Stadium in Cuttack on Wednesday. With this, his tally went up to 74 and he is now the wicket-keeper with the most dismissals in T20Is.
Dhoni needed two dismissals going into the game to equal AB de Villiers's record of 72 dismissals from 78 games for South Africa. Dhoni now stands atop the list with 74 dismissals in 84 games with 47 catches and 27 stumpings. Dhoni affected both the stumpings in Wednesday's opening T20I against Sri Lanka off Yuzvendra Chahal's bowling.
India opener KL Rahul said the former skipper is still a match-winner for India and continues to be an inspiration in the dressing room.
Promoted to the no.4 position, Dhoni made an unbeaten 39 off 22 deliveries before affecting four dismissals behind the stumps to help India record a massive 93-run win over Sri Lanka in the first T20 International last night. Dhoni, thus, became the player with most dismissal in the shortest format of the game. With 201 dismissals in 272 matches, the former captain has become the second wicket-keeper after Kamran Akmal (207 in 211 matches) to complete 200 dismissals or more in Twenty20 Internationals.
"I see him (Dhoni) as motivated in the dressing room as I always have. He's somebody we look up to, he's a match winner and he will always be one," Rahul said at the post-match news conference last night.
"He is in great shape, and he almost killed me as soon as he came into bat," he added with a smile referring to a brutal shot by Dhoni to get off the mark yesterday. After Rahul left the job unfinished getting out for 61, Dhoni played the finisher's role to perfection with a 22-ball 39 not out with four boundaries and a six to lift India to 180 for 3.
The target was way too many for Sri Lanka as they slumped to their sixth consecutive T20 defeat in their 100th appearance in the shortest format of the game.
"I don't know what form you are talking about but every time I switch on the TV, or play with him in the dressing room, he always seems to get runs," Rahul said strongly backing Dhoni.
Besides his good show with the bat, Dhoni also accounted for two catches and two stumpings to surpass South African great AB de Villiers in the record for most dismissals in T20Is.
In his last outing at the Barabati Stadium here, an ODI against England in January this year, Dhoni had smashed a 122 -ball 134 in India's mammoth 381 for six en route to a 15-run victory.
"The last time he was here he got a massive hundred. He's been contributing really well in every game," Rahul said about his senior teammate. Making a return after being dropped in the ODI series, Rahul top-scored for India to grab the opportunity in the absence of regular opener Shikhar Dhawan.
"Every innings is important. With the the kind of competition in the team whatever opportunity you get you need to go out there and make it count," the 25-year-old said.