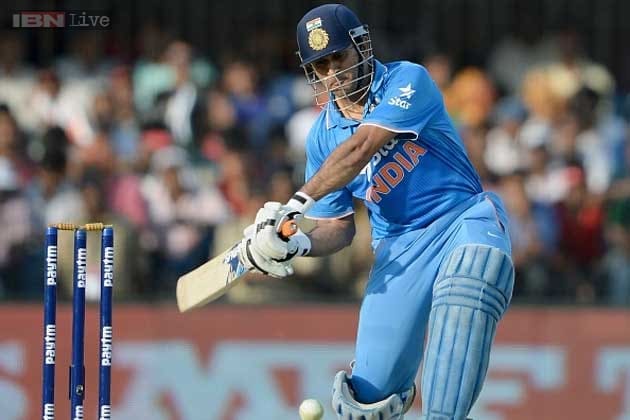 For the last couple of the days, the most talked about person in India's cricketing circles has been none other than skipper MS Dhoni. But as it often turns out in sport, a big player answers his detractors with his game.
Dhoni marked his return to form with an unbeaten 92 as India recorded a 22-run victory over South Africa in the second one-day international to level the five-match series at 1-1.
Dhoni's recent performances and judgment calls have not gone down well with his fans and many experts, and critics have been after his head following India's narrow loss in the first ODI at Kanpur, which was third in a row for India after losing two T20Is.
In the series opener on Sunday at Green Park, Dhoni was blamed for the 5-run defeat. He was on the pitch when India needed 11 off the final over but he was not able to take his side home.
Fast forward now to Wednesday - India were struggling against South Africa at 124 for 6 and it required a special knock from 'Captain Cool to pull the team out of a precarious situation. Not only did he help India get out of trouble but also sent a strong message to all those making comments about his batting and captaincy.
He has let his bat do the talking by playing an innings of substance, which he backed with four catches behind the stumps and the kind of captaincy he has been known for.
"It is not an easy game that we play, a lot of people wait with open swords and want you to make mistakes and have fun with it," Dhoni said after India bowled out South Africa for 225 in 43.4 overs, in a chase of 248.
Talking about his performance, Dhoni said: You always want to play well for your country but not always things goes your way.
"In the last 2-3 years, it's the top order major work for us they loads of runs. That means the middle and lower order batsmen get to bat after 35 overs. We do crib about the fact that we are not good enough to go for big shot straight away.
That is something we have to improve. Someone has to do it. It is fact but sometimes you have to do the dirty job. It has been a good 2-3 years with few ups and downs. But overall as a team we have done well."
"It was a good game for us. There were a few soft dismissals and we didn't score something which was par on this wicket. We didn't start well with our bowling but our spinners did well and gave us the breakthrough and later the pacers also came into action and gave us those wickets which was needed at that point of time.
"So, overall I would not say it was a complete game because definitely we can play much better with our skills but it is good to win games," he added.
Dhoni made it clear he was not completely happy with the performance of his team but said it was good to win after a series of losses.
"It is not every time you lose in home conditions. Yes, we didn't play to our full capacity, we are not even 80 per cent of what we can, so overall it was a good team performance. As a batting unit we may not have scored something which we could have defended but the bowlers showed that we are able to defend that."
Asked if he was tensed when No. 9 K Rabada was batting, Dhoni said: "It is always difficult when lower order batters are batting. We knew we needed two good deliveries and a bit of luck too. We had to play to our self strategy. I wont say that the game was in our hand but we had a chance if we could bowl at the right areas and I feel the bowlers did that."