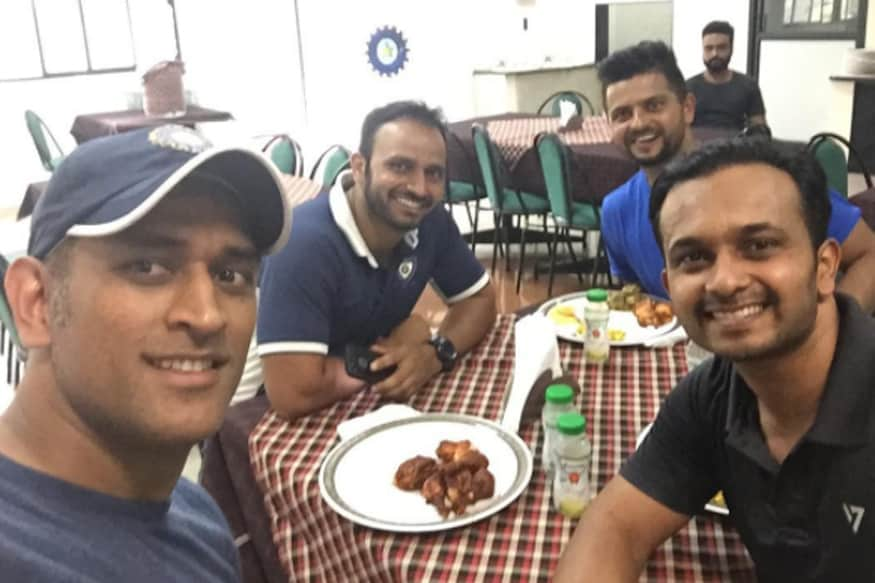 New Delhi: Former India captain MS Dhoni was pictured sweating it out at the National Cricket Academy in Bengaluru on Friday, where he was joined by fellow Indian cricketers Suresh Raina and Kedar Jadhav as well.

Having retired from the Test arena, Dhoni is keeping himself fit for the upcoming tour of Sri Lanka, where the Men In Blue are supposed to play five ODIs and one-off T20I, starting August 20.

Dhoni posted a picture on social media where he revealed that he has taken all the required tests at the academy and he also ran a distance of 20 meters in 2.91 seconds. MSD's Instagram post read: "NCA all test's done.20 mtr in 2.91sec. Run a 3 done in 8.90sec.time for heavy lunch"




Raina too took to Twitter to express his happiness about training with Dhoni. Raina wrote that he still learns a lot from Dhoni, who continues to inspire me. Raina's Twitter post read: "A well spent day at #NCA! Always so much to learn from @msdhoni and be inspired 💪 #NCA #Bangalore #inspiring #motivating".


A well spent day at #NCA! Always so much to learn from @msdhoni and be inspired 💪 #NCA #Bangalore #inspiring #motivating pic.twitter.com/tywlVIfzxw

— Suresh Raina (@ImRaina) August 11, 2017



Before this, Raina was training in Amsterdam for the past two months. The swashbuckling batsman is trying his best make a comeback into the Indian squad and the last ODI he played for the Men in Blue was way back October 2015. Although he did make a return into the T20 squad and also slammed a half-century against England.

Dhoni and Kedar are almost certain to find their respective places in the squad and will fight it out in the limited-overs format in Sri Lanka. But unfortunately, same cannot be said about Raina and it seems that he may have to wait a bit longer to make his return into the Indian set-up.

The selection of the Indian team for Sri Lanka ODIs and T20I will be held on Sunday.

First Published: August 11, 2017, 2:54 PM IST