Southampton: The entire chase against South Africa. 49.5 overs against Australia. 47.4 overs against Pakistan.
Wondering what these are? These are the number of overs taken to dismiss the last of India's top three batsmen. Rohit Sharma in the first case, Virat Kohli in the remaining two.
When India's top three bat deep, their batting looks rosy. When they fall even a little earlier, the struggles are exposed. India's middle order as such is not the problem; the question is whether they can do the job without the help of a top three batsman from the other side. Afghanistan revived those questions - masked by India's batting success in the earlier games.
India were 135 for 4 when Kohli was dismissed for 67 off 63. In 117 balls after that, India managed only 89 runs.
The focus around India's middle order, not without reason, is on the No. 4. Some of the attention should also be on the No. 5, on MS Dhoni's inability to rotate strike in the middle overs.
Dhoni laboured his way to 28 off 52. It was a typical case of him taking it deep hoping to finish strong, but the final flourish didn't come. When it doesn't, it often leaves the team in trouble.
Dhoni walked in 122 for 3 in 27th over and soon saw it become 135 for 4 in 31st. In those four overs, he was in the process of settling down. After Kohli's departure, he shut shop.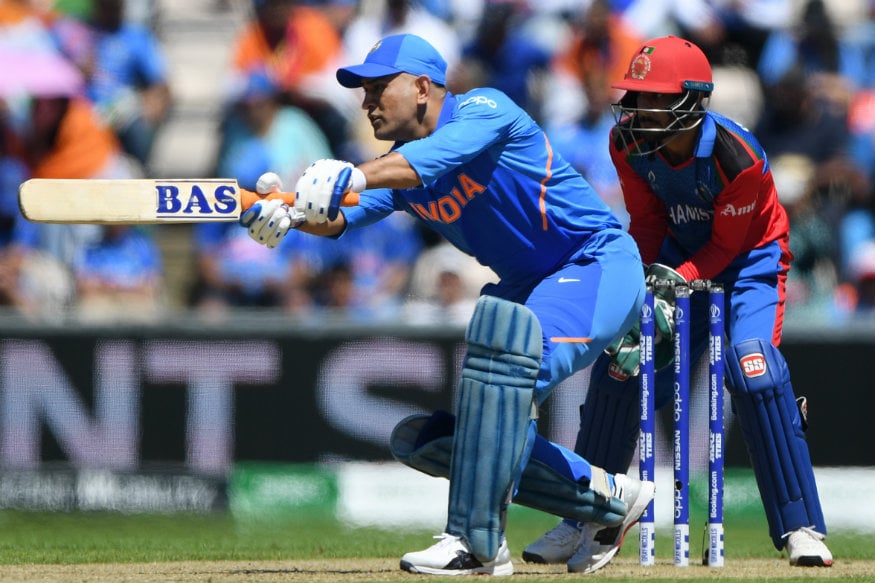 Afghanistan applied the classic spin choke - on the entire batting unit but particularly on Dhoni. The first 26 balls Dhoni faced was all from spinners, and he managed merely eight runs. The first ball he faced from a medium pacer was smacked for four.
In fact, only 9 of the 52 balls Dhoni faced was from medium pace. He scored 16 off 9 from them, while managing only 12 off 43 against spinners. All his three boundaries came against pace. Dhoni played as many as 33 dots.
Afghanistan were also clever in strategy, often having six fielders inside the ring for Dhoni. His hard hands don't allow him to rotate. The match situation doesn't allow him to attack.
In many ways, Dhoni's innings on Saturday was similar to his knocks in England during the tour last year. In the two games he batted then, he made 37 (59) chasing 323, and 42 (66) batting first. Dhoni's approach even made the fans at Lord's boo him. The situations were very similar - the top three gone, Dhoni looking to forge partnerships and falling without a final flourish. India lost both those matches.
The other similarity is the depth of India's batting. India had Umesh Yadav coming in at No. 8 in England last year. They now had Mohammed Shami, thanks to Bhuvneshwar Kumar's injury. It only made the already cautious Dhoni even more watchful.
In his mind, Dhoni would have been calculating par scores given the pitch was slow and Afghanistan's batting isn't the best in the tournament. The moderate score worked in this game, but a little more strike rotation would make India less dependent on the top three.