The Mumbai Indians are known to up their game when it comes to the second half of an IPL season, and the three-time champions have made that a habit. Captain Rohit Sharma though is of the opinion that the team should change that habit.

But, going by the evidence on display at the Eden Gardens on Wednesday evening, the captain might be forced to think otherwise as they inflicted a massive defeat on the hosts as they beat them by a massive 102 run margin. This defeat is the heaviest in terms of runs ever against any opposition in the IPL for the KKR.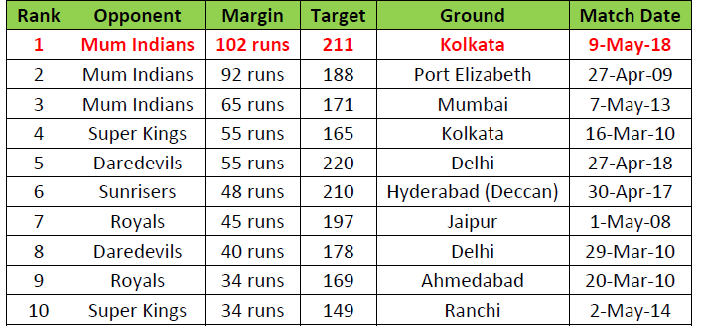 The Kolkata Knight Riders, who were chasing a target of 210 at the Eden Gardens could not keep up with the run rate and the batsmen perished under the pressure of the asking rate. KKR, who folded up their chase for 108 have also been on the receiving end of another heavy defeat which came at the hands of the Delhi Daredevils.





What the Kolkata Knight Riders will also want to address apart from the batting collapse and the bad fielding performance at the Eden Gardens, is their perennial problems against the Mumbai Indians. Five of the six lowest scores for KKR in the IPL have come against the Mumbai Indians, with the Wednesday defeat being the highest among the five scores.



First Published: May 10, 2018, 12:52 PM IST