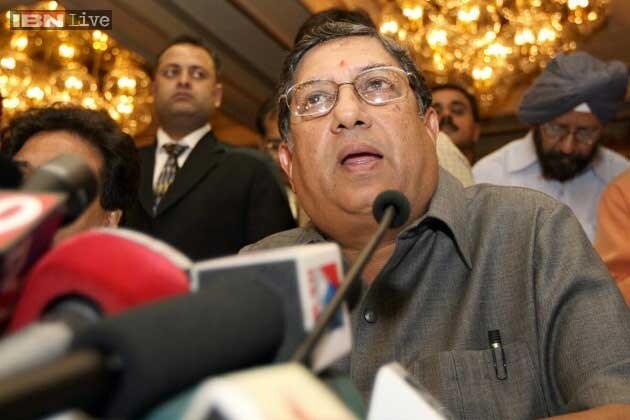 Kolkata: ICC Chairman N Srinivasan on Sunday refused to comment on the West Indies team's sudden pullout of the India series.
"I have left the BCCI. I cannot comment on this," he said when his reaction was sought on West Indies' pullout of their India tour midway early this month.
The BCCI then suspended all bilateral cricket tours with West Indies and decided to initiate legal proceedings against the WICB for abruptly cancelling the tour, because of which the Indian cricket board suffered huge losses.
Srinivasan, also India Cements Managing Director, was in Kolkata to attend an event organised by 'The Refuge', a shelter home for orphans, old and disabled people.
During the event he was showered with gifts from around 90 sport clubs from all over the state.
"I am overwhelmed by the felicitation. I have no words to say but a personal thank you to each one of you," Srinivasan said.
Srinivasan also dropped in at former BCCI president Jagmohan Dalmiya's residence for a brief "courtesy visit" while 103 of the 121 affiliated units of Cricket Association of Bengal (CAB) felicitated the Tamil Nadu strongman.
"It was a courtesy visit by Mr Srinivasan to Mr Dalmiya's residence. Too much should not be read into the matter. Since this is his first visit after being appointed ICC chairman, the CAB wanted to felicitate him. 103 out of 121 units felicitated Mr Srinivasan," a senior CAB official said.
Srinivasan, if cleared by the Supreme Court is all set to become the BCCI president with support from east zone states.
It has been reliably learnt that CAB has already assured Srinivasan of their total support and is likely to be one among the proposer or seconder.
Srinivasan also took some time out to visit a well-known city-based NGO 'Refuge' run by BCCI's finance committee member and CAB treasurer Biswarup Dey.
Mr Srinivasan, in his own capacity donated Rs 1 crore to the NGO for working to give a better life to the under-privileged children.
"Mr Srinivasan got a touch emotional while visiting the NGO. He said that after the death of his father, his mother used to run an orphanage. He remembered the old days and said that Kolkata was like his second home," the official said.
First Published: October 26, 2014, 10:22 PM IST