Just 18 years and 329 days. A kid walked out to bat. After 235 minutes at the crease a man walked back.

He came, He SHAW, He Conquered!

Prithvi Shaw gave a glimpse why he belonged with the big boys. No sign of nerves. Not overawed by the big occasion.

134 runs full of authority, ferocious cuts and delightful punches – off just 154 deliveries.

Shaw faced the first ball off the match from Shannon Gabriel and never looked back. His first Test runs came off the second ball – a superb back-foot punch between cover and point for three – such was the exquisite timing that Keemo Paul had to make a diving stop at the boundary.

Shaw then got on the top of a short and wide delivery from Paul and punched it crisply to the point boundary.

He took a liking to Paul who did not help his case by bowling on both sides of the wicket. A whip off the pads – wrist-work Azhar and VVS would have been proud of – followed by a fine tickle to the fine-leg boundary. Shaw took Paul for three boundaries in the same over.

Soon the stand-in-captain, Kraigg Brathwaite went on the defensive – a deep-point and a deep square leg were deployed as early as the seventh over.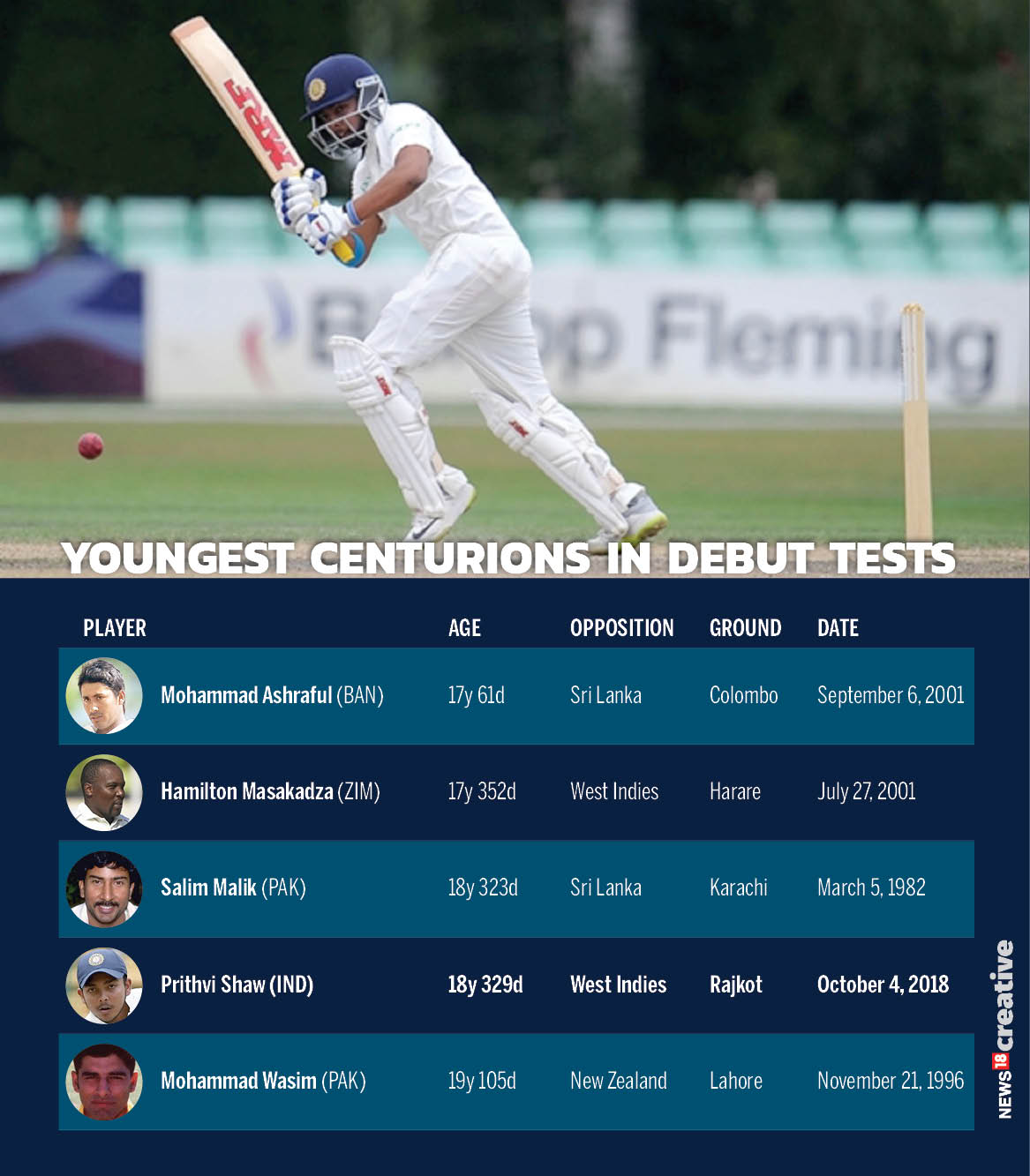 Bishoo was introduced into the attack within the first 10 overs. But Shaw was on the attack and he wasn't in a mood to hold back. He clobbered the leggie back over his head using a strong bottom hand – one bounce four.

'Attack' first and if cannot Attack then Defend – this was the chain of thought Shaw followed.

His clarity of thought whether he went on the offensive or defended set his innings apart. Not only was he imperious when he attacked but also confident and assured when he defended – off the back-foot to the faster bowlers and coming forward to the spinners getting his head right in line on top of the ball playing it close to his body.

Shaw was now beaming with confidence. He showed his full repertoire of strokes – a beautiful on-drive off a fuller delivery from Paul was followed by a caress through covers – his high-backlift reminiscent of Virender Sehwag and a bit of Ajit Agarkar too!

Shaw became the youngest Indian to score a fifty on debut – off just 56 deliveries.

He wasn't done. He slapped Chase to the sweeper boundary before belting him through covers – it seemed he was batting in the nets. He was making a mockery of the attack.

He kept it simple. If it was full he stretched forward, if it was short, he transferred his weight to the backfoot and if it was in the good length area, he usually left it alone.

Such was the debutant's dominance, that West Indies managed to bowl just one solitary maiden in the first session.

His most productive shot was the Cut Short – a result of his tremendous back-foot play. But he interspersed them with fine glances, flicks, delightful pull shorts and straight drives too.

It was almost uncanny how much he resembled Sehwag – in style, temperament and technique – strong square on the off–side, limited foot movement but great hand-eye coordination, delightful timing, attacking strokeplay, still head position, and clarity of thought and execution.

42 of his 75 runs before Lunch came in front of square on either side of the wicket.

Shaw switched a gear up post Lunch. He swept Bishoo against the turn for a couple of boundaries – the latter picked from middle-stump and drilled over cow-corner. A delightful front-foot punch off Gabriel took him to 98 – he stayed leg-side of the delivery thus creating the space to play that shot.

And then arrived that moment. It had to be his trademark punch through cover.

A hundred on debut at faster than run a ball. Dwayne Smith (93 balls) and Shikhar Dhawan (85 balls) were the only other batsmen to score a ton on debut in less than hundred balls.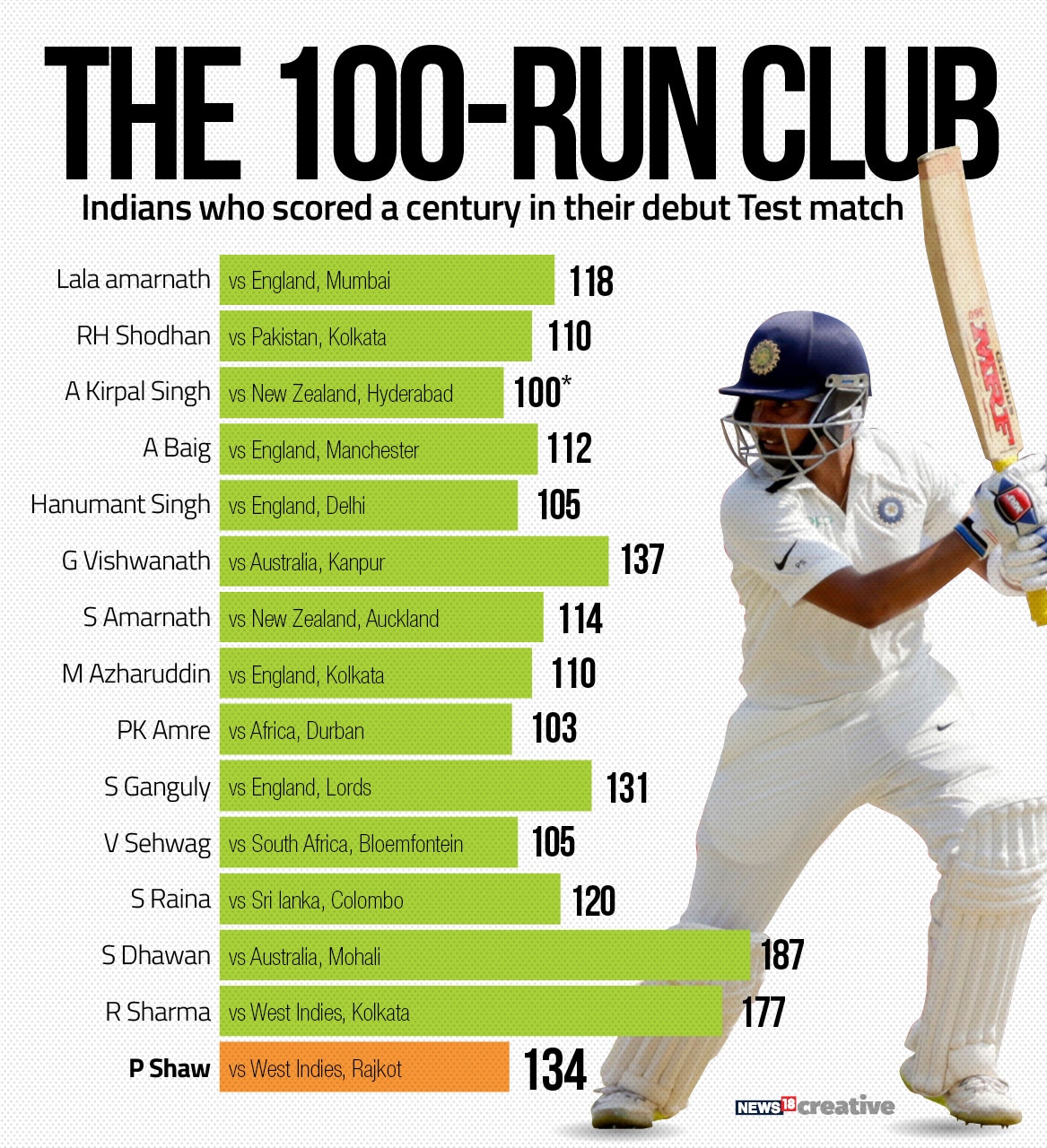 His second fifty came in just 43 deliveries. He slowed down post his ton and was finally dismissed for 134 off 154 deliveries with 19 hits to the fence.

It was an innings, both, of aggression and composure.

His ability to play late gave him enough time to play his shots. He also seemed to have done some course correction when playing the drive. Earlier, his back leg slid which made him play away from the body and hit the ball in the air.

Shaw's Control Percentage (number of balls in which he wasn't beaten, missed, edged or played a false short) were a mere 30 – that is approximately 20% - this means he was in control and on top of 80% of the deliveries he faced – that is very impressive for a stroke-player on debut!

He faced 88 dot balls which meant that there were 66 scoring shots. These included 38 singles, 9 twos and threes, and 19 boundaries.

60% of his runs came from the off-side – an indication of his cuts and punches. 13 off his 19 boundaries came on the off-side.

He was more dominating against the spinners – 65 runs in 71 balls as compared to the faster bowlers – 69 runs in 83 balls.

This maiden hundred was another example of the appetite for big runs Shaw has displayed in his short first-class career – he now has 8 hundreds and 5 fifties in 15 first class matches (including this Test).

There were other good performances too on Thursday. Pujara and Kohli notched up half centuries.

But Prithvi was the Shaw Stopper!


First Published: October 4, 2018, 6:47 PM IST