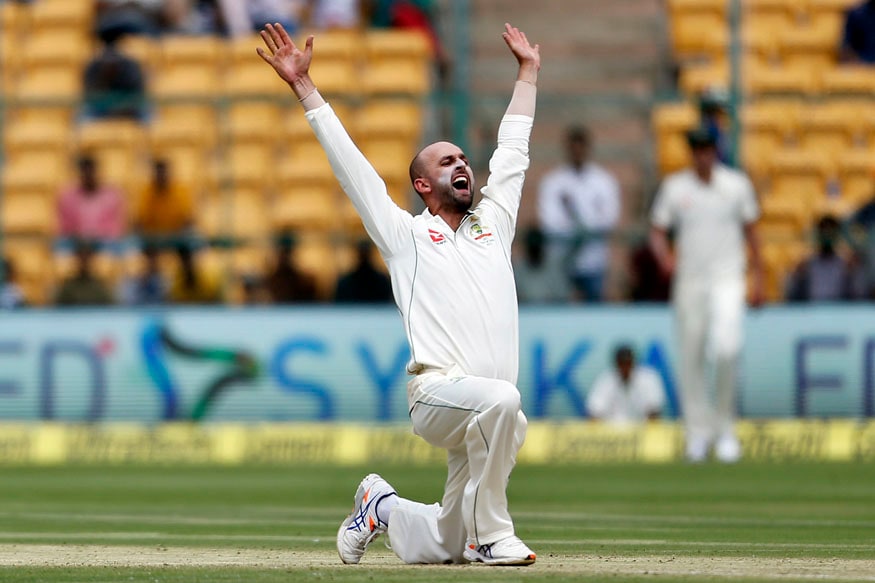 New Delhi: Australia off-spinner Nathan Lyon was charged by the International Cricket Council for throwing the ball at AB de Villiers during the fourth day of the opening Test between South Africa and Australia at the Kingsmead Stadium in Durban on Sunday. After dislodging the bails to run out de Villiers, Lyon dropped the ball and that touched the chest of the former South Africa skipper as he had dived back to make his ground.
Lyon has been charged with a Level 1 breach, which could see the off-spinner fined up to 50 percent of his match and be given up to two demerit points to his record reported cricket.com.au. A Cricket Australia spokesperson said Lyon has been in touch with de Villiers. The two were seen at Kingsmead prior to play starting shaking hands as each side warmed-up.
Former South Africa captain Graeme Smith labelled Lyon's actions unnecessary. "The Aussies were pretty fired up at that time pushing for a victory," Smith told cricket.com.au.
"But he (Lyon) is an experienced cricketer. I think he'll probably say it was unnecessary himself."
Cricket Australia said on Monday it was probing a heated exchange between David Warner and South Africa's Quinton de Kock in a stairwell during the first Test in Durban.
Video footage of the clash on Sunday, broadcast in Australia, showed Warner pointing and directing a verbal barrage at de Kock before he was restrained and pulled away by his teammates.
The incident reportedly took place as the players were returning to their dressing rooms at tea on day four of the first Test.
"CA (Cricket Australia) is aware of reports of an incident between players in Durban," a Cricket Australia spokesman said in a statement. "CA is working to establish the facts of what has occurred and will not be commenting further until that has been done."
The Australians had earlier been criticised for their ebullient celebration of the dramatic run-out of Proteas' star batsman AB de Villiers. De Villiers was run out for nought after being involved in a mix-up with opening batsman Aiden Markram, with Warner playing a key fielding role in securing the crucial wicket.
The vice-captain then led ecstatic celebrations with his teammates as Nathan Lyon, who had knocked off the bails, dropped the ball towards a sprawled de Villiers as he ran over to join them.