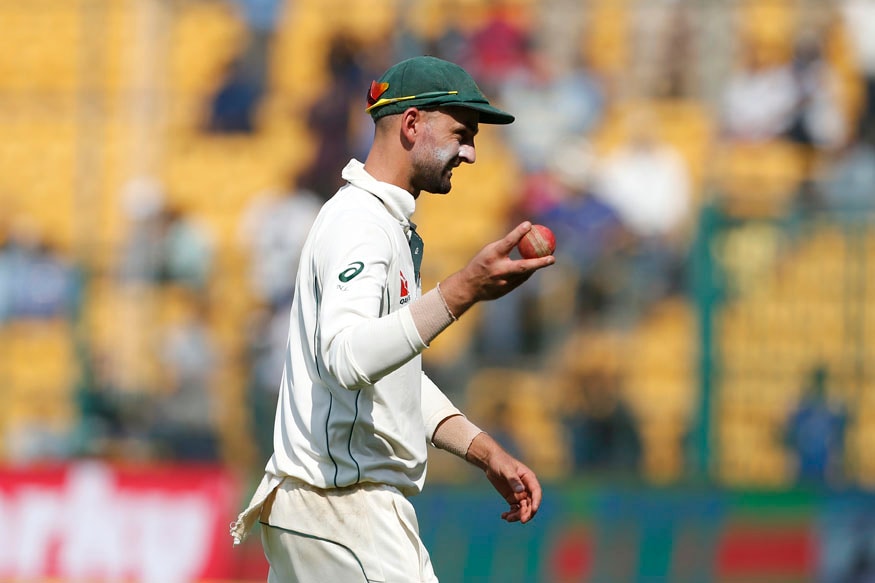 New Delhi: Australia's eight-wicket hero in the first innings of the second Test — Nathan Lyon — has revealed that injury on his right index finger affected his bowling in the second innings in Bengaluru.
However, the ace Aussie spinner has reiterated that nothing will stop him from playing the third Test in Ranchi.
"I've bowled a lot of balls over the summer and it usually happens once or twice a year. It just split. It was pretty painful there for a bit. And you can't bowl on (adhesive) tape – there's rules and laws out there that you can't bowl on tape so I wasn't even considering that," Lyon revealed.
"The last time I was in India (2013), the same thing happened in the third Test and I was able to play three days later. So I'm more than confident in turning out for the next Test," said Lyon.
The off-spinner also revealed that if bowls normal deliveries it doesn't hurt as much as when we tries to bowl his variations which requires change of grip.
"Yeah it hurts a lot. I'm able to bowl cross-seam and stuff, so I can still try to spin it, but for variations and trying to get drift and drop and stuff - two go at the back of the ball - the way I bowl. It does impede it a little bit, but we've gone through that now and moved on from the second Test and now I'm just looking forward to Ranchi," said Lyon.
Lyon also took a parting shot on Virat Kohli and his troops by saying India will be feeling the pressure ahead of the third Test.
"The pressure is right on India - there's no pressure on us. Everyone said we were going to lose 4-nil, they're no good. They're a young cricket team learning. But we believe we can beat the best teams anywhere in the world. We proved that in the first Test, we came close in the second Test," signed off Lyon.
@media only screen and (max-width:740px) {
.quote-box{font-size:18px; line-height:30px; color:#505050; margin-top:30px; padding:22px 20px 20px 70px; position:relative; font-style:italic; font-weight:bold}
.special-text{font-size:24px; line-height:32px; color:#505050; margin:20px 40px 20px 20px; border-left:8px solid #ee1b24; padding:10px 10px 10px 15px; font-style:italic; font-weight:bold}
.quote-box img{width:60px; left:6px}
.quote-box .quote-nam{font-size:16px; color:#5f5f5f; padding-top:30px; text-align:right; font-weight:normal}
.quote-box .quote-nam span{font-weight:bold; color:#ee1b24}
}