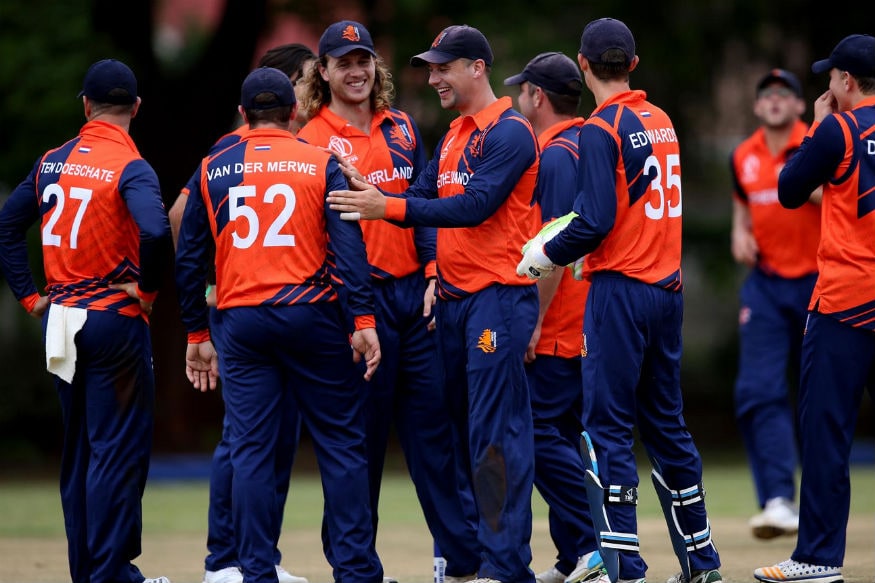 PREVIEW, NED vs NEP: It's about as historic as it gets. Close on the heels of Ireland and Afghanistan playing their maiden Test matches, we have Nepal starting out as an ODI nation.
Nepal's rise up the ranks has been a fantastic story, and the positive results at the ICC Cricket World Cup Qualifier 2018 have only served to whet the appetite.
In Paras Khadka, they have an outstanding batsman and captain, and in Sandeep Lamichhane, Nepal have a budding superstar, a teenaged leg-spinner who has impressed everyone who has seen him.
But Nepal is a lot more than the two of them. There is a fair bit of experience in the ranks, with the likes of Shakti Gauchan, Basant Regmi, Sompal Kami, Sharad Vesawkar, Gyanendra Malla and others having served Nepal cricket well for long.
What makes them exciting, though, is the fact that they have shown excellent temperament to go with their skills. The unbroken last-wicket stand of 51 runs between Karan KC and Lamichhane against Canada, which took them to the qualifiers, was a sign of things to come, and they have made a habit of winning close games, which has led to the 'Cardiac Kids' epithet to be attached to the team.
But it's not lost on Khadka, or the team, that having reached the ODI level, it's time for Nepal to put up more such performances and build on their recent gains.
"We have always wanted to get to this point but the challenge is to keep on growing. Eight years ago, we were playing in ICC World Cricket League Division Five and now we are among the top 16 nations in the world, with ODI status guaranteed for the next four years," he wrote on the International Cricket Council website.
Against the Netherlands, Nepal will back themselves to do well even though the home side have had the wood on the visitors in recent times. Their latest encounter, in a Twenty20 International at Lord's, was loaded in favour of the Netherlands when rain spoilt the game, and at the ICC CWCQ 2018, the Netherlands won the seventh-place playoff in Kwekwe by 45 runs.
And if Nepal are experienced, the Netherlands side is even more so. Unlike Nepal, the Netherlands have played ODI cricket, 79 matches, starting as far back as in 1996 during the ICC Cricket World Cup.
As for players of class, Pieter Seelaar, the captain, Wesley Barresi, Stephan Myburgh, Max O'Dowd, Michael Rippon and Paul van Meekeren are about as good as they come, and will be gung-ho about making sure they assert their authority over the newcomers as well as possible.
It should be an excellent contest over two games, with both teams looking to strike first to get the upper hand.
Squads: The Netherlands: Pieter Seelaar (c), Wesley Barresi, Ben Cooper, Bas de Leede, Scott Edwards, Fred Klaasen, Stephan Myburgh, Max O'Dowd, Hidde Overdijk, Michael Rippon, Shane Snater, Daniel ter Braak, Paul van Meekeren
Nepal: Paras Khadka (c), Aarif Sheikh, Dipendra Airee, Lalit Bhandari, Shakti Gauchan, Karan KC, Subash Khakurel, Sandeep Lamichhane, Gyanendra Malla, Rohit Kumar, Lalit Rajbanshi, Basant Regmi, Anil Sah, Sompal Kami, Sharad Vesawkar