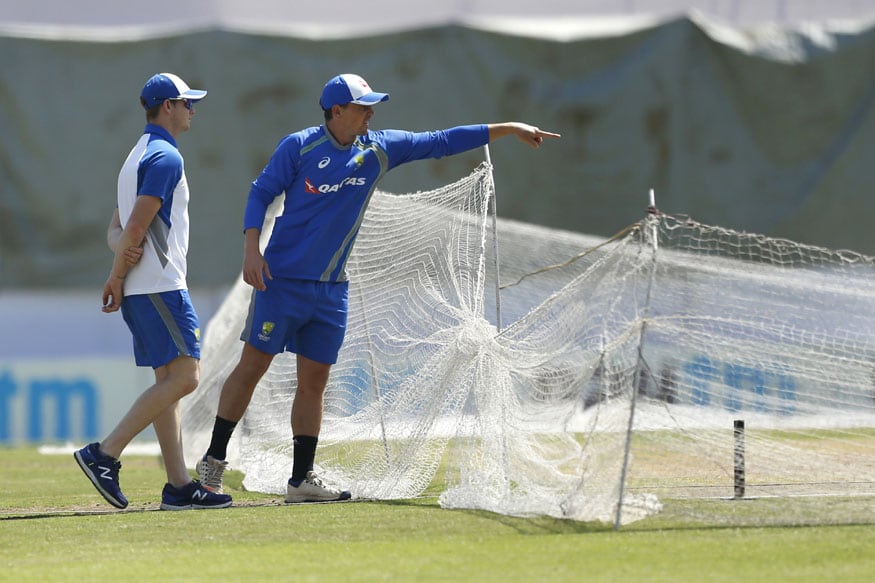 New Delhi: Australian captain Steven Smith has expressed concerns over the nature of the pitch at the JSCA stadium in Ranchi, which is all-set to host the third Test between India and Australia, starting Thursday.
After ICC declared the Pune track as poor and the Bengaluru pitch was termed as below average, all eyes are on the Ranchi pitch.
Also Read: Bengaluru Pitch Rated 'Below Average' by ICC Match Referee
One day ahead of the crucial third Test, Smith has raised doubts over the 'muddy' JSCA pitch but also conceded that it won't make much of a difference as both teams will have to play on the same track.
"I've never seen a wicket that's looked quite as dark as that one is," Smith was quoted as saying by the Cricket Australia website.
"It looks like there's mud sort of rolled together. It looks a bit different but having said that both teams have to play on it. It's twenty-two yards and we've played on some difficult wickets in the first two games and we've played some pretty good cricket, so we're confident that we can play with whatever this wicket does," said Smith.
Also Read: Ranchi Braces Itself for Debut As Kohli-Smith Reignite Rivalry
The Aussie skipper also warned his batsmen that they will have be on the look-out for occasional deliveries which will stay low.
"I don't think there will be a great deal of bounce, I think it will shoot quite low," said Smith.
"And I think it will take a reasonable amount of spin as the game goes on. But I'm actually not sure how it's going to play, it's hard to get a gauge on this one. I daresay there won't be much bounce but I've been wrong with wickets before," quipped the Australian captain.
@media only screen and (max-width:740px) {
.quote-box{font-size:18px; line-height:30px; color:#505050; margin-top:30px; padding:22px 20px 20px 70px; position:relative; font-style:italic; font-weight:bold}
.special-text{font-size:24px; line-height:32px; color:#505050; margin:20px 40px 20px 20px; border-left:8px solid #ee1b24; padding:10px 10px 10px 15px; font-style:italic; font-weight:bold}
.quote-box img{width:60px; left:6px}
.quote-box .quote-nam{font-size:16px; color:#5f5f5f; padding-top:30px; text-align:right; font-weight:normal}
.quote-box .quote-nam span{font-weight:bold; color:#ee1b24}
}