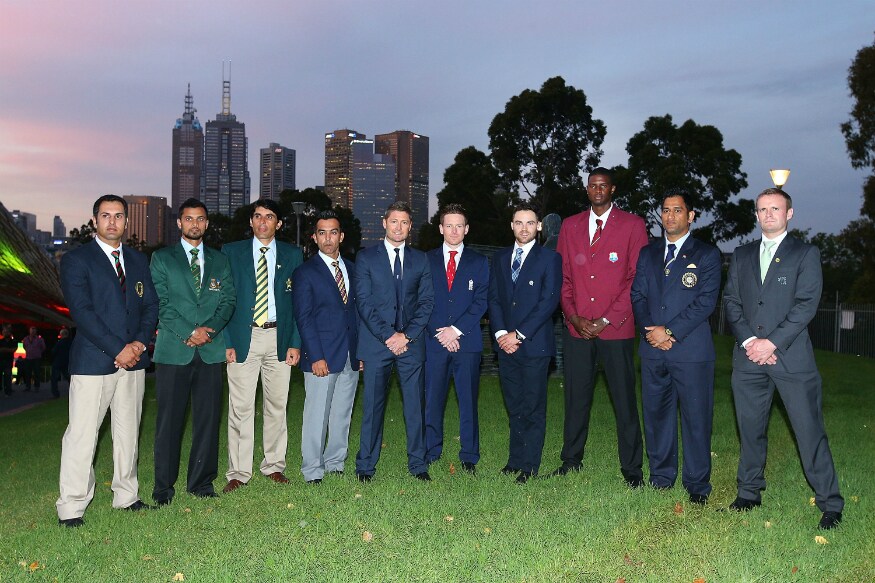 Similar to next year's World Cup in England, the 2023 event in India will also be restricted to ten teams though it could be up for discussion at a later stage. However, significant tweaks have been made to the qualification process, involving 32 teams contesting 372 games over a three-year period starting July 2019. The ICC revealed details of the new format after its Board and Committee meetings on Saturday in Singapore.
The top eight sides will automatically qualify for the event based on their performance in the 13-team One-Day International league. This Super League will comprise 12 full members as well as the Netherlands and will get underway from May 2020. Meanwhile, the remaining five teams will have to take part in the qualifiers, along with 19 Associates, to fight for the last two spots.
The ICC were slammed for restricting the 2019 World Cup to a ten-team affair, considering the progress teams like Scotland, Netherlands, Nepal, etc have made in the last few years. ICC's CEO Dave Richardson now feels the newly redesigned structure will give these teams more playing opportunities.
"To date the World Cricket League has played an important role in improving standards in Associate Member cricket, but feedback from our consultation with Members clearly articulated the need for more frequent playing opportunities and greater certainty over when they would be playing," he said.
"The new structure significantly increases the number of matches and competitive playing opportunities for our Members as well as shortening the whole qualification process to two and a half years, when previously it was six. There is a clear pathway now for teams looking to qualify for the ICC Men's Cricket World Cup."
Talking about the Women's World Cup, all 10 nations with ODI status will feature in the ICC Women's Championship, commencing post-2021 World Cup, in comparison to just the top-eight currently. As of now, Bangladesh and Ireland, who are ranked ninth and tenth respectively, are not part of the ICC Women's Championship that allows you to earn a direct qualification to the World Cup.
Changes have also been made in the ongoing Women's Championship that will now allow top five teams to automatically qualify for the event, as opposed to four, along with the hosts.
"It was confirmed that there will be a qualifying event in all five ICC regions with the top team in each region progressing to the ICC Women's Cricket World Cup Qualifier / ICC Women's World T20 Qualifier," stated ICC. The eight-team 2021 World Cup will see a qualifier round that will consist of three bottom-placed teams from ICC Women's Championship 2017-20, Bangladesh, Ireland and the five regional winners vying for the three remaining spots.
Meanwhile, the dwindling crowds for bilateral cricket series across the globe remain to be a cause of concern for the ICC and the world body has advised its members to be more prudent with their budgets for long-term sustenance.
It has been widely seen that during a bilateral series (Tests/ODIs/T20s), the visiting teams travel with jumbo contingent and the entire expenses, including daily allowances (as per MoU), hotel, food, are borne by the host association. The escalated costs also force a lot of host associations to face a financial crunch. This leads to a lot of issues like rising prices of tickets and they impact the series.
"It was agreed that in light of rising costs of cricket globally, members would make significant efforts to making international bilateral cricket more affordable with a view to long-term sustainability," stated ICC.
A senior BCCI official explained the scenario: "Suppose the Australian team is touring India and let's say they pay USD 250 daily allowance per person. If there is a MoU, then BCCI will have to pay that amount. If the amount agreed is USD 200, then balance is paid by CA."
The board also said that FTP agreement should ensure that modules of tour itinerary should be inked at the earliest. "Considerable progress was made towards the introduction of a new FTP agreement between Members with a clear commitment to early confirmation of tour itineraries and match venues."
The ICC also approved the composition of the ICC Umpire Selection Panel. The panel will comprise Geoff Allardice, ICC GM -- Cricket, Ranjan Madugalle, ICC Chief Referee, David Boon, ICC Referee and Sanjay Manjrekar, Broadcaster.
The ICC also appointed David Howman as the new Chair of the Independent Anti-Corruption Oversight Group (IOG), following the conclusion of John Abbott's term. Howman is a former Director-General of World Anti-Doping Agency.
(With PTI inputs)