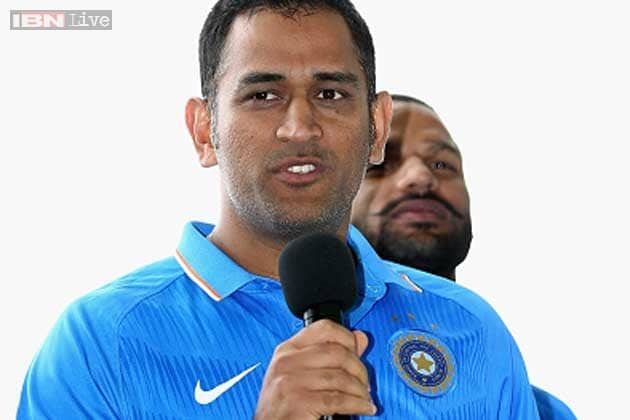 Melbourne: Team India's new jersey launched exactly a month before their World Cup campaign starts in Australia, has become an instant hit with the players. ODI captain Mahendra Singh Dhoni said the lightweight uniform will help the players focus better during the heat of battle on the field.
The kit combines high performance innovation with sustainability. Each kit -- jersey and bottoms -- is made out of an average of 33 recycled plastic bottles. Nike crafted the latest Team India uniform in a bold new design with some of the company's latest global apparel innovations to help the team perform at their best.
Team India's uniform was designed by listening to the voice of the athletes and collecting data on the form and movement of today's players on the field, a release by the manufacturers said. Following extensive research and athlete-driven insights, the designers created a new dynamic fit using a unique four way stretch fabric ideal for cricket, enhancing comfort for the players and allowing the body to move naturally within the kit. (India Threat in World Cup: Hussey)
The Dri-FIT technology and Pro Baselayer help regulate a player's body temperature through increased venting and breath ability for players to stay focused on their game.
"The new Team India uniform is light, comfortable and packed with innovation to help minimise distractions on the field of play and that's critical when millimeters make a difference between a game winning innings or wicket," Dhoni said.
"2015 is a massive year for Team India as the best teams in the world compete for cricket's greatest prize. The Team India jersey truly symbolises the passion for cricket in our nation. Wearing this jersey is a matter of pride for every player."
Another player happy to give his opinion on the uniform was Virat Kohli. The 26-year-old, who is renowned for his fitness as well as his batting, was delighted with the cut of it.
"The one thing that I stressed for the past couple of years was the fit," the one-day vice-captain said. "I like a T-shirt looking nice and snug. It's something Nike have done this time around and I'm really happy it's been done, because I think as a sportsman if you are fit you should have clothes that look good on you."
Dhoni, Ravichandran Ashwin, Umesh Yadav, and Ravindra Jadeja along with everyday cricketers provided insights into the new uniform made out of an innovative Dri-Fit Prime Lite lightweight fabric.
Mindful of the technical and physical demands of the modern game, the uniform also features specially designed laser ventilation holes and breathable engineered knit to aid cooling during match time.