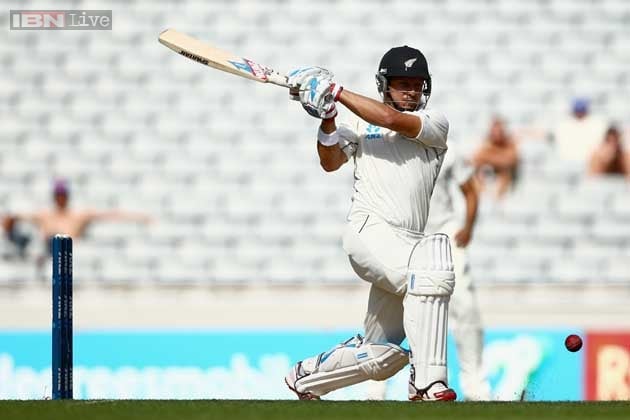 Auckland: New Zealand bowler Neil Wagner on Saturday said that the hosts will not be hitting the panic button just yet as they are confident of taking remaining Indian wickets needed for victory in the first Test, here.
At stumps on day three, India still need 320 runs for a win after bundling out the hosts for just 105 runs in their second innings. This was after India had replied with only 202 to hosts' first innings score of 503.
"It's a bit of a bitter-sweet day. We started off really well with the ball this morning and it was a great result to get them out for the score we did. Obviously, the batting after that really wasn't ideal stuff but at the end of the day, we are pretty happy with where we are," said Wagner.
"There are still a lot of runs on the board left to get and if we bowl well, we can get the nine wickets if we start off well tomorrow morning. It doesn't look like an ideal scenario but at the start of the game, we would have taken this any day," the left-arm pacer said.
The big question everyone wanted an answer for - why the hosts didn't opt to enforce the follow on, despite taking a sizeable advantage in the first innings.
"Everybody was very happy with the decision. It was a bit of a time for the bowlers to freshen up a little bit, have a quick ice bath and have the legs ready enough for the second innings. It gave us a little bit of time to get reset and refocus on what we need to do," said the 27-year-old.
Thereafter, Mohammad Shami took 3 for 37 and Ishant Sharma followed up his six-wicket haul in the first innings with 3 for 28 to blow the Kiwi batsmen away, on a pitch that seemed to have improved for batting on Saturday.
"Credit, where credit is due and India bowled very well today. Shami in particular started them off very well. They bowled a better length on that wicket than they did in the first innings. They were very patient and definitely asked very good questions at the start.
"They bowled very well and that's why they got rewards for it. I don't think we batted poorly or badly. I think it's just the nature of the game. Sometimes the bowlers are allowed to bowl well and so they did," he said.
Facing a stiff target, India finished the day at 87 for 1, with Shikhar Dhawan (49) and Chesteshwar Pujara (22) at the crease, and six sessions remaining in this Test match.
Wagner said Sunday's morning will be crucial and the hosts will look to get early breakthroughs.
"As soon as the effect of the roller wore off, there was a little bit of inconsistency and bit more pace and bounce in the wicket. That's why I think morning will be crucial. Get one wicket, then maybe get two and then get on a bit of a roll like we did in the first innings.
"I think the key is just to be patient and not go searching too much. We still have got quite a few runs left to play with. If we bowl really well and get two quick wickets, we are definitely in the hunt. We have two top-class bowlers in (Trent) Boult and Timmy (Southee). The way they have been performing this whole summer has been outstanding. No doubt tomorrow morning they will come hard," Wagner said.