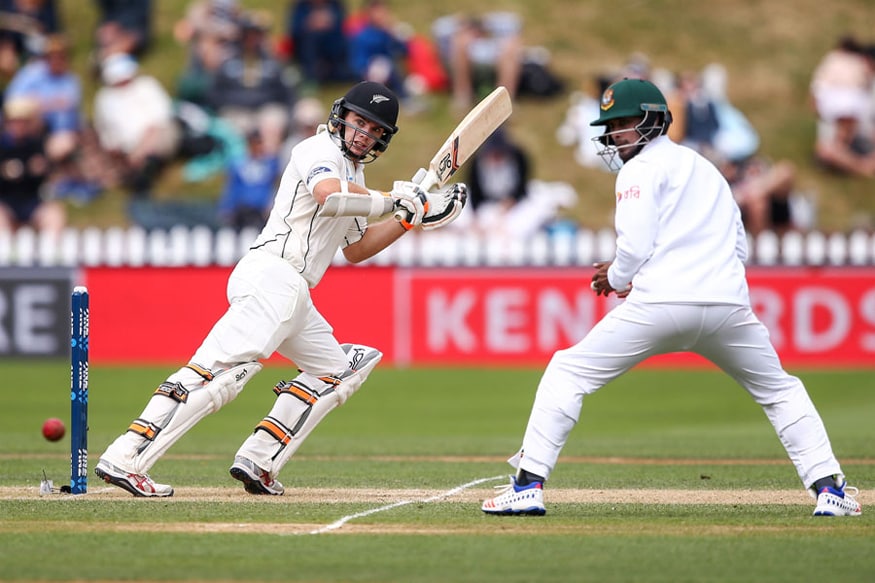 For ball-by-ball commentary, scroll down to bottom of the page.

LIVE SCORECARD:

Day 3, Round-up: Tom Latham scored his sixth test century as New Zealand made a steady 292 for three in reply to Bangladesh's mammoth first innings total when bad light stopped play with three overs remaining on the third day of the first Test.

Latham was on 119 not out with Henry Nicholls on 35.

The visitors had declared their first innings closed at 595 for eight before lunch, shortly after Sabbir Rahman had brought up his second test half century.
Commentary (New Zealand innings)
That is all we have for you from this game then! Will Bangladesh be able to recover from this loss? More than the defeat, it is the manner in which they were beaten which will hurt them. Can their injured players recover in time? New Zealand, on the other hand, will be riding high on confidence. Join us for the second Test to see how it unfolds in Christchurch from Saturday, 20th January, 2017 at 0330 IST (2200 GMT, previous day). ADIOS! TAKE CARE!
TOM LATHAM has been adjudged the MAN OF THE MATCH for his 177 in that innings which kept Bangladesh at bay. He was the only centurion for the Kiwis in that innings and it went a long way in keeping the deficit down to 56.
New Zealand continue to impress. They stole a terrific win just a few weeks ago against Pakistan when the match was slated for a draw and here too, they have done what looked like impossible. Of course, in both games, their opposition helped them a lot but then, that does not take the credit away from their bowlers or batsmen.
A hard pill to swallow for Bangladesh. They produced one of their best ever batting displays to rake up 595 and were in control till last evening, from where, they SHOULDN'T HAVE LOST. But then, nerves are nerves. One understands that one should not get into a shell while trying to draw a Test but then, there needs to be some control in your attacking shots as Williamson showed. His 90-ball 104 did not have any slog. Just pure cricketing shots. The tourists perhaps thought that attack is the best option but then fell on the wrong side of the double-edged sword.
Williamson fittingly scored a century to continue his prolific form. He missed out in the first innings but then, class players do not fail for long. Poor Bangladeshi bowlers suffered a pounding, with no one apart from Mehedi Hasan able to make any impact.
When the Kiwis openers were dismissed in quick succession, Bangladesh might have felt that the Black Caps will put the shutter down. But a stand of 163 in just 152 balls for the third wicket between skipper Kane Williamson and Ross Taylor pegged them back. The captain scored 91 of those. How often do we see Taylor playing second fiddle? This was one of those few occasions.
Mushfiqur Rahim and Sabbir Rahman showed some promise of a fight but an injury to the former spelt trouble. With Imrul Kayes not around to bat, the Kiwis smelled a sense of victory and pounced. They rattled the visitors to bowl them out quickly after Lunch, thanks to a combined bowling effort. Then, the batsmen set down to chase 217 in a possible 56 overs.
At the start of the day, with 98 overs scheduled and a lead of 122, all Bangladesh had to do was to see off two sessions. But some reckless shots and a couple of injuries proved fatal. The hero of the first innings, Shakib Al Hasan, fell for a 5-ball duck in the second over of the morning and that set the tone of the day.
Incredible. Absolutely unbelievable. Kane Williamson, thou art a genius. What was looking first like a probable unlikely win for Bangladesh, then a draw on Day 4, has been converted into a terrific outstanding win for New Zealand. Captain Kane has shown that with belief, you can gain.
39.4 M Hasan to K Williamson, 1 run. 217/3
39.3 M Hasan to Williamson, FOUR. 216/3
39.2 M Hasan to Williamson, No run. 212/3
39.1 M Hasan to Williamson, No run. 212/3
38.6 S Roy to Nicholls, No run. 212/3
38.5 S Roy to Nicholls, No run. 212/3
38.4 S Roy to Nicholls, No run. 212/3
38.3 S Roy to Nicholls, No run. 212/3
38.2 S Roy to Williamson, 1 run. 212/3
38.1 S Roy to Williamson, No run. 211/3
37.6 T Ahmed to Nicholls, No run. 211/3
37.5 T Ahmed to Nicholls, 4 Byes. 211/3
37.4 T Ahmed to H Nicholls, FOUR. 207/3
37.3 T Ahmed to Nicholls, No run. 203/3
37.2 T Ahmed to Williamson, 1 run. 203/3
37.1 T Ahmed to Williamson, No run. 202/3
36.6 S Roy to Nicholls, No run. 202/3
36.5 S Roy to Nicholls, No run. 202/3
36.4 S Roy to R Taylor, OUT c Mehedi Hasan b Subashis Roy. New Zealand have lost their third wicket. 202/3
36.3 S Roy to Taylor, No run. 202/2
36.2 S Roy to Williamson, 1 run. 202/2
36.1 S Roy to Williamson, No run. 201/2
35.6 T Ahmed to Taylor, No run. 201/2
35.5 T Ahmed to Taylor, No run. 201/2
35.4 T Ahmed to Taylor, No run. 201/2
35.3 T Ahmed to Taylor, No run. 201/2
35.2 T Ahmed to Taylor, No run. 201/2
35.1 T Ahmed to K Williamson, 1 run. 201/2
34.6 S Roy to Taylor, FOUR. 200/2
34.5 S Roy to Williamson, 1 run. 196/2
34.4 S Roy to Taylor, 1 run. 195/2
34.3 S Roy to Williamson, 3 runs. 194/2
34.2 S Roy to R Taylor, 1 run. 191/2
34.1 S Roy to Taylor, No run. 190/2
33.6 T Ahmed to Williamson, No run. 190/2
33.5 T Ahmed to R Taylor, 1 run. 190/2
33.4 T Ahmed to Williamson, 1 run. 189/2
33.3 T Ahmed to K Williamson, FOUR. 188/2
33.2 T Ahmed to Williamson, No run. 184/2
33.1 T Ahmed to Taylor, Leg bye. 184/2
32.6 Islam Rabbi to Williamson, No run. 183/2
32.5 Islam Rabbi to Williamson, No run. 183/2
32.4 Rabbi to Taylor, Leg bye. 183/2
32.3 Islam Rabbi to Williamson, Leg bye. 182/2
32.2 Islam Rabbi to Williamson, FOUR. 181/2
32.1 Islam Rabbi to Taylor, 1 run. 177/2
31.6 T Ahmed to Taylor, 1 run. 176/2
31.5 T Ahmed to Williamson, 1 run. 175/2
31.4 T Ahmed to K Williamson, No run. 174/2
31.3 T Ahmed to Williamson, No run. 174/2
31.2 T Ahmed to Taylor, 1 run. 174/2
31.1 T Ahmed to Williamson, 3 runs. 173/2
30.6 Islam Rabbi to Taylor, No run. 170/2
30.5 Islam Rabbi to Taylor, No run. 170/2
30.4 Islam Rabbi to Williamson, 1 run. 170/2
30.3 Islam Rabbi to Taylor, 1 run. 169/2
30.2 Islam Rabbi to Taylor, 2 runs. 168/2
30.1 Islam Rabbi to Taylor, No run. 166/2
29.6 M Hasan to R Taylor, 1 run. 166/2
29.5 M Hasan to Williamson, 1 run. 165/2
29.4 M Hasan to Williamson, No run. 164/2
29.3 M Hasan to Williamson, No run. 164/2
29.2 M Hasan to Williamson, FOUR. 164/2
29.1 M Hasan to Williamson, FOUR. 160/2
28.6 Islam Rabbi to K Williamson, 1 run. 156/2
28.5 Islam Rabbi to Williamson, No run. 155/2
28.4 Islam Rabbi to Williamson, No run. 155/2
28.3 Islam Rabbi to Williamson, No run. 155/2
28.2 Islam Rabbi to Williamson, No run. 155/2
28.1 Islam Rabbi to Taylor, 1 run. 155/2
27.6 M Hasan to Taylor, 1 run. 154/2
27.5 M Hasan to Taylor, No run. 153/2
27.4 M Hasan to Taylor, No run. 153/2
27.3 M Hasan to Taylor, No run. 153/2
27.2 M Hasan to Taylor, FOUR. 153/2
27.1 M Hasan to Taylor, No run. 149/2
26.6 Islam Rabbi to Williamson, No run. 149/2
26.5 Islam Rabbi to Williamson, No run. 149/2
26.4 Islam Rabbi to Taylor, 1 run. 149/2
26.3 Islam Rabbi to Williamson, 1 run. 148/2
26.2 Islam Rabbi to Taylor, 1 run. 147/2
26.1 Islam Rabbi to Williamson, 3 runs. 146/2
25.6 Al Hasan to Taylor, No run. 143/2
25.5 Al Hasan to Taylor, No run. 143/2
25.4 Al Hasan to Taylor, No run. 143/2
25.3 Al Hasan to Williamson, 1 run. 143/2
25.2 Al Hasan to Taylor, 1 run. 142/2
25.1 Al Hasan to Taylor, 2 runs. 141/2
24.6 S Roy to Taylor, 1 run. 139/2
24.5 S Roy to Taylor, No run. 138/2
24.4 S Roy to Taylor, No run. 138/2
24.3 S Roy to Taylor, No run. 138/2
24.2 S Roy to Williamson, 1 run. 138/2
24.1 S Roy to K Williamson, FOUR. 137/2
23.6 Al Hasan to Taylor, No run. 133/2
23.5 Al Hasan to Williamson, 1 run. 133/2
23.4 Al Hasan to Williamson, No run. 132/2
23.3 Al Hasan to Williamson, FOUR. 132/2
23.2 Al Hasan to Williamson, No run. 128/2
23.1 Al Hasan to Taylor, 1 run. 128/2
22.6 S Roy to Williamson, FOUR. 127/2
22.5 S Roy to Williamson, No run. 123/2
22.4 S Roy to Taylor, 1 run. 123/2
22.3 S Roy to Williamson, 1 run. 122/2
22.2 S Roy to Williamson, FOUR. 121/2
22.1 S Roy to K Williamson, FOUR. 117/2
21.6 Al Hasan to Taylor, FOUR. 113/2
21.5 Al Hasan to Taylor, No run. 109/2
21.4 Al Hasan to Taylor, No run. 109/2
21.3 Al Hasan to Williamson, 1 run. 109/2
21.2 Al Hasan to Williamson, No run. 108/2
21.1 Al Hasan to Williamson, No run. 108/2
20.6 M Hasan to Taylor, No run. 108/2
20.5 M Hasan to Taylor, FOUR. 108/2
20.4 M Hasan to Taylor, FOUR. 104/2
20.3 M Hasan to Williamson, 1 run. 100/2
20.2 M Hasan to Taylor, 1 run. 99/2
20.1 M Hasan to Williamson, 3 runs. 98/2
19.6 Al Hasan to Taylor, No run. 95/2
19.5 Al Hasan to Taylor, 2 Byes. 95/2
19.4 Al Hasan to Taylor, No run. 93/2
19.3 Al Hasan to Williamson, 1 run. 93/2
19.2 Al Hasan to Taylor, 1 run. 92/2
19.1 Al Hasan to Taylor, No run. 91/2
18.6 T Ahmed to Williamson, FOUR. 91/2
18.5 T Ahmed to K Williamson, FOUR. 87/2
18.4 T Ahmed to Williamson, FOUR. 83/2
18.3 T Ahmed to Williamson, No run. 79/2
18.2 T Ahmed to Taylor, 1 run. 79/2
18.1 T Ahmed to Williamson, 1 run. 78/2
17.6 Al Hasan to Taylor, No run. 77/2
17.5 Al Hasan to Taylor, No run. 77/2
17.4 Al Hasan to Taylor, No run. 77/2
17.3 Al Hasan to Williamson, 1 run. 77/2
17.2 Al Hasan to Williamson, No run. 76/2
17.1 Al Hasan to Williamson, No run. 76/2
16.6 T Ahmed to Taylor, 4 Leg byes. 76/2
16.5 T Ahmed to Taylor, 2 runs. 72/2
16.4 T Ahmed to R Taylor, 2 runs. 70/2
16.3 T Ahmed to Williamson, 1 run. 68/2
16.2 T Ahmed to Williamson, No run. 67/2
16.1 T Ahmed to R Taylor, 1 run. 67/2
15.6 M Hasan to Williamson, 2 runs. 66/2
15.5 M Hasan to Williamson, No run. 64/2
15.4 M Hasan to Williamson, No run. 64/2
15.3 M Hasan to Williamson, No run. 64/2
15.2 M Hasan to Taylor, 1 run. 64/2
15.1 M Hasan to Williamson, 3 runs. 63/2
14.6 Al Hasan to Taylor, No run. 60/2
14.5 Al Hasan to Williamson, 1 run. 60/2
14.4 Al Hasan to Williamson, No run. 59/2
14.3 Al Hasan to Williamson, No run. 59/2
14.2 Al Hasan to Taylor, 3 runs. 59/2
14.1 Al Hasan to Taylor, No run. 56/2
13.6 M Hasan to R Taylor, 1 run. 56/2
13.5 M Hasan to Taylor, No run. 55/2
13.4 M Hasan to Taylor, FOUR. 55/2
13.3 M Hasan to Williamson, 1 run. 51/2
13.2 M Hasan to Williamson, No run. 50/2
13.1 M Hasan to Williamson, No run. 50/2
12.6 Al Hasan to Taylor, 4 Byes. 50/2
12.5 Al Hasan to Taylor, No run. 46/2
12.4 Al Hasan to K Williamson, 1 run. 46/2
12.3 Al Hasan to Taylor, 1 run. 45/2
12.2 Al Hasan to Taylor, No run. 44/2
12.1 Al Hasan to Taylor, No run. 44/2
11.6 M Hasan to Williamson, No run. 44/2
11.5 M Hasan to Williamson, No run. 44/2
11.4 M Hasan to Williamson, FOUR. 44/2
11.3 M Hasan to Taylor, 1 run. 40/2
11.2 M Hasan to Latham, OUT b Mehedi Hasan. New Zealand have lost their second wicket. 39/2
11.1 M Hasan to Williamson, 1 run. 39/1
10.6 Al Hasan to Latham, No run. 38/1
10.5 Al Hasan to Latham, No run. 38/1
10.4 Al Hasan to Latham, No run. 38/1
10.3 Al Hasan to Williamson, 1 run. 38/1
10.2 Al Hasan to Latham, 1 run. 37/1
10.1 Al Hasan to Latham, No run. 36/1
9.6 M Hasan to Williamson, No run. 36/1
9.5 M Hasan to Williamson, No run. 36/1
9.4 M Hasan to Williamson, FOUR. 36/1
9.3 M Hasan to Williamson, No run. 32/1
9.2 M Hasan to Williamson, No run. 32/1
9.1 Hasan to Raval, OUT c & b Mehedi Hasan. New Zealand have lost their first wicket. 32/1
8.6 Al Hasan to Raval, 1 run. 32/0
8.5 Al Hasan to Raval, No run. 31/0
8.4 Al Hasan to Raval, No run. 31/0
8.3 Al Hasan to Latham, 1 run. 31/0
8.2 Al Hasan to Latham, No run. 30/0
8.1 Al Hasan to Latham, No run. 30/0
7.6 M Hasan to Raval, No run. 30/0
7.5 M Hasan to Raval, No run. 30/0
7.4 M Hasan to Latham, 1 run. 30/0
7.3 M Hasan to Latham, No run. 29/0
7.2 M Hasan to Latham, No run. 29/0
7.1 M Hasan to Tom Latham, 2 runs. 29/0
6.6 Al Hasan to Raval, No run. 27/0
6.5 Al Hasan to Raval, No run. 27/0
6.4 Al Hasan to Raval, No run. 27/0
6.3 Al Hasan to Raval, No run. 27/0
6.2 Al Hasan to Latham, No run. 27/0
6.1 Al Hasan to Raval, 1 run. 26/0
5.6 M Hasan to Raval, 3 runs. 25/0
5.5 M Hasan to Raval, No run. 22/0
5.4 M Hasan to Raval, 2 runs. 22/0
5.3 M Hasan to Raval, No run. 20/0
5.2 M Hasan to Raval, No run. 20/0
5.1 M Hasan to Latham, 1 run. 20/0
4.6 Islam Rabbi to Raval, No run. 19/0
4.5 Islam Rabbi to Raval, No run. 19/0
4.4 Islam Rabbi to Raval, FOUR. 19/0
4.3 Islam Rabbi to Raval, No run. 15/0
4.2 Islam Rabbi to Raval, No run. 15/0
4.1 Islam Rabbi to Raval, No run. 15/0
3.6 M Hasan to Tom Latham, No run. 15/0
3.5 M Hasan to Raval, 1 run. 15/0
3.4 M Hasan to Raval, No run. 14/0
3.3 M Hasan to Raval, No run. 14/0
3.2 M Hasan to Raval, 4 Byes. 14/0
3.1 M Hasan to Raval, No run. 10/0
2.6 Islam Rabbi to Latham, No run. 10/0
2.5 Islam Rabbi to Latham, FOUR. 10/0
2.4 Islam Rabbi to Latham, No run. 6/0
2.3 Islam Rabbi to Latham, No run. 6/0
2.2 Islam Rabbi to Latham, No run. 6/0
2.1 Islam Rabbi to Latham, No run. 6/0
1.6 M Hasan to Latham, 1 run. 6/0
1.5 M Hasan to Latham, No run. 5/0
1.4 M Hasan to Latham, No run. 5/0
1.3 M Hasan to Latham, No run. 5/0
1.2 M Hasan to Latham, No run. 5/0
1.1 M Hasan to Latham, No run. 5/0
0.6 Islam Rabbi to Raval, No run. 5/0
0.5 Islam Rabbi to Latham, 1 run. 5/0
0.4 Islam Rabbi to Latham, No run. 4/0
0.3 Islam Rabbi to Latham, No run. 4/0
0.2 Islam Rabbi to Raval, 1 run. 4/0
0.1 Islam Rabbi to Latham, 3 runs. 3/0
First Published: January 14, 2017, 11:11 PM IST