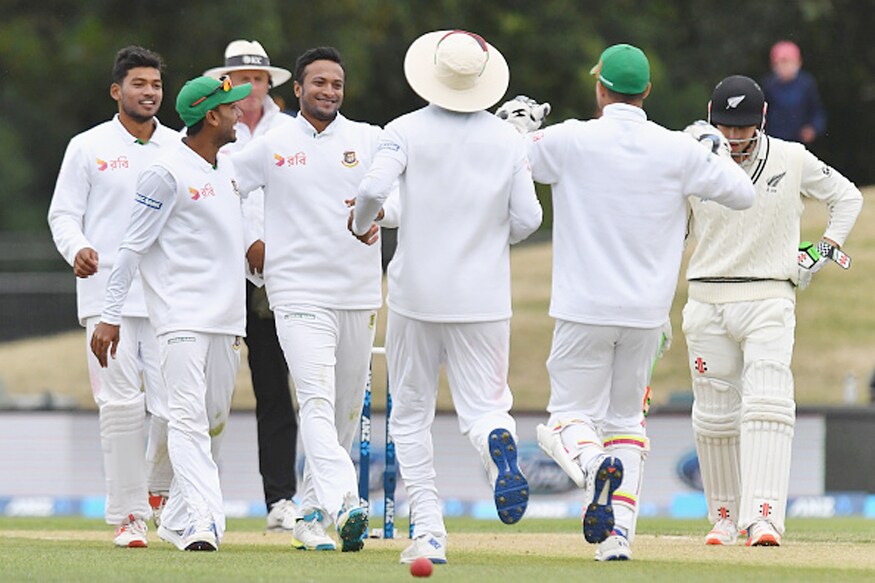 For Live blog, scroll down to bottom of the page.

LIVE SCORECARD

Day 3, Round-up: The third day of the second and final Test between New Zealand and Bangladesh was abandoned after persistent rain in Christchurch.

New Zealand are 260 for seven in their first innings, 29 runs behind Bangladesh's 289.
Commentary (New Zealand innings)
The Kiwis have been professional and blanked Bangladesh in all formats of the game. The visitors were outplayed in the shorter formats, had their moments in the whites but their lack of experience playing away Tests haunted them. They will look to learn from this and prepare better for future tours. So that's it from all of us here for this game. New Zealand will host Australia in a week's time for three ODIs and we look forward to your company for that series. Until then, it's goodbye and take care!
TIM SOUTHEE is the MAN OF THE MATCH for his brilliant performance in this Test. He got to 200 Test wickets as well in this game. He finished with 8 wickets in the game and will be pleased with his performance.
Coming out to chase 109 in a minimum of 19 overs, New Zealand didn't go hard right at the top but the result was always known to all. Jeet Raval was dismissed for a 40-ball 33 by Rabbi but Colin de Grandhomme promoted to number 3, struck a belligerent 15-ball 33 to seal the Test and the series for his side. He finished the game with two back-to-back sixes and it just illustrates how clinical they have been. New Zealand will be delighted with their effort. They kept Bangladesh to a score of 289 with Southee taking 5 for 94 in the first innings. The lower order bailed them out in their batting effort and it was the trio of Southee, Trent Boult and Wagner that set the game up for them.
Bangladesh once again lost Tamim Iqbal early, but the pair of Soumya Sarkar and Mahmudullah steadied them. But once Colin de Grandhomme struck to dismiss the southpaw, things unraveled for them yet again in the second innings on this tour. They went from 58 for 1 to 100 for 5 in no time. Wagner ran through the lower middle order to leave them tottering at 8 for 115. It was only the enterprising 51-run stand between Taskin Ahmed and Kamrul Islam Rabbi that made the Kiwis wait but they were only delaying the inevitable.
Starting today at 260 for 7, New Zealand had Henry Nicholls seeing them through to a total of 354. He missed out on his maiden Test ton getting out on 98 to Mehedi Hasan. Shakib Al Hasan was the best bowler for Bangladesh taking 4 for 50. The hosts had got a 65-run lead, which was a handy one on this wicket.
Brilliant! New Zealand have once again manufactured an astounding win against Bangladesh. They were trailing by 29 runs at the end of Day 2 with just three wickets in hand. At that stage, it looked like the visitors would still be in the game but despite losing an entire day to rain, the hosts have not just managed to win but have won with a day to spare.
18.4 Hossain Shanto to Grandhomme, SIX. 111/1
18.3 Hossain Shanto to Grandhomme, SIX. 105/1
18.2 Hossain Shanto to Latham, 1 run. 99/1
18.1 Hossain Shanto to Latham, No run. 98/1
17.6 Al Hasan to Latham, 1 run. 98/1
17.5 Al Hasan to Latham, No run. 98/1
17.4 Al Hasan to Latham, No run. 97/1
17.3 Al Hasan to Tom Latham, FOUR. 97/1
17.2 Al Hasan to Grandhomme, 1 run. 93/1
17.1 Al Hasan to Grandhomme, 2 runs. 92/1
16.6 M Hasan to Latham, No run. 90/1
16.5 M Hasan to Grandhomme, 1 run. 90/1
16.5 M Hasan to Grandhomme, Wide. 89/1
16.4 M Hasan to Grandhomme, No run. 88/1
16.3 M Hasan to Latham, 1 run. 88/1
16.2 M Hasan to Latham, No run. 87/1
16.1 M Hasan to Grandhomme, 1 run. 87/1
15.6 Al Hasan to Latham, No run. 86/1
15.5 Al Hasan to Latham, No run. 86/1
15.4 Al Hasan to Grandhomme, 1 run. 86/1
15.3 Al Hasan to Latham, 1 run. 85/1
15.2 Al Hasan to Latham, No run. 84/1
15.1 Al Hasan to Grandhomme, 1 run. 84/1
14.6 Islam Rabbi to Latham, FOUR. 83/1
14.5 Islam Rabbi to Latham, No run. 79/1
14.4 Islam Rabbi to Latham, FOUR. 79/1
14.3 Islam Rabbi to Latham, No run. 75/1
14.2 Islam Rabbi to Latham, FOUR. 75/1
14.1 Islam Rabbi to Latham, No run. 71/1
13.6 Al Hasan to Grandhomme, SIX. 71/1
13.5 Al Hasan to Latham, 1 run. 65/1
13.4 Al Hasan to Latham, No run. 64/1
13.3 Al Hasan to Grandhomme, 1 run. 64/1
13.2 Al Hasan to Grandhomme, SIX. 63/1
13.1 Al Hasan to Grandhomme, No run. 57/1
12.6 Islam Rabbi to Latham, No run. 57/1
12.5 Islam Rabbi to Latham, No run. 57/1
12.4 Islam Rabbi to Grandhomme, 1 run. 57/1
12.3 Islam Rabbi to Raval, OUT b Kamrul Islam Rabbi. New Zealand have lost their first wicket. 56/1
12.2 Islam Rabbi to Raval, No run. 56/0
12.1 Islam Rabbi to Raval, FOUR. 56/0
11.6 Al Hasan to Tom Latham, No run. 52/0
11.5 Al Hasan to Latham, No run. 52/0
11.4 Al Hasan to Latham, No run. 52/0
11.3 Al Hasan to Latham, No run. 52/0
11.2 Al Hasan to Raval, 1 run. 52/0
11.1 Al Hasan to Raval, 2 runs. 51/0
10.6 Islam Rabbi to Latham, No run. 49/0
10.5 Islam Rabbi to Latham, FOUR. 49/0
10.4 Islam Rabbi to Latham, No run. 45/0
10.3 Islam Rabbi to Latham, No run. 45/0
10.2 Islam Rabbi to Latham, No run. 45/0
10.1 Islam Rabbi to Latham, No run. 45/0
9.6 M Hasan to Raval, No run. 45/0
9.5 M Hasan to Raval, No run. 45/0
9.4 M Hasan to Raval, 2 runs. 45/0
9.3 M Hasan to Raval, No run. 43/0
9.2 M Hasan to Raval, 2 runs. 43/0
9.1 M Hasan to Raval, No run. 41/0
8.6 T Ahmed to Latham, No run. 41/0
8.5 T Ahmed to Tom Latham, SIX. 41/0
8.5 T Ahmed to Latham, No ball. 35/0
8.4 T Ahmed to Latham, No run. 34/0
8.3 T Ahmed to Latham, No run. 34/0
8.2 T Ahmed to Latham, No run. 34/0
8.1 T Ahmed to Raval, 1 run. 34/0
7.6 M Hasan to Latham, No run. 33/0
7.5 M Hasan to Latham, No run. 33/0
7.4 M Hasan to Latham, No run. 33/0
7.3 M Hasan to Raval, 1 run. 33/0
7.2 M Hasan to Raval, FOUR. 32/0
7.1 M Hasan to J Raval, No run. 28/0
6.6 T Ahmed to Latham, No run. 28/0
6.5 T Ahmed to Raval, Bye. 28/0
6.4 T Ahmed to Raval, No run. 27/0
6.3 T Ahmed to Raval, No run. 27/0
6.2 T Ahmed to Latham, 1 run. 27/0
6.1 T Ahmed to Latham, No run. 26/0
5.6 M Hasan to Raval, No run. 26/0
5.5 M Hasan to J Raval, No run. 26/0
5.4 M Hasan to Raval, No run. 26/0
5.3 M Hasan to Raval, No run. 26/0
5.2 M Hasan to Raval, 2 runs. 26/0
5.1 M Hasan to Raval, FOUR. 24/0
4.6 T Ahmed to Latham, No run. 20/0
4.5 T Ahmed to Latham, FOUR. 20/0
4.4 T Ahmed to Latham, No run. 16/0
4.3 T Ahmed to Latham, No run. 16/0
4.2 T Ahmed to Latham, No run. 16/0
4.1 T Ahmed to Latham, No run. 16/0
3.6 M Hasan to Raval, No run. 16/0
3.5 M Hasan to Raval, No run. 16/0
3.4 M Hasan to Raval, No run. 16/0
3.3 M Hasan to Raval, FOUR. 16/0
3.2 M Hasan to Raval, No run. 12/0
3.1 M Hasan to Tom Latham, 1 run. 12/0
2.6 T Ahmed to Latham, 3 runs. 11/0
2.6 T Ahmed to Latham, No ball. 8/0
2.5 T Ahmed to Tom Latham, No run. 7/0
2.4 T Ahmed to Latham, No run. 7/0
2.3 T Ahmed to Latham, No run. 7/0
2.2 T Ahmed to Latham, No run. 7/0
2.1 Ahmed to Latham, No run. 7/0
1.6 M Hasan to Raval, No run. 7/0
1.5 M Hasan to Raval, No run. 7/0
1.4 M Hasan to J Raval, 2 runs. 7/0
1.3 M Hasan to Raval, No run. 5/0
1.2 M Hasan to J Raval, No run. 5/0
1.1 M Hasan to Tom Latham, 1 run. 5/0
0.6 T Ahmed to Raval, No run. 4/0
0.5 T Ahmed to J Raval, 2 runs. 4/0
0.4 T Ahmed to Raval, 2 runs. 2/0
0.3 T Ahmed to Raval, No run. 0/0
0.2 T Ahmed to Raval, No run. 0/0
0.1 T Ahmed to Raval, No run. 0/0
First Published: January 22, 2017, 10:39 PM IST