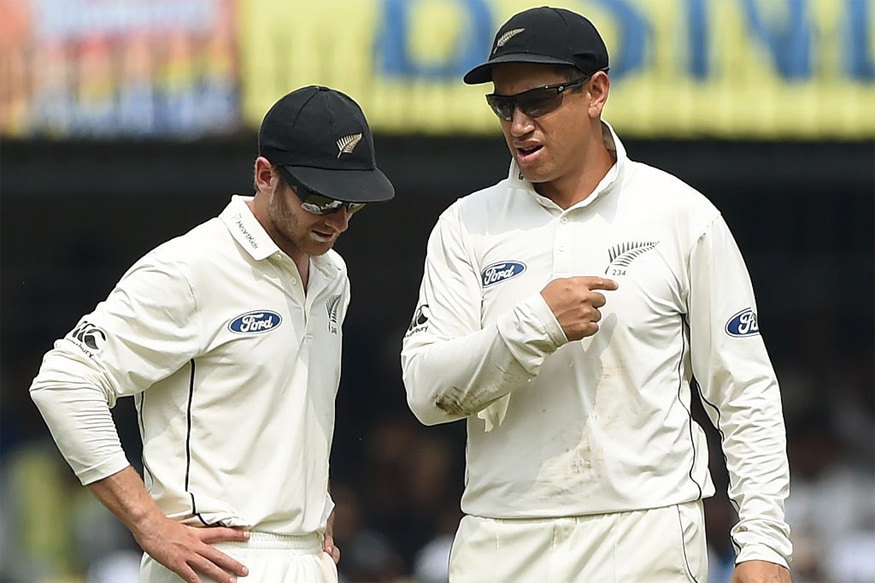 For ball by ball updates, scroll down to the bottom of the page.
Day 2 Round Up
Late bloomer Colin de Grandhomme celebrated his first international call-up with record New Zealand debut bowling figures of 6-41 as Pakistan crumbled in their first innings of the opening Test on Friday.
After the 30-year-old de Grandhomme engineered Pakistan's collapse to be all out for 133 at Hagley Oval in Christchurch, New Zealand's other debutant Jeet Raval put them in a strong position to be 104-3 in reply at stumps.
Commentary (New Zealand innings)
That is all we have got for you from this game. Pakistan have been blown away but do not rule out a fightback in Hamilton, considering that they have a very good record in this country. The second and final Test begins on Friday, 25th November, 2016 at 0330 IST (2200 GMT, previous day). Do join us then. ADIOS! TAKE CARE!
Not surprisingly, COLIN DE GRANDHOMME has been named the MAN OF THE MATCH for his 6/41 in the first innings which set up the game. This Kiwi bowling attack continues to impress even more.
Have New Zealand found their answer in their quest for an opener? Perhaps they have. Debutant Jeet Raval sparkled in the first innings, becoming the highest scorer and even in the second, took his team home. With a solid first-class average of 43.69, he could be the future and it might also be the end of Martin Guptill in the longest format.
Not a great Test to remember for Pakistan. They struggled against the swing and seam movement with the bat and did not manage even a single half century in either innings. The bowling gave them some hope, after bringing the visitors back in the first innings. But then, the batting just did not step up.
The experienced campaigners for the Kiwis came to party in the second innings with the ball, as the trio of Boult, Southee and Wagner took 3 wickets apiece. They ensured that the home side was not going to get too many to chase.
It was a match for the debutants. First, COLIN DE GRANDHOMME shot to fame, registering the best figures on Test match debut by a Kiwi with a 6-fer, reducing Pakistan to 133. Then Jeet Raval played a solid knock of 55 which ensured that the hosts got a lead of 67. Agreed, at 105/3 and trailing by 28 runs, they should have got more, but it turned out to be more than enough in the end.
A comprehensive victory for New Zealand then. They have wrapped up this Test in the second session on Day 4, with an entire opening day lost to rain - which means in just 7-and-a-half sessions. Pakistan did offer a fight but it was not much.
31.3 Y Shah to J Raval, FOUR. 108/2
31.2 Y Shah to Raval, No run. 104/2
31.1 Y Shah to Raval, No run. 104/2
30.6 A Ali to Williamson, OUT c Sami Aslam b Azhar Ali. New Zealand have lost their second wicket. 104/2
30.5 A Ali to Williamson, No run. 104/1
30.4 A Ali to Williamson, No run. 104/1
30.3 A Ali to Williamson, No run. 104/1
30.2 A Ali to Williamson, No run. 104/1
30.1 A Ali to Williamson, No run. 104/1
29.6 Y Shah to Raval, No run. 104/1
29.5 Y Shah to Raval, No run. 104/1
29.4 Y Shah to J Raval, No run. 104/1
29.3 Y Shah to Raval, No run. 104/1
29.2 Y Shah to Raval, No run. 104/1
29.1 Y Shah to Williamson, 1 run. 104/1
28.6 A Ali to Raval, No run. 103/1
28.5 A Ali to Williamson, 1 run. 103/1
28.4 A Ali to Williamson, No run. 102/1
28.3 A Ali to Williamson, No run. 102/1
28.2 A Ali to Williamson, No run. 102/1
28.1 A Ali to Raval, 1 run. 102/1
27.6 Y Shah to Williamson, No run. 101/1
27.5 Y Shah to Williamson, No run. 101/1
27.4 Y Shah to Williamson, No run. 101/1
27.3 Y Shah to Williamson, FOUR. 101/1
27.2 Y Shah to Raval, 1 run. 97/1
27.1 Y Shah to Raval, No run. 96/1
26.6 A Ali to Raval, 1 run. 96/1
26.5 A Ali to Raval, No run. 95/1
26.4 A Ali to Raval, No run. 95/1
26.3 A Ali to Williamson, 1 run. 95/1
26.2 A Ali to Williamson, 2 runs. 94/1
26.1 A Ali to Williamson, No run. 92/1
25.6 Y Shah to Williamson, 1 run. 92/1
25.5 Y Shah to Raval, 1 run. 91/1
25.4 Y Shah to Raval, No run. 90/1
25.3 Y Shah to Raval, 2 runs. 90/1
25.2 Y Shah to Williamson, 1 run. 88/1
25.1 Y Shah to Williamson, No run. 87/1
24.6 R Ali to Raval, No run. 87/1
24.5 R Ali to Raval, No run. 87/1
24.4 R Ali to Raval, No run. 87/1
24.3 R Ali to Williamson, 3 runs. 87/1
24.2 R Ali to Williamson, No run. 84/1
24.1 R Ali to K Williamson, No run. 84/1
23.6 Y Shah to Raval, No run. 84/1
23.5 Y Shah to Raval, No run. 84/1
23.4 Y Shah to Williamson, 1 run. 84/1
23.3 Y Shah to Williamson, No run. 83/1
23.2 Y Shah to Williamson, No run. 83/1
23.1 Y Shah to Williamson, No run. 83/1
22.6 R Ali to Raval, No run. 83/1
22.5 R Ali to Raval, FOUR. 83/1
22.4 R Ali to Raval, No run. 79/1
22.3 R Ali to Raval, No run. 79/1
22.2 R Ali to Raval, No run. 79/1
22.1 R Ali to Raval, No run. 79/1
21.6 Y Shah to Williamson, No run. 79/1
21.5 Y Shah to J Raval, 1 run. 79/1
21.4 Y Shah to Williamson, 1 run. 78/1
21.3 Y Shah to Williamson, SIX. 77/1
21.2 Y Shah to Raval, 1 run. 71/1
21.1 Y Shah to K Williamson, 1 run. 70/1
20.6 R Ali to Williamson, 1 run. 69/1
20.5 R Ali to Williamson, No run. 68/1
20.4 R Ali to Williamson, No run. 68/1
20.3 R Ali to Williamson, No run. 68/1
20.2 R Ali to Williamson, 2 runs. 68/1
20.1 R Ali to Williamson, No run. 66/1
19.6 Y Shah to Raval, No run. 66/1
19.5 Y Shah to Raval, No run. 66/1
19.4 Y Shah to Raval, FOUR. 66/1
19.3 Y Shah to Raval, No run. 62/1
19.2 Y Shah to Williamson, 1 run. 62/1
19.1 Y Shah to Williamson, No run. 61/1
18.6 R Ali to Raval, No run. 61/1
18.5 R Ali to Raval, No run. 61/1
18.4 R Ali to K Williamson, 3 runs. 61/1
18.3 R Ali to Williamson, No run. 58/1
18.2 R Ali to Williamson, No run. 58/1
18.1 R Ali to Williamson, No run. 58/1
17.6 Shah to Raval, No run. 58/1
17.5 Y Shah to Raval, No run. 58/1
17.4 Y Shah to Raval, No run. 58/1
17.3 Y Shah to Raval, No run. 58/1
17.2 Y Shah to Raval, No run. 58/1
17.1 Y Shah to Raval, No run. 58/1
16.6 R Ali to Williamson, No run. 58/1
16.5 R Ali to Williamson, 2 runs. 58/1
16.4 R Ali to Raval, 1 run. 56/1
16.3 R Ali to Raval, No run. 55/1
16.2 R Ali to Williamson, 1 run. 55/1
16.1 R Ali to Williamson, No run. 54/1
15.6 Y Shah to Williamson, 3 runs. 54/1
15.5 Y Shah to Williamson, No run. 51/1
15.4 Y Shah to Williamson, FOUR. 51/1
15.3 Y Shah to Williamson, No run. 47/1
15.2 Y Shah to Williamson, No run. 47/1
15.1 Y Shah to J Raval, 1 run. 47/1
14.6 Khan to K Williamson, FOUR. 46/1
14.5 S Khan to Williamson, No run. 42/1
14.4 S Khan to Williamson, 2 runs. 42/1
14.3 S Khan to Raval, 1 run. 40/1
14.2 S Khan to Williamson, 1 run. 39/1
14.1 S Khan to Williamson, 2 runs. 38/1
13.6 Y Shah to Williamson, 1 run. 36/1
13.5 Y Shah to Williamson, No run. 35/1
13.4 Y Shah to Williamson, No run. 35/1
13.3 Y Shah to Williamson, FOUR. 35/1
13.2 Y Shah to Raval, 1 run. 31/1
13.1 Y Shah to Raval, No run. 30/1
12.6 M Amir to Williamson, No run. 30/1
12.5 M Amir to Williamson, No run. 30/1
12.4 M Amir to Williamson, No run. 30/1
12.3 M Amir to Williamson, No run. 30/1
12.2 M Amir to Williamson, No run. 30/1
12.1 M Amir to Williamson, No run. 30/1
11.6 S Khan to Raval, No run. 30/1
11.5 S Khan to Williamson, 1 run. 30/1
11.4 S Khan to Williamson, No run. 29/1
11.3 S Khan to Williamson, No run. 29/1
11.2 S Khan to Williamson, 2 runs. 29/1
11.1 S Khan to Raval, 1 run. 27/1
10.6 M Amir to Raval, 1 run. 26/1
10.5 M Amir to Raval, No run. 25/1
10.4 M Amir to Raval, No run. 25/1
10.3 M Amir to Raval, No run. 25/1
10.2 M Amir to Raval, No run. 25/1
10.1 M Amir to Raval, No run. 25/1
9.6 S Khan to Raval, 1 run. 25/1
9.5 S Khan to Raval, No run. 24/1
9.4 S Khan to Raval, No run. 24/1
9.3 S Khan to Williamson, 1 run. 24/1
9.2 S Khan to Williamson, No run. 23/1
9.1 S Khan to Williamson, No run. 23/1
8.6 M Amir to Raval, No run. 23/1
8.5 M Amir to Raval, No run. 23/1
8.4 M Amir to Raval, No run. 23/1
8.4 M Amir to Williamson, No ball. 23/1
8.3 M Amir to Williamson, 2 runs. 21/1
8.2 M Amir to Latham, OUT c Asad Shafiq b Mohammad Amir. New Zealand have lost their first wicket. 19/1
8.1 M Amir to Latham, No run. 19/0
7.6 R Ali to J Raval, 2 runs. 19/0
7.5 R Ali to Raval, FOUR. 17/0
7.4 R Ali to Raval, No run. 13/0
7.3 R Ali to Latham, 1 run. 13/0
7.2 R Ali to Latham, No run. 12/0
7.1 R Ali to Latham, No run. 12/0
6.6 M Amir to Raval, 2 runs. 12/0
6.5 M Amir to Raval, No run. 10/0
6.5 M Amir to Raval, No ball. 10/0
6.4 M Amir to Raval, No run. 9/0
6.3 M Amir to Raval, No run. 9/0
6.2 M Amir to Latham, 1 run. 9/0
6.1 M Amir to Latham, No run. 8/0
5.6 S Khan to Raval, No run. 8/0
5.5 S Khan to Latham, 1 run. 8/0
5.4 S Khan to Latham, No run. 7/0
5.3 S Khan to Latham, No run. 7/0
5.2 S Khan to Latham, No run. 7/0
5.1 S Khan to Latham, No run. 7/0
4.6 M Amir to J Raval, No run. 7/0
4.5 M Amir to J Raval, No run. 7/0
4.4 M Amir to Raval, No run. 7/0
4.3 M Amir to Raval, No run. 7/0
4.2 M Amir to Raval, No run. 7/0
4.1 M Amir to Raval, No run. 7/0
3.6 S Khan to Latham, No run. 7/0
3.5 S Khan to Latham, No run. 7/0
3.4 S Khan to Latham, FOUR. 7/0
3.3 S Khan to Latham, No run. 3/0
3.2 S Khan to Latham, No run. 3/0
3.1 S Khan to Latham, No run. 3/0
2.6 M Amir to Raval, No run. 3/0
2.5 M Amir to Raval, No run. 3/0
2.4 M Amir to Raval, No run. 3/0
2.3 M Amir to Raval, No run. 3/0
2.2 M Amir to Latham, 1 run. 3/0
2.1 M Amir to Latham, No run. 2/0
1.6 S Khan to Raval, No run. 2/0
1.5 S Khan to Raval, No run. 2/0
1.4 S Khan to Raval, No run. 2/0
1.3 S Khan to Raval, No run. 2/0
1.2 S Khan to Raval, No run. 2/0
1.1 S Khan to Raval, No run. 2/0
0.6 M Amir to Latham, No run. 2/0
0.5 M Amir to Latham, No run. 2/0
0.4 M Amir to Latham, No run. 2/0
0.3 M Amir to Raval, 1 run. 2/0
0.2 M Amir to Latham, 1 run. 1/0
0.1 M Amir to Latham, No run. 0/0
First Published: November 18, 2016, 10:07 PM IST