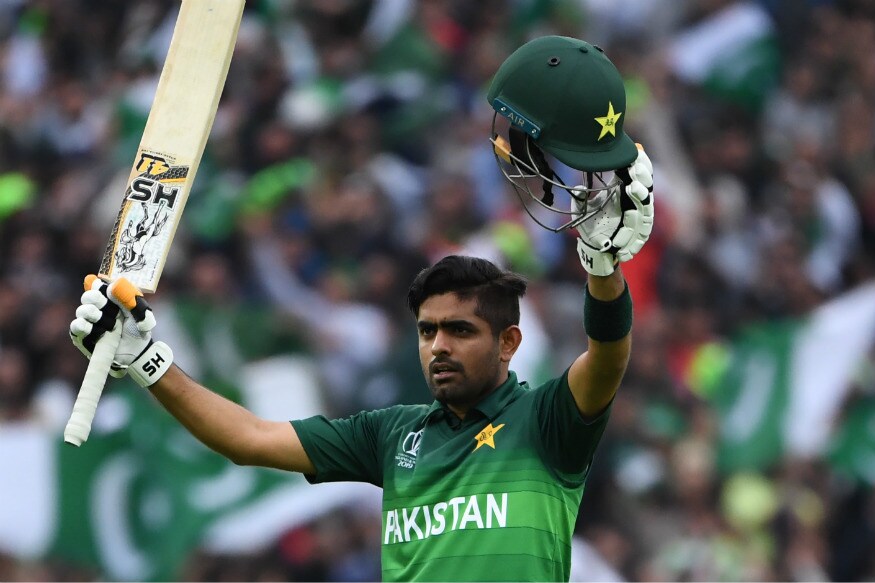 Pakistan kept their hopes alive of making the ICC World Cup 2019 semi-finals after they beat New Zealand by six wickets in their group stage match on Wednesday.
Pakistan have played exactly how England should have played against Sri Lanka ... #JustSaying #CWC19

— Michael Vaughan (@MichaelVaughan) June 26, 2019
This is getting scary now. Pakistan beat NZ by 7 wickets in their league game in 1992..very nearly 7 wicket win here as well..#ParanormalActivity #PAKvNZ #CWC19

— Hemant (@hemantbuch) June 26, 2019
Wonder what the Pak coach would want to do to himself today #NZvPak — Gaurav Sethi (@BoredCricket) June 26, 2019
One of the finest #CWC19 centuries....tough conditions conquered in style. Babar Azam is special. #PakvWI — Aakash Chopra (@cricketaakash) June 26, 2019
Winning the toss and electing to bat first, New Zealand were off to a horrendous start. While Mohammad Amir got the first breakthrough, Shaheen Afridi ripped apart the Kiwi middle order with his splendid bowling. Colin de Grandhomme and Jimmy Neesham put on a hundred-plus stand for the sixth wicket.
Pak bowlers have a zing in their effort today, and Sarfraz is certainly not yawning going by the fantastic catch to dismiss Taylor! So everything now depends on how Williamson plays. He's looked in sublime touch as yet, but NZ need 250 at least to be competitive — Cricketwallah (@cricketwallah) June 26, 2019
Great start Pakistan!! We should not let this go from here, body language must stay the same. Wickets are crucial Pakistan must not sit back, need to keep attacking #WC19 — Shahid Afridi (@SAfridiOfficial) June 26, 2019
It was 39 for 3 in 1992 too

— Abdul Ghaffar (@GhaffarDawnNews) June 26, 2019
And that should be the game for ! This sleeping giant of a World Cup has woken up #CWC19

— Srinath (@srinathsripath) June 26, 2019
What a start from Pakistan New Zealand under the pump here . Everyone is chipping in body language is looking brilliant by the boys in green. — Wasim Akram (@wasimakramlive) June 26, 2019
India vs Pakistan #CWC19 semi-final looking well on.#NZvPAK — Sam Street (@samstreetwrites) June 26, 2019
Can't believe my eyes, what have you done Sarfraz. #PAKvNZ pic.twitter.com/Mj0PeU6eTN

— Johns (@CricCrazyJohns) June 26, 2019
That was some catch from Sarfaraz !! Great atmosphere at edgbaston

— Nasser Hussain (@nassercricket) June 26, 2019
That Sarfaraz catch was as smooth as Mozzarella cheese. #NZvPak — Trendulkar (@Trendulkar) June 26, 2019
This has been a really gutsy fightback from CdG and the Twitter Don. It's going to be gripping to watch Boult et al try to defend this on a tricky pitch. Awesome game. Cricket is wonderful. #CWC19 #NZvPAK — Melinda Farrell (@melindafarrell) June 26, 2019
Imran Khan must be livid that New Zealand's two Raillu Kattas are spoiling Pakistan's hard work. #NZvPAK #CWC19

— Raunak Kapoor (@RaunakRK) June 26, 2019
New Zealand lower order is delivering on the promises English team had made before the World Cup. #CWC19

— cricBC (@cricBC) June 26, 2019
Outstanding knocks from James Neesham and Colin de Grandhomme. New Zealand have a decent total on board. It's not going to be easy defending this but they have a really potent bowling attack. They will trust Pakistan to bungle this up. #NZvPAK — Rohit Sankar (@imRohit_SN) June 26, 2019
NZ take 85 runs from last ten overs. Momentum with them. Good news for Pakistan is last four ODIs in Birmingham are won by the teams chasing. #NZvPak — Mazher Arshad (@MazherArshad) June 26, 2019
Close to 240..should be a great game..well played Jimmy Neesham! #PAKvNZ #CWC19 https://t.co/AlYXErj9fW

— Hemant (@hemantbuch) June 26, 2019
New Zealand managed to pick the openers early but Babar Azam and Mohammed Hafeez steadied the ship. Williamson broke the stand but Haris Sohail joined the former and ensured Pakistan did not any other hiccups and gained the much-needed two points.
I don't know how on earth Ferguson's action can be repeatable in the long term but by heck I'm going to enjoy it right now and hope it last a long time. Thrilling, glorious stuff this. #CWC19 #NZvPAK — Melinda Farrell (@melindafarrell) June 26, 2019
Babar Azam in ODIs:

1000 runs in 21 inns - joint 3rd fastest

2000 runs in 45 inns - joint 2nd fastest

3000 runs in 68 inns - 2nd fastest#PakvNZ #CWC19

— Bharath Seervi (@SeerviBharath) June 26, 2019
Hafeez ‍♀️ #CWC19 #NZLvPAK — Alexis Nunes (@alexisenunes) June 26, 2019
Mohammad Hafeez at #CWC19: Dismissed by the part-time bowling of Aaron Finch. Dismissed by the part-time bowling of Aiden Markram. Dismissed by the part-time bowling of Kane Williamson. Whattey. — Vinayakk (@vinayakkm) June 26, 2019
Kane Williamson comes. He conquers #NZvPAK #PAKvNZ #CWC19 #CWC2019 — Shruti Hariharan (@Shruti_2890) June 26, 2019
Only Pakistan can beat Pakistan from here....63 off 68 balls with 7 wickets in hand #CWC19 #PakvNZ — Aakash Chopra (@cricketaakash) June 26, 2019
Haris Sohail's inclusion has transformed Pakistan batting: in approach, confidence and quantum of runs — Cricketwallah (@cricketwallah) June 26, 2019
Santner looked like he would take a wicket with every ball in his first spell. He ends 10-0-38-0 and nobody, in a few days, will remember what a threat he was. — Harsha Bhogle (@bhogleharsha) June 26, 2019
Lifting the roof off Edgbaston @babarazam258 . #PAKvNZ — Isa Guha (@isaguha) June 26, 2019
Pakistan Babar all class@ICC — Michael Clarke (@MClarke23) June 26, 2019
Yes! — Hassan Cheema (@mediagag) June 26, 2019
Well done Martin Guptill. This is all that was missing in the 1992 = 2019 narrative! #CWC19 pic.twitter.com/hOyeW24tTm — Srinath (@srinathsripath) June 26, 2019
.@babarazam258 well played. This has been a special hundred. It is never easy to blend elegance with focus, especially under pressure.#PAKvNZ #NZvPAK #CWC19 — Abhishek Mukherjee (@ovshake42) June 26, 2019