There's history here. Twenty years of it between this team and this place. And twenty years of it between this team and their next opposition. South Africa in Birmingham, against New Zealand, has all the ingredients of a classic.
It has the fire and the fury of Lockie Ferguson and Kagiso Rabada, the pedigree of Ross Taylor and Hashim Amla, the points to prove of Kane Williamson and Faf du Plessis and the backstory of one side that has dominated the other in every situation except the ones that matter.
South Africa have had the better of New Zealand in eight of 10 bilateral series but New Zealand have beaten South Africa five times out of seven in World Cups, including twice in knockout situations. In fact, South Africa have not won a World Cup match against New Zealand this millennium – that's not once in the last four tournaments – but the time that they last did was at this ground.
In 1999, South Africa defended 287 to beat New Zealand at Edgbaston. Seven days later, they were back in Birmingham to play the semi-final against Australia. We all know what happened but 20 years later, to the day, Claude Henderson pretended not to know when asked whether Wednesday's would be an opportunity to exorcise ghosts or if South Africa were beyond needing that kind of voodoo. "Has it really been that long?," Henderson asked with a faux expression of surprise on his face and a glint of mischief in his eyes. He went on to say that the semi-final has "not at all," come up in South Africa's change-room.
That could well be the case, especially as none of the current crop have any direct involvement of a tournament that took place two decades ago, and some of them would not even have a clear memory of it. Lungi Ngidi, Andile Phehlukwayo and Rabada were three years old when it happened, Aiden Markram was four and Quinton de Kock six. They are the generation that will take South African cricket forward.
Of them, only de Kock carries a scar from a tournament past and given his thick skin, it's fair to say, the wound has healed. When asked about his memories of the 2015 semi-final in Auckland, de Kock said this year's IPL final was a more stressful experience. He also said he has learned to put less pressure on himself at this World Cup, especially since he spent the last one burdened by the self-inflicted expectation that was only fulfilled at the quarterfinal.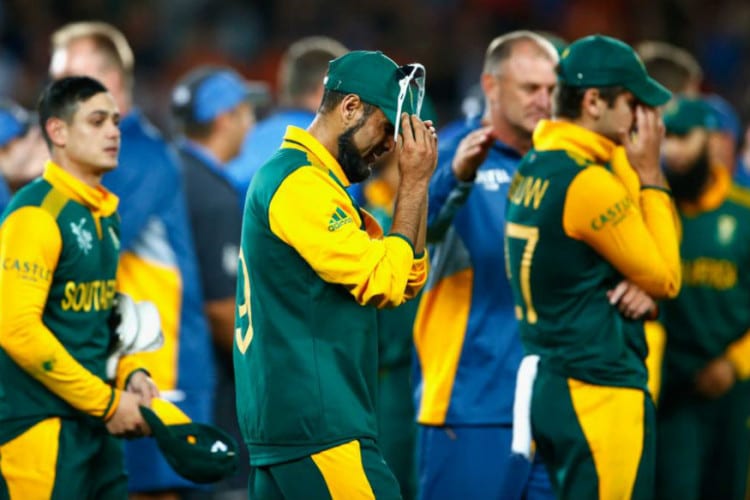 After recovering from an ankle injury, de Kock's inclusion at the 2015 World Cup initially looked touch and go but he made it to the tournament and underwhelmed through the group stage. In the last eight, he scored 78 off 57 balls to boss a chase of 134 in 18 overs. Contrast that with the slow-go as South Africa hunted down 126 against Afghanistan last weekend and it will tell you all you need to know about how different South Africa's situation is at this World Cup compared to the last.
In 2015, South Africa were serious contenders; in 2019, they were afterthoughts before they became aftershocks. Perhaps few people expected them to win all three of their opening matches but everyone was surprised when they lost them all and looked out of the tournament before it even began.
New Zealand, on the other hand, sailed through their opening two weeks, winning three games and spending 11 days watching rain. They're flying under the radar but they are also verging on becoming clear contenders to seal one of those four cherished semifinal spots. For a moment, put India out of your mind, and consider that New Zealand are the only team to have bowled their opposition out in every innings so far and that should tell you how incisive they have been, even if it was "only," Afghanistan, Bangladesh and Sri Lanka that they've played. Consider also that New Zealand have featured in the final four three times in the last four World Cups and you will know that they are a team who understand how to show up for big events even if they have not yet managed to be the last team standing at the end.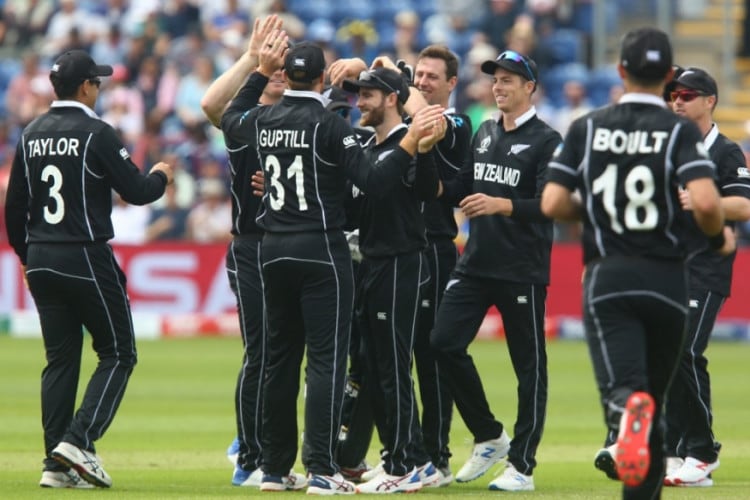 Somehow New Zealand's absence of silverware has not stood out as glaringly as South Africa's. Perhaps that has something to do with New Zealand's size, as a country with a population nearing five million or the significance of cricket to a rugby-obsessed nation, but somehow New Zealand doesn't get ragged for being bridesmaids nearly as much as South Africa do. This time, South Africa almost didn't make it to the wedding at all but they've turned up, late, badly-dressed and barely made-up, but they're here, history and all.
The dirty laundry has been aired, the past misdemeanours have been remembered and they've been given another chance. So yes, there are memories here but there is also a future and for one of those teams, what happens in Birmingham could be decisive in determining where they will be in the second week of July: at home or on honeymoon in the final four.