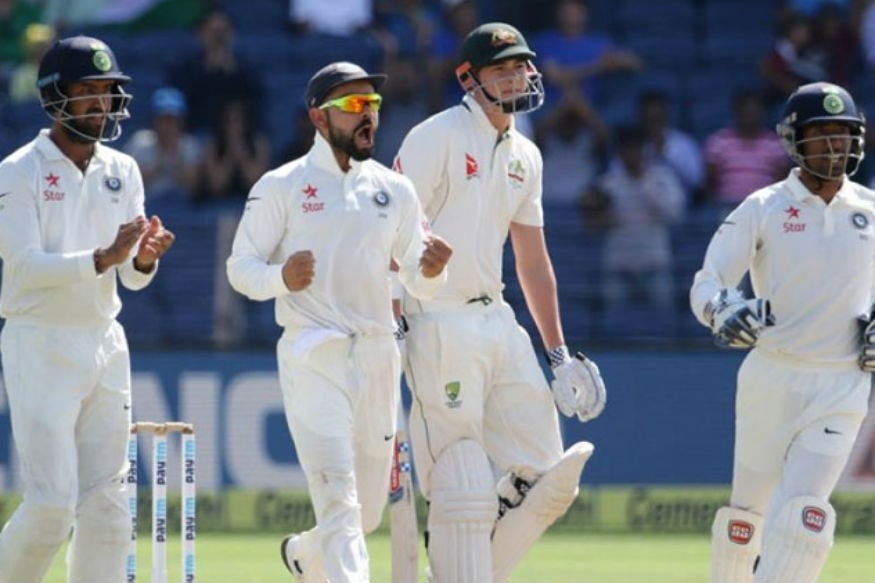 Australia's premier fast bowler Mitchell Starc said there is no bad blood between him and Indian captain Virat Kohli, and all there exits is a "bit of white-line fever" when they step on the field for their country.
Kohli and his team are currently in Brisbane where they will play the first of three T20Is on Wednesday. The focus will then shift to the blockbuster four-match Test series, starting from December 6 in Adelaide. The last time these two sides were involved in a Test series was in India in 2017 which was filled with controversies to an extent that Kohli went on to say that his relationship with some Australian players has been permanently damaged.
Starc, however, doesn't believe there is any lingering animosity.
"I don't get that feeling at all," Starc told cricket.com.au when asked if he thought he was one of the players whose relationship with Kohli had been damaged.
"We had some good battles on the field through that series, all in good fun and had a few laughs about it and caught up after one of the Test matches. If that's the case, so be it. But I'm sure I'll have a few chats with him over this series and share a laugh and chat about the series once it's done."
Starc was with Royal Challengers Bangalore for two years in the Indian Premier League where he played under Kohli and the left-arm pacer revealed that he is a different man off the field.
"I got to know him a fair bit off the field and I think probably know him a bit better than some of my Australian teammates," he said.
"(They) obviously only see them on the cricket field and the general public see what a competitor he is and how much he loves the challenge of performing home and away and to be one of the best players in the world.
"I've got to see a bit off the field, where he's very different. (He's) such a nice guy off the field, he's got a lot of time for everyone and just loves to be part of the boys, whether its playing FIFA or being around the team room.
"I guess in a similar way to perhaps myself and some of the others, there's a bit of white-line fever there when you get on the cricket field and you just want to perform your best for your country."
The last time when Kohli was in Australia in 2014-15, the right-hander amassed 692 runs at 86.50, decorated with four centuries and a fifty. Kohli is coming off a phenomenal tour of England where he managed to bury the ghost of 2014 by smashing 593 runs in five Tests at an average of 59.30.
The limelight will once again be on him and Australian players are well aware of the damage he can cause.
"Every time he steps on the field, he gives everything. In England, where he hadn't scored many runs in the past, and then goes in the next series, changes his game and becomes the leading run-scorer. That's what all the best players do," said paceman Pat Cummins.
"Like all great players, it's just that hunger and desire to win and make runs for his country. That's what all it comes down to. We have got some pretty good plans against him, and also respect that there might be a day where he will get us. He is the best player in the world at the moment and I can't wait for the challenge of playing against him," said all-rounder Mitchell Marsh.