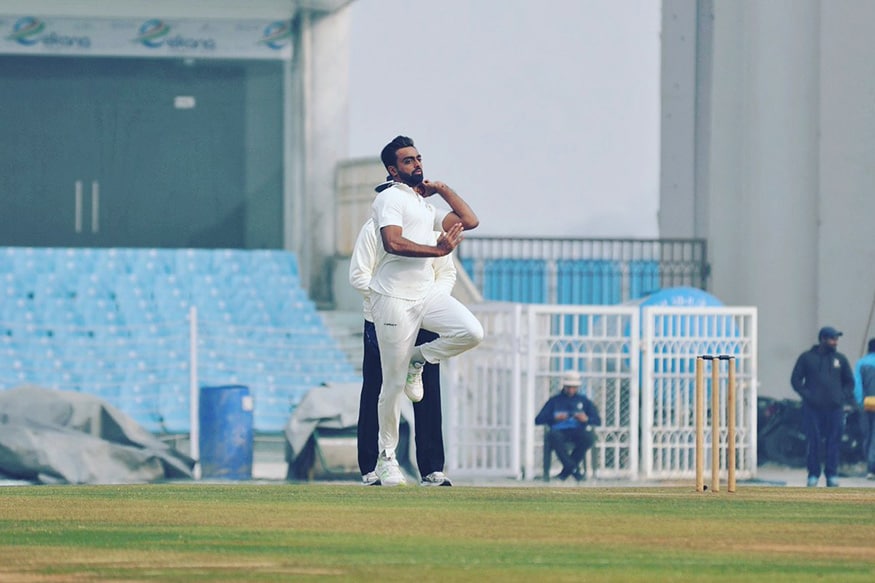 Jaydev Unadkat couldn't have asked for a better game to make a mark. It is the semi-final of Ranji Trophy and you are up against a quality side Karnataka. If you want to show your mojo, then this is the time.
Just three balls into the game, the 27-year-old showed a glimpse of what is to come. He trapped opener R Samarth LBW with a ball that came back sharply into the right hander. Soon, he had K Siddharth in a similar fashion. Then when the hosts were trying to recover, he dismissed Mayank Agarwal. This time the ball moved away from the right hander, forcing Agarwal to edge the ball to the keeper.
It was a fine spell of bowling that reduced Karnataka to 19 for 3 on the first morning, sowing the seeds for a famous win.
"I think the ball was moving quite a bit and there was some help from the wicket, there was some moisture in the wicket. I was just trying to bowl in the right areas and I knew I can swing the ball both ways if I can get a good rhythm. This is what I have been doing the whole season and I am loving it. So there is that 'feel good' factor," Unadkat tells Crickenext.
Besides captaining Saurashtra to an epic win, Unadkat went on to take seven wickets in the game. But despite all this, it was the Pujara controversy that hogged the limelight.
Pujara was slammed on social media by Karnataka fans for not walking after nicking to the wicket keeper in each innings. Unadkat understood the passion of the fans, but urged them to accept the facts.
"I think that is not good on their (Karnataka fans) part," he says. "You must always accept the facts. I would not like to take any credit away from the way he (Pujara) and Sheldon (Jackson) batted. And there was nothing wrong in the way they (fans) behaved. It was a semi-final match, fans are bound be unhappy if some decision is going against their team.
"But there were also some decisions that had gone against us in the match. I think we behaved in a better way that helped us."
Chasing 279 for a win, Pujara and Jackson's 214-run stand snatched victory for the visitors. It was a victory that the team will remember for the years to come, given the situation they were pushed to.
At 23/3, you expect shoulders to be dropping in the dressing room. However, not for a single moment did Saurashtra lose belief. Reason: Cheteshwar Pujara.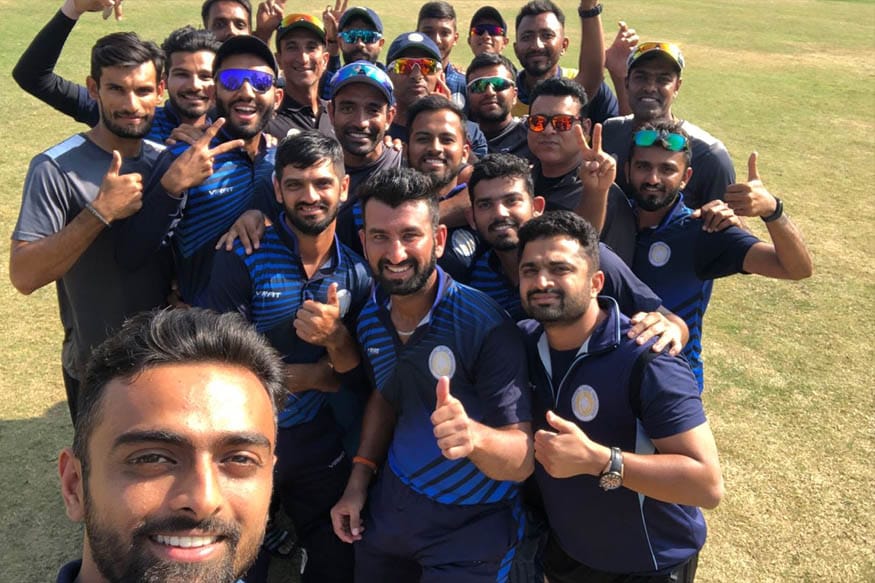 File image of Saurashtra cricket team. (Image Credits: Pujara/ Twitter)
"We were coming into the game after the highest run chase in Ranji Trophy ever," explains Unadkat. "So at no point did we think that we have lost the game. We knew we can chase this. If we could chase down 372 in the fourth innings, then obviously we could still chase down the target that we had. Obviously Cheteshwar was there so we had no doubt that we can chase it."
With the semi-final now done and dusted, Saurashtra are looking forward to the big challenge. They will take on Vidarbha in the final in their own backyard and Unadkat is up for it.
He knows the Vidarbha pace attack will be led by none other than Umesh Yadav, who decimated Kerala in their semi-final with 12 wickets.
Do Saurashtra have specific plans for Umesh? Quick comes the reply.
"Not really," Unadkat laughs. "We don't have particular plans for him. But Cheteshwar is there, he has played a lot of international cricket with him. So he will be leading our batting unit and I am sure we will have our plans for him."
Pujara has been the go to man for Saurashtra in the knock-out stages. Pujara's presence in the side - straight after arriving from Australia - has been a major help for the young captain who was entrusted with the job in December after Jaydev Shah's retirement.
"It is not just the way that he (Pujara) plays but also the way he guides us," explains Unadkat. "Throwing the helping hand to me or giving those ideas. He has been one of those strong pillars in the Saurashtra batting line up. We are delighted to have him during the knockout stages."
Saurashtra have never won a Ranji Trophy title. They played their maiden season  in 1950-51, and it was only in 2012-13 that they made it to their maiden final. They repeated the feat in 2015-16 season as well. On both occasions they were beaten by powerhouse Mumbai.
Will 2019 be the year they record their names in the history books? Only time will tell.