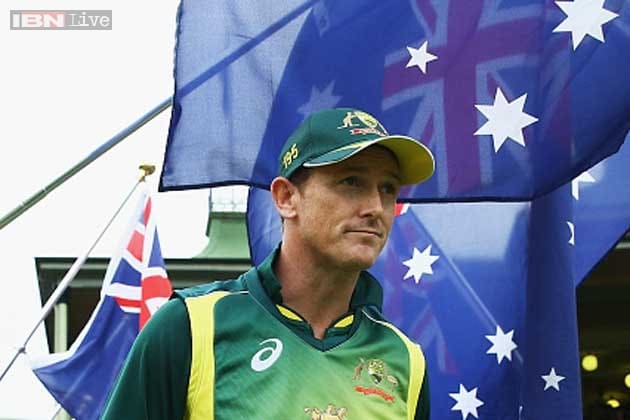 Perth: Australian captain George Bailey is not surprised that India did not qualify for the tri-series final and said that concentrating on Test cricket before heading into the ODI event might have been the reason for their below-par showing.
India failed to win any of their matches against Australia and England, finally going down to the Eoin Morgan-led side by three wickets on Friday in the virtual semi-final to get knocked out.
However, Bailey opinion all's not lost for the Men in Blue before the World Cup.
"Not really. India would have been concentrating on Test cricket for a long amount of time whereas the English team have had a one-day build-up bit longer," he said when asked if he was surprised at India not making it to the finals.
"India know they have another couple of weeks in Australia before the World Cup and they will just be building up their preparations."
The hosts will take on England in the summit clash on Sunday but Bailey said that the outcome of the match will not have any bearing on how his team take on the arch-rivals in their World Cup opener on February 14.
"The conditions are so different from here to Melbourne that that won't have any real bearing," said Bailey today.
"It'd be nice to win though, absolutely. We play every game to win. We spoke as a group before the Hobart game about winning 13 games straight as a goal. So it'll be great to win.
"England are a very dangerous side because they don't rely too heavily on any one player. They look pretty well balanced. They look like they have clear game plans, a good pace attack and they bat deep.
"I guess we saw that from their losing early wickets and still being able to post a good total, which they did against us too in Sydney. They have got a really good mix at the moment," he added.
Australia will once again be without Shane Watson, but Mitchell Johnson is expected to be back as the hosts will look to deploy an all-pace attack on a fiery WACA pitch.
"I heard a couple of balls were a little bit nasty which can happen here. A little bit more work being done on the wicket today but that's what we like to see at the WACA, a few balls playing up," said Bailey.
"It's tempting to play all four quicks, I reckon, when you see a wicket like that. We are sitting down this afternoon to sort that out but we are really happy that Mitchell Johnson is back and not that happy that he has been building up his overs in the nets.
"So it will be nice to actually see him unleash on the opposition rather than us being a cannon-fodder for the last couple of days which has been a bit nasty," he added.
It has been a successful summer for Australia so far, one that puts them in the favourites' positions ahead of the big tournament.
"We played South Africa here reasonably recently, so that is still fresh in our minds. But once you get to the knockout stage of the World Cup, it doesn't really matter. Form really counts for nothing and it is just about turning up and playing well on the day.
"All teams would be striving for consistency and that age-old thing of just not having your bad days being too bad and hopefully once you get to that end of the tournament playing as close to your best as you can," said Bailey.
"The expectation of being a part of the Australian cricket team is you are always going to be vying for these tournaments and that we will win them. How we deal with that will determine how much pressure there is.
"We will have a lot of support at the games and we will know the conditions really well, so I think how we deal with that will determine the level of pressure. If we deal with it well, I don't think the pressure will be any greater than any other international tournaments," he added.
Meanwhile, Michael Clarke made a comeback with some grade-cricket on Saturday and seems to be on his way to recovering for their second game of the World Cup against Bangladesh on February 21.
"It is a great sign. As far as I know it puts him well ahead of the schedule. He will be really happy. More importantly than the runs he scored I think he batted for close on three hours so for him to be able to sustain that physical activity for that long is great for him and really important for us in terms of having him back and leading the side when he is fit and healthy," said Bailey.