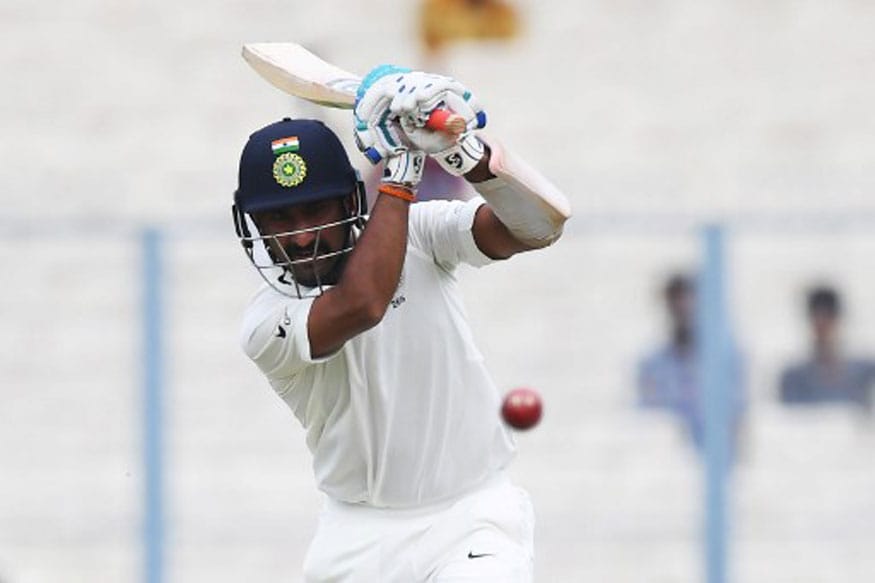 Ajinkya Rahane in the first innings, Cheteshwar Pujara in the second.
India arrived in Nottingham with their famed batting line-up, with the exception of one man, having produced a sequence of underwhelming scores. They will leave the city pleased that a couple of their senior men have rediscovered their elusive form, ensuring Virat Kohli isn't the lone warrior for the unit in the final two skirmishes of the series.
The two batsmen on either side of the Indian captain in the line-up have long been key to India's chances. A confident Pujara is perhaps even more crucial, as better his form at No. 3, the better the platform.
Pujara came into the series as the only Indian batsman to have played county cricket while his peers were busy in the Indian Premier League. But funnily enough, that ended up working against him. Pujara managed only 172 runs in 12 innings for Yorkshire and was left out of the XI for the first Test citing poor form.
His lack of 'aggression' or 'intent' – fairly or otherwise – went against him. In came Shikhar Dhawan and KL Rahul, on the back of big runs in white-ball cricket.
Pujara did get in for the second game at Lord's, but recent history shows he is never too far away from being dropped. He scored 1 and 18 in the second Test and held his spot for the third Test because there were other Indian batsmen in even worse form.
Thus Nottingham was a crucial Test for Pujara but he nearly threw it away. He got a rare platform from the openers in the first innings and walked in at 60 for 1 in decent batting conditions, but played an uncharacteristic hook to be dismissed at the stroke of lunch for just 14. A couple of run outs in South Africa, one at Lord's looking for a quick single, and now this. Pressure of 'intent'?
Fortunately for Pujara, and the team, he went back to his trusted method in the second innings. He walked in with the overall lead at 228, and with more than three days remaining. By the time he went back, India's lead had swollen to 392.
"I think you just need to trust your technique, your temperament and be confident about how you know to play in such conditions. Playing county cricket did help me. I have learnt a lot, although I didn't score many runs the kind of time I spent here in the last few years has helped me deal with such conditions," he said after the knock.
"Ultimately, wherever you go, especially for us Indian batsmen when we play away from home, whether it is England, Australia, South Africa or New Zealand, I think we just need to trust our technique. Everyone has a different technique and a way to play, and we should play the way we know."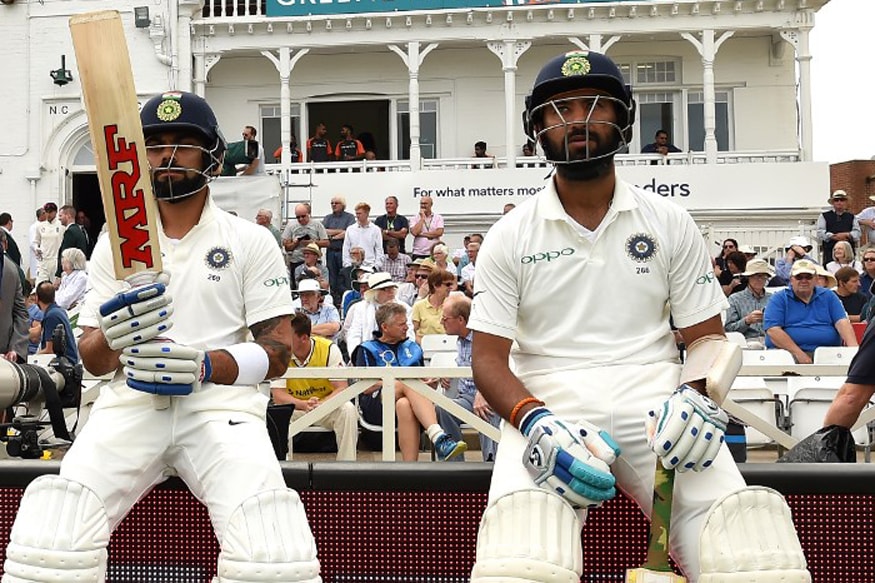 Pujara not only trusted his technique but also his approach as well. The situation was perfectly set up for him to show 'intent' without any pressure, but he did it the Pujara way. He looked assured with his feet movement, played the ball late, and was in no hurry to score. Batting out time and wearing out the English bowlers was as important as stretching the lead. The intent was in his approach: Each time he left the ball, he followed it back to the bowler's hands through its trajectory via the keeper, slips and cover/mid-off.
Incidentally, Pujara started quickly and raced to 25 off his first 26 balls, before settling down for the long run. His next 25 runs took 121 balls, and his overall tally of 72 took 208. As many as 167 of those were dot balls.
The 113-run stand with Kohli was his first century stand in Australia, England or South Africa in five years, but it showed the value of a typical Pujara knock.
Admittedly, Pujara hasn't scored mountains of runs overseas but his contributions should also be measured in terms of balls faced. The longer he bats, the easier it is for the rest.
The best possible – and perhaps the most forgotten – example is Lord's 2014. Pujara walked in at 11/1 in the third over on a green track and scored 28 off 117 balls that took close to three hours. By the time he fell in the 42nd over, the tough work was done. Rahane's ton and Murali Vijay's 90, along with Ishant Sharma's stunning spell, went on to become the talking points of the win.
In the only other Test where India didn't lose on the tour, in Nottingham, Pujara scored 38 off 69 in India's first-innings score of 457, entering in the seventh over and exiting in the 32nd. In the second essay, he made 55 from 101 between the 12th and 42nd overs as India held on for a draw.
More recently, Pujara showcased his value in the third Test in Johannesburg earlier this year. He walked in at 13 for 2 on the first morning on a pitch that was nearly named too dangerous to play, and scored 50 off 179 balls, taking a record 54 balls to get off the mark. India eventually won the low-scorer for one of their most memorable victories overseas.
India needs this Pujara even more now considering Vijay's lack of form. In a top order known more for flair than patience, only Vijay and Pujara have shown willingness to be old-school. In the previous tour of England, Vijay played more than 1000 balls, and his poor form at the top this year has left more burden on the rest.
The other openers in the squad - Rahul and Dhawan - and those possibly in waiting (Mayank Agarwal and Prithvi Shaw) too are known to be 'attacking' batsmen. Kohli is in the form of his life and Rahane is showing signs of form again, but in such a line-up, there will be a massive role for someone like a Pujara.