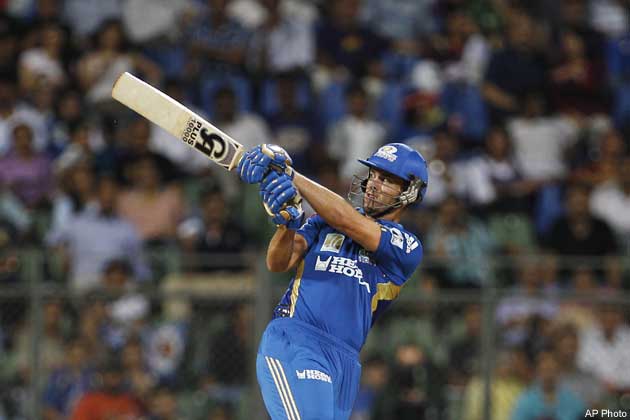 Chennai: A fighting 73-run partnership between Steve Smith and Ben Rohrer helped New South Wales Blues overcome Mumbai Indians by five wickets in the Group A CLT20 match here on Sunday.
New South Wales Blues innings
17th over: All over for Mumbai Indians. Outstanding innings from Steve Smith (45 not out) and Ben Rohrer (26 not out) after NSW were 28/5 at one stage. A five-wicket win for NSW in the end with three overs to spare.
15th over: Harbhajan brought Malinga back with just 27 needed off 36 balls and still five wickets in the bank for NSW. However, it seems Smith and Rohrer have read the script well here. Playing proper shots, one of which from Rohrer brings a four at backward point, and also the fifty partnership. Firmly in favour of NSW now at 84/5.
13th over: Nine runs off this Chahal over, including a six from Smith. It's slowly turning back in NSW's favour at 66/5.
10th over: Halfway stage, and the Steve Smith-Ben Rohrer partnership has taken the score to 45/5. So 56 off 60 shouldn't be difficult but they can't afford to lose more wickets until the 15th over.
7th over: Spin in the form of Yuzvendra Chahal into the attack, and it doesn't take long for Chahal to strike. Just the second ball and the fifth NSW wicket falls. Henriques (0) is caught behind to leave his side reeling at 29/5.
6th over: First ball is sent to the boundary by Smith (8) but the next one sets off celebrations in the Mumbai camp as Abu Nechim gets an edge off his bat the very next delivery, which is safely pouched by wicketkeeper Rayudu. Seems like a day for the bowlers today. NSW 27/4.
3rd Over: Malinga joins the part as Mumbai are right back with the third big wicket of Simon Katich (0), caught right in front by the Sri Lankan; 18/3, and match on!
2nd Over: Drama early in NSW innings. Two wickets for Abu Nechim, both dangermen! First Shane Watson (3): after hitting his pads, the ball trickled over to hit the stumps and dislodge one of the bails. It was followed by two cracking fours by David Warner (12). Then it was Warner's turner to walk back: his shot found Harbhajan in the way at short cover. What a start for Mumbai Indians. NSW 16/2.
Mumbai Indians innings:
20th over: Franklin remains not out at 42 and takes Mumbai to 100/7. Though not a good total by any stretch of imagination, getting to the 100-run mark should give Mumbai some hope.
18th over: It's 82/6 and Mumbai struggling to reach the three-figure mark. Franklin still hanging in there and should take Mumbai past 100.
16th over: Every time a Mumbai batsman tries to break free, a wicket falls. It's Sathish's (14) turn this time, who holes out at long-on trying to hit one over the fence. Can Mumbai reach the three-figure mark is the biggest question at 72/6.
13th over: New batsman R Sathish showing some teeth out there with two consecutive fours off Moises Henriques. Ten runs off the over. Mumbai Indians 61/5.
12th over: After putting up a struggling partnership of 23 runs with Franklin, Symonds (9) tried to break the shackles, but only to see his stumps get hit by by O'keefe. Mumbai finding it tough out there at the end of 12th over at 51/5.
10th over: Mumbai's foreign stars James Franklin and Andrew Symonds have arrested the fall of wickets but runs coming at a premium. NSW still in control at the halfway stage, with Mumbai trying to recover at 43/4.
5th over: Kieron Pollard commits suicide. It was nothing but a slog against Pat Cummins and the ball goes through to disturb the stumps. Alarming times for Mumbai at 27/4.
3rd Over: It's raining wickets for NSW. Ambati Rayudu (2) goes now! Clark gets his second wicket as Shane Watson catches the edge in slips. Though Pollard and Franklin get going with a four each, Mumbai need a partnership having loss three wickets for just nine runs.
2nd Over: And Mitchell Starc makes it a twin strike for NSW. One ball after Sarul Kanwar (5) creamed Starc for a four, he hit a full toss straight to point. It's 9/2.
1st Over: New South Wales strike off the fifth ball of Mumbai innings. Stuart Clark's impeccable line castles Aiden Blizzard (1) to put Mumbai in early trouble..
Earlier, just a point away from confirming their entry into the CLT20 semifinals, Mumbai Indians' last group encounter against New South Wales Blues got underway with Harbhajan Singh winning the toss and electing to bat here at the MA Chidambaram Stadium on Sunday.
Mumbai currently sit on top of Group A with five points from three matches, including two wins and one washout.
New South Wales, who will still have a match in hand at the end of this encounter, are currently fourth in the group with two points from as many matches, with one win and one loss.
Mumbai were looking good to win against Cape Cobras in their last match with Kieron Pollards 58 propelling them to a solid 176 batting first. However, rain gods never allowed the Cobras' innings to progress, forcing the teams to split points.
On the other hand, NSW lost their first match to Cape Cobras before coming back to beat Trinidad & Tobago in the Super Over.
Both the sides remained unchanged from their last respective games.
TEAMS:
Mumbai Indians: Sarul Kanwar, Aiden Blizzard, Ambati Rayudu (wk), James Franklin, Kieron Pollard, Andrew Symonds, Harbhajan Singh (c), R Sathish, Lasith Malinga, Abu Nechim Ahmed, Yuzvendra Chahal
New South Wales Blues: David Warner, Shane Watson, D Smith (wk), Simon Katich (c), Steve Smith, Moises Henriques, Ben Rohrer, Steve O'Keefe, Mitchell Starc, P Cummins, Stuart Clark