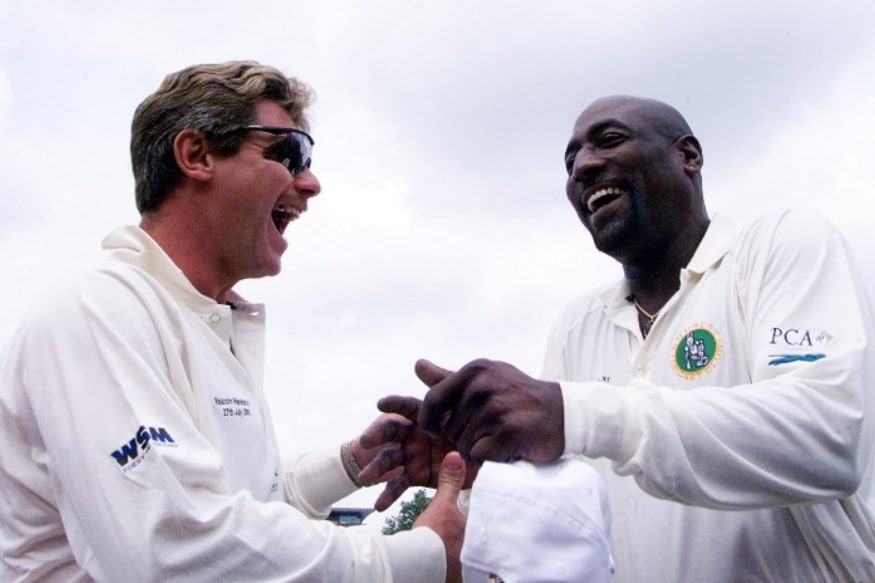 A silver fox is propping up the bar in a trendy establishment that is bustling with activity in tony South Perth on a Friday afternoon. Many patrons greet him with a wave of a smile, he's familiar here, but few recognise him as one of the best Test batsmen England produced. The rounded shoulders that played the most rasping square cuts of the 1990s give Robin Smith away.

Born in South Africa, played for England and now calling Perth home, this is one of cricket's complex characters: physically tough as nails and yet mentally pappadum-fragile, deeply private yet generously giving.

When we meet, Smith has just come off a five-hour coaching session, outdoors, in 37-degree Perth sunshine. He should be putting his feet up, unwinding, because coaching is not his only gig, he works nine hours a day at his brother's clothing firm.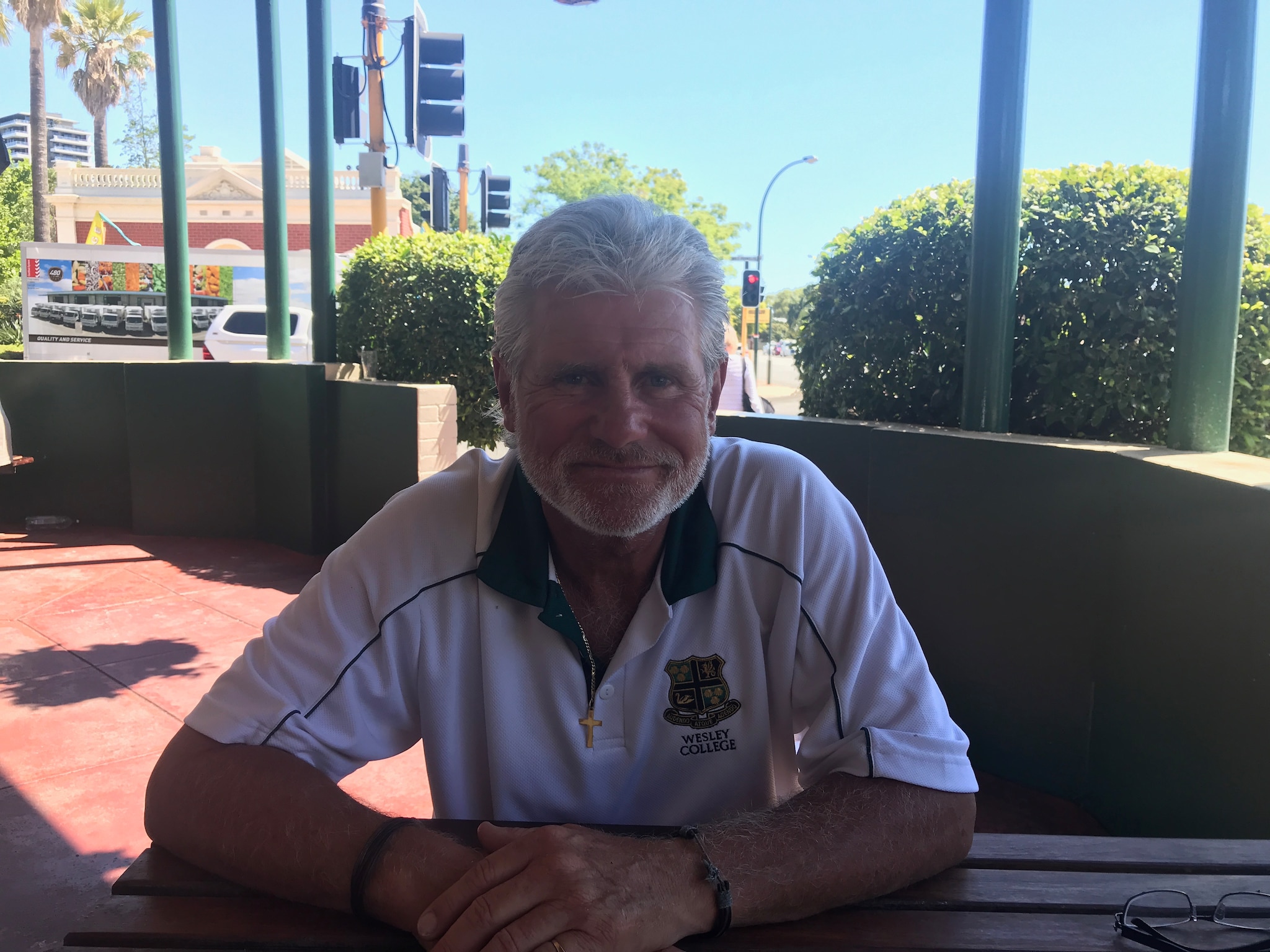 When Robin of Durban, not Locksley, moved to England to play for Hampshire, it was elder brother Chris, who led the way.

"It certainly made it a lot easier for me. Chris is five years older than I am and he joined Hampshire in 1980 as the overseas player to take the place of the great Gordon Greenidge and Malcolm Marshall. Being South African at the time we were regarded as overseas players in England," says Robin.

"Chris had a very good season and he then paved the way for me to come to England, realising that both mum and dad were born in England that we were able to acquire British citizenship, and then the club offered me a four-week trial. After that, they understood that I could qualify as a non-overseas player four years later and they quite liked what they so and I was offered a four-year contract."

Smith, for the uninitiated, was a muscular, mustachioed man's man. He walked with a swagger, he never dabbed a ball he could smash. Hampshire shaped him a fair bit, not least because Barry Richards was a fixture there.

"Barry Richards was my first coach in South Africa. He lived a kilometre from where I did and he was a wonderful mentor. He was a family friend," says Smith. "We used to have a bowling machine in our back garden and he used to come and practice there."

And then came Mark Nicholas, who has since described Smith as the most valuable player Hampshire has produced.

"Mark was the best captain I played under. He seemed to bring out the best in me. He made me relax a bit more. He encouraged me to express myself. He explained to me about anxiety and nerves, about putting the practice in and then going out there, doing your best and not worrying about the result," says Smith. "No fear of failure in this team. Mark was outstanding. Had he been a slightly better cricketer and maybe not so selfish I think he would've captained England."

Perhaps if some of Smith's England captains had more of the Nicholas touch, they would have got more from him? "I'm quite a complex character. There is a bravado about me, but that's not the Robin Smith that I know, deep down. I needed management around me like Mickey Stewart and Allan Lamb, to support me, to back me, to love me, but also to discipline me," says Smith. "I needed that balance in life. I needed care. I needed people to love me, but also to come down hard on me if I was doing the wrong thing. Communication is a beautiful thing in life. Once the old school had left, I don't believe I got enough of that."

In 1996, when Smith was dropped, he had played 62 Tests, scoring 4236 runs at 43.67. He was statistically better than all his peers, and yet he was let go, one fine day. Did that feel like a letdown? "Of course you're going to feel let down. From starting my professional career, and when there was talk about me possibly playing Test cricket. I never thought that way because I was from South Africa, which was isolated from international competition because of apartheid. I didn't have any aspirations of playing Test cricket," says Smith. " I felt there could have been a bit more communication. I had a pretty good run towards the back end of when I was dropped. I do think you live and learn. I was 31, yes I had made mistakes, with my lifestyle, my cricket technique. But I still had five of my best years in front of me. You've learnt from your mistakes."

Speaking of technique, while batsmen from around the world struggled to save themselves from bodily harm against the West Indian pace battery of the time, Smith cracked that code but is known as one of Shane Warne's early bunnies. "I brought him to Hampshire. Whenever he bowled to me in the nets he'd get me out every six balls. I always said to him, go and bowl in another net. He said he was happy bowling here. I told him I wasn't happy, I was the captain and he bloody well go bowl in another net," says Smith. "I said to him: Warnie, I need to feel happy walking out of the nets. I need to feel positive about my game. You just disintegrate my game. I never let him bowl to me in the nets."

But were Smith's weaknesses against spin over-emphasised? "I think it was. I've got a hundred against Murali in Colombo, I've got a good record against Pakistan, a better record than my Test record. When I went in to bat against Waqar and Wasim, with Mushtaq Ahmed around … Even against Saqlain at Surrey. When you bat in the middle order you're going to get out to spin more often than not," says Smith. "Do we say that Mike Atherton wasn't a good player of pace because he got out to Ambrose 18 times and McGrath 19 times? No. Because he's exposed to that. If I was brutally honest, I should have been an opening batsmen because I felt comfortable against quick bowling."

Life after cricket was not initially kind to Smith. "When that bubble bursts, you've got to be well prepared. As I will mention in my book, in the last fifteen years, I've had a few mental issues, a lot of struggles with my life after cricket. Being at the top of your game, one of the best, and when the game is over, if you haven't prepared properly for that, it's very difficult," says Smith, who suffered from anxiety and other mental struggles. "There's nothing worse in life than losing respect. You've got to think to yourself, if nothing changes then nothing will change. You've got to find out what is important to you, to get past where you are. I've woken up nights in cold sweats, tossing and turning, worrying."

Smith is a carer for his parents and one of the reasons he returned to Perth was to be with his ageing mother, who is a chronic diabetic, and is losing both vision and hearing.

"I'm of a culture where they looked after me, and I now look after them. I will not put her into a home. Family is first and foremost. I'm very close to my daughter and son. When I was at my lowest, drinking and all of that, my son was more understanding. For a short time, they lost respect for their father because I'd disappointed them, but they never lost their love for me."

When Smith is not looking after his mum or working full-time, he spends hours coaching at the grassroots level. This is proper giving back to game, not the kind that some stars claim to do when they take up high-paying roles with domestic teams or T20 league teams. Smith is paid almost nothing and will coach a wide range of enthusiastic cricketers, from young kids to amateur club cricketers.

"I don't do it for the money. I love coaching young guys who come to me and say: "I play for the Under-14 B team and I'd love to play with my mates in Under-15A next year. The young guys need to understand they need to work towards a Test-match technique before working on their short-form cricket. You can go from being a good Test player to a short-form player but not the other way around," says Smith. "Everyone always says 'go back to the basics' but if you don't have the basics of technique, then you have nothing to go back to. If someone comes to me wanting to learn to play T20 cricket, go find someone else. If someone wants to learn the basics of batting, of batting technique, be the best batsman he can, then I'm your man."





And he's not bluffing. CricketNext caught up with Pankaj Chandra, an Indian from the small town of Kymore in the Katni district of Madhya Pradesh, who is in Perth pursuing a PhD in Chemical Engineering in Curtin University. Pankaj, who is a top-order batsman and has once played against Mayank Aggarwal in an inter-match, was once captain of IIT Banaras Hindu University. But, after a point, he had to give up playing. In Australia, that has changed. So obsessed with cricket is Pankaj that he actually has the word tattooed on his hand.

"A person of my ability and my talent would never get a chance to be coached by an international cricketer in India," says Pankaj. "Here, Robin Smith tells me when to come to the nets, he operated the bowling machine, gives me a full session and afterwards shows me the video of what I've done wrong and what I've done right. It's such a privilege."

The players of the Curtin Victoria Park Cricket Club, for whom Pankaj plays, compete in the West Australian Suburban Turf Cricket Association. You can be sure most Australian Test batsmen, forget English, have never heard of either. But Robin Smith has, and cricket is better for it.

First Published: December 22, 2018, 3:09 PM IST