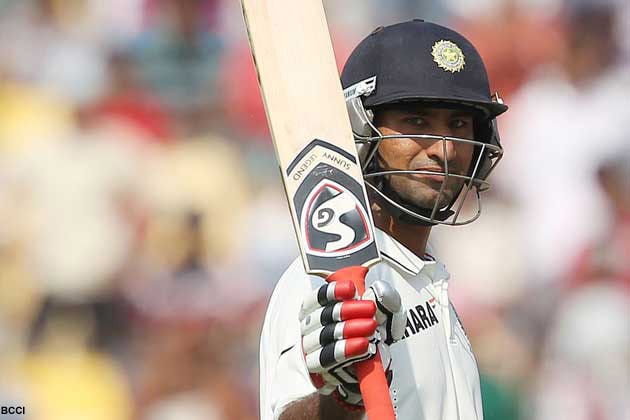 Cheteshwar Pujara is trying hard. That is evident from the way he stands at the crease, watches every ball, stretches well forward to smother the turn and hops back in the crease to defend or force the short stuff, and runs hard at every opportunity he gets to run a single and convert it into a double.
He is also attempting to make up time. The time lost from when he played his third Test, in January 2011 at Centurion, until his fourth, in August 2012 in Hyderabad. The time lost due to knee injury sustained in the IPL which ruled him out of competitive cricket for much of 2011. The time lost from tasting Test cricket against Australia, when he clattered seven fours in an 89-ball 72 to hasten a seven-wicket win in Bangalore.
In Ahmedabad, Pujara entered at No. 3 at the last ball of the 30th over and left 389 deliveries later, with 206 unbeaten runs to his name, which inflated his Test average to 66.12 from 40.37 before this match. That statistic is staggering, his dedication and talent not so much. He may make batting look simple, but this is a 24-year-old who has had to work hard to get here. He knows what it means to grind.
Pujara returned to Test cricket after the retirement of Rahul Dravid, and made an immediate impact with 159 against New Zealand, his maiden century. Scores of 9 and 48 followed. Now, against England, he has a double-century to his credit. In scoring those 206 unbeaten runs, Pujara showed that only a player of immense inner calm can play an innings of such serenity and composure. He was, simply, magnificent. He was composed, almost flawless and, like the man who shoes he has stepped into in the Test line-up, wonderfully graceful. Beneath that lanky frame and dopey walk, behind the squinting eyes and shy smile, there is a cricketer and a half. India must be relieved to come across a batsman to confident and composed at the middle, and particularly so at No. 3.
In his previous Test, Pujara fell for 9 after playing a loose hook shot and then 48 when playing away from the body. Here, he took out the risks and defended very compactly. He wanted to score big. He has a reputation of being a scorer of big innings in domestic cricket and that appetite for big runs was fully in evidence. He played himself in on Thursday, battled to 98 not out at stumps. On Friday, Pujara was the leader in his stand with Yuvraj Singh, on Test return and having struggled on the first evening against Graeme Swann. If he had any nerves on resuming overnight on 98, he didn't show them. An easy single took him to 99, and the landmark came soon after with another single. A restrained celebration followed, that charming smile flashed. I belong here, said Pujara. It was content_cnment more than anything else.
Yes, the Ahmedabad surface was placid, and the bowlers, apart from Swann, lacking discipline. But only a harsh critic would begrudge this innings, made as it was of great sobriety and subtlety. Pujara kept the England bowlers at bay for over eight and a half hours, staved off whatever came his way, unfurled flick after pretty flick, kept looking for runs square on the off side. He played spin and pace comfortably, with his handling of Swann being the most noticeable aspect of his games.
There was no uncertainty as to whether he should leave or play. He was always alert to the chance of a single, those supple wrists forcing the ball away off the stumps. Even when bogged down by numerous strokes going straight to fielders or cut off by eager hands, Pujara was never flustered. Neither did he shut shop. He kept rolling his wrists, kept playing to his strengths. When it was pitched up he leaned his tall frame forward and offered a defensive stroke or a push for single or two. He didn't change his game needlessly, didn't look to manufacture strokes not common to him. It was an admirable policy.
Since returning from injury, Pujara has showed himself to be an unflustered and determined No. 3, which are useful qualities when filling a space owned by the second highest run-getter in Test history. Like Dravid, he is not an easy rider. He has shaken off any early impression of being a flat-track bully. He knows how to respond to pressure. He knows what it means to value your wicket, what it takes to succeed in Test cricket. He will be tested in England, Australia and South Africa, but for now there is no doubt that Pujara belongs in Test cricket. His technique and character prove that. You can be assured that he will keep trying hard, keep trying to improve. It worked for Dravid, and it promises to work for Pujara.