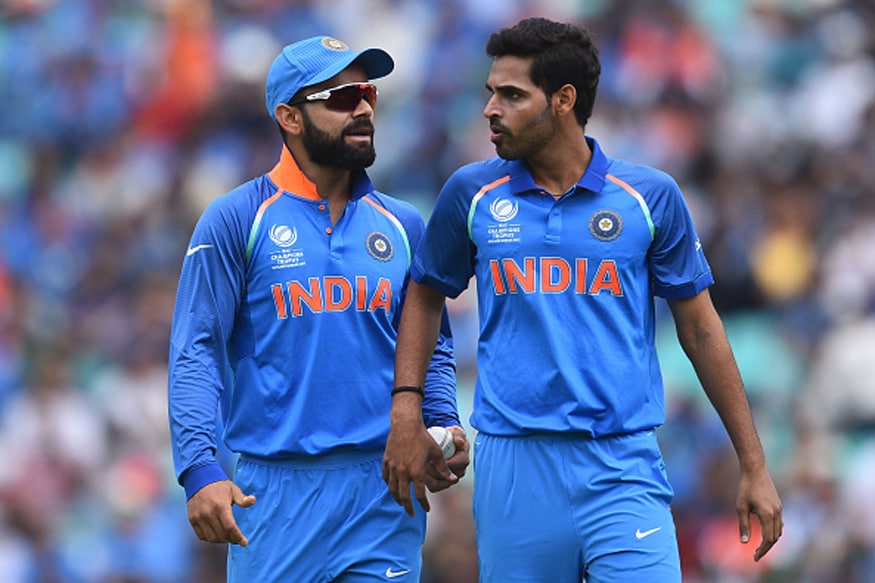 New Delhi: In picking three teams -- for the solitary Test against Afghanistan and T20Is and ODIs against Ireland and England -- the selectors have deployed 28 players all total. Add 24 more in the India 'A' teams (ODIs and 4-day matches), the number swells to 52. This is an interesting development in two aspects. One, it reflects the growing competition between players for the India cap in various formats. Some considered `certainties' in one or more formats have been cut to size, others have got a leg up. By extension, what this means is that no player – even the established ones -- can take his place for granted. In fact, there are multiple claimants for the same position, which means competition for places is going to get more intense.
Secondly – and this is pertinent in the context of the 2019 World Cup – the selectors in conjunction with coach Ravi Shastri and skipper Virat Kohli are clearly still not convinced about what the final squad should be. They still want to try out more players before settling on 17-18 names. This has led to upheavals in the teams chosen. For instance, Rohit Sharma, Ajinkya Rahane and Mohammed Shami who were major domos in all three formats just a while back have had their portfolios hacked: Largely due to their own poor form than for experimentation.
Rohit loses his place in the Test team to play Afghanistan, the selectors allowing Karun Nair another shot to resurrect his career if he makes it to the playing eleven. Shami, plagued by personal controversies and a lacklustre IPL season yet, has been restricted to only the Test side.
The more poignant case is of Rahane. He finds himself now confined to only the Test side, despite encouraging noises made by the team management when he had a fairly fruitful ODI series against South Africa. Does this signal the end for Rohit in Tests, and Rahane and Shami in limited overs cricket? It would be premature, I believe, to write them off. But surely it will get increasingly tough from here to regain lost places such is the bench strength.
Interestingly, four players feature in all three formats: Shikhar Dhawan, K L Rahul, Umesh Yadav and Hardik Pandya. Of these, the first three have been in and out of one squad or the other in recent months, but have won the trust of the selectors with strong performances in internationals or the IPL. Actually, three others who would have been in all three teams are Virat Kohli, Bhuvaneshwar Kumar and Jasprit Bumrah. Kohli has opted to play county cricket as preparation for the daunting tour of England, while Bhuvaneshwar and Bumrah have been rested in anticipation of the workload that lies ahead in the next 12 months.
In my opinion though, only Kohli and Bhuvaneshwar appear certainties in the playing eleven in all three formats against all teams in all conditions. For the rest, there is a battle for relevance and survival. The three most interesting selections are of Kuldeep Yadav (Test), Ambati Rayudu (ODIs) and Sidharth Kaul (ODIs and T20s). These reflect the premium on match-winners in every format. Significantly, in the case of the latter two, the selectors have made age a non-issue. Yadav has been a regular fixture in limited-overs cricket in the past couple of seasons and gets a leg up into the five-day format. It remains to be seen whether he plays against Afghanistan, but clearly Ashwin and Jadeja, who haven't been successful overseas, have been told to shape up.
Rayudu's return is on the back of a hugely impressive performance in the IPL this season. He's among the frontrunner for the Orange Cap, and has been the best and most consistent batsman for Chennai Super Kings. Pushing 33, he's scored over younger claimants because of his versatility. He can bat in any position in the top order, has the ability to switch gears, is equally good versus pace or spin, and remains an outstanding fielder.
Why he should be included in the ODI squad instead of T20is is a valid argument, but is also tell-tale that the team management is still seeking a batsman with experience to for next year's World Cup: If he succeeds in the impending assignments of course.
Sidharth Kaul, no spring chicken since he is from the same batch as Kohli that won the under-19 World Cup in 2008, gets the nod after a decade of hard toil in domestic cricket. His performances in the last two IPL seasons have been the biggest factor in his favour. The IPL, evident from several players who made it to the national side(s), is a splendid platform for aspirants to turn the spotlight on themselves. Kaul has bowled with efficiency, picked up wickets consistently. He's shown high skill, a good mind and a big heart. Now he has to prove himself on the bigger stage.
Have youngsters like Prithvi Shaw, Shubhman Gill, Shivam Mavi – all members of the under-19 World Cup winning team been ignored? I don't think so. The first two feature in the India 'A' side. Mavi loses out because of the preponderance of fast bowlers, but will be on the shortlist surely.
The attempt is to blood these young players gradually, mapping their progress stage by stage. This is good thinking. It builds up ambition, while allowing them the exposure and time to hone their talents and build careers. Taking a top view, the selectors have tried to plug all gaps, rewarding performers – old and new – doing some experimentation and providing scope for youngsters to prove their mettle. This could mean some turbulence ahead as there will be a jostling for places. But such competition should only help strengthen Indian cricket.
Test Squad Against Afghanistan: Ajinkya Rahane, Cheteshwar Pujara, Shikhar Dhawan, Murali Vijay, KL Rahul, Karun Nair, Wriddhiman Saha, Ravichandran Ashwin, Ravindra Jadeja, Kuldeep Yadav, Umesh Yadav, Mohammed Shami, Hardik Pandya, Ishant Sharma, Shardul Thakur
T20I squad for Ireland and England Tour: Virat Kohli, Shikhar Dhawan, Rohit Sharma, KL Rahul,Suresh Raina, Manish Pandey, MS Dhoni, Hardik Pandya, Dinesh Karthik, Yuzvendra Chahal, Kuldeep Yadav, Washington Sundar, Bhuvneshwar Kumar, Jasprit Bumrah, Sidharth Kaul
ODI Squad for England Tour: Virat Kohli (Capt), Shikhar Dhawan, Rohit Sharma, KL Rahul, Shreyas Iyer, Ambati Rayudu, MS Dhoni(wk), Dinesh Karthik, Yuzvendra Chahal, Kuldeep Yadav, Washington Sundar, Bhuvneshwar Kumar, Jasprit Bumrah, Hardik Pandya, Siddarth Kaul, Umesh Yadav
India A Squad for One-day Series Against England Lions and West Indies A: Shreyas Iyer (Captain), Prithvi Shaw, Mayank Agarwal, Shubman Gill, Hanuma Vihari, Sanju Samson, Deepak Hooda, Rishabh Pant (wicket-keeper), Vijay Shankar, K Gowtham, Axar Patel, Krunal Pandya, Prasidh Krishna, Deepak Chahar, Khaleel Ahmed, Shardul Thakur
India A squad for Four-day Matches: Karun Nair (Captain), R Samarth, Mayank Agarwal, Abhimanyu Easwaran, Prithvi Shaw, Hanuma Vihari, Ankit Bawne, Vijay Shankar, KS Bharat (wicket-keeper), Jayant Yadav, Shahbaz Nadeem, Ankit Rajpoot, Mohammed Siraj, Navdeep Saini, Rajneesh Gurbani