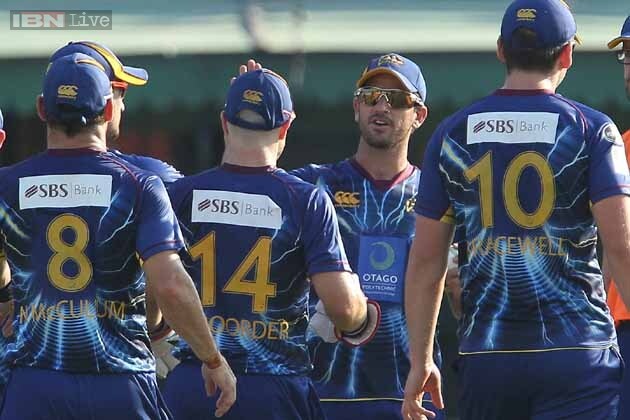 Jaipur: Otago Volts player Derek de Boorder on Saturday attributed his side's long winning streak to sticking to basics with the bat and ball and said they would continue doing that in the ongoing Champions League Twenty20.
"We have been able to script a 14-match winning streak because we have kept our plans simple with bat and ball.
Different guys have been contributing and that has been key to our success. We want to keep that strategy going (in the CLT20)," said Boorder about his team's winning streak, including the three in the CLT20 qualifiers at Mohali.
He said his side were still having a good chance of making it to the semi-finals in CLT20.
"I feel we are in a good position for making it to the semifinals. The match against Lions would be a crucial one. If we win the next match we would be in last four. We have to get from here and try for the semifinal spot," said the wicket-keeper batsman on the eve of Otago's match against Highveld Lions here on Sunday.
Otago are at second position in Group A with six points from two outings -- one win and one match washed out -- and are in contention for a semifinal berth. Rajasthan Royals are at top with eight points from two matches while Mumbai Indians are at the third with six points from three matches.
All-rounder James Neeshan said his side also have good batsmen other than captain Brendon McCullum.
"He (Brendon McCullum) is a fine player but it is the media which has wrongly labeled that our batting depends on his shoulders only. We have an overall depth in our ranks," he said.
"Earlier we were able to win three matches and I don't think Brendon played in either of those. Neil Broom's fine ton in the last match against Perth Scorchers in the previous match here proved that. We can play attacking cricket despite losing wickets only because we have the right balance and depth," said Neeshan.
Talking about the Jaipur wicket, Neeshan said, "It is a good wicket which offers movement and bounce. It's more like those we have back home. It is advantage for us because we have the experience of playing on such tracks."
First Published: September 28, 2013, 1:34 PM IST