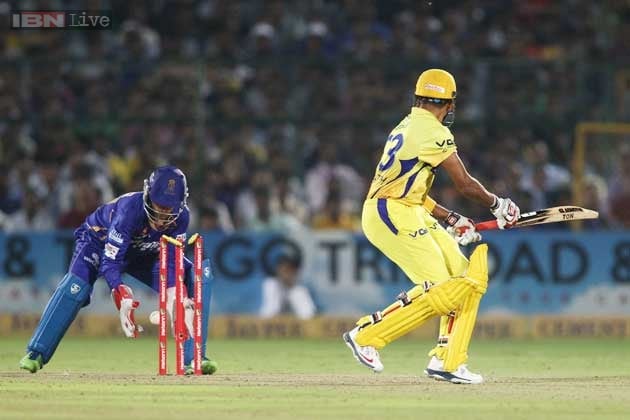 Jaipur: Chennai Super Kings coach Stephen Fleming has attributed his side's 14-run defeat against Rajasthan Royals in the Champions League Twenty20 semi-finals to the batting failure and conceded that his batsmen got panicked in their run chase.
"Usually we are very composed and it is rare our batting has failed in two consecutive matches. There was a lack of calmness in our batting," Fleming said when asked if the loss was due to pressure of a big match or repercussion of their comprehensive defeat against Trinidad and Tobago in their earlier match.
"There were bad shots, Our batsmen were running between the wickets madly and later looked panicking. We lost two quick wickets through run outs and cost us heavily," Fleming said at the post-match press conference last night.
Asked what he thought were the reasons for CSK's batting failure in consecutive matches, Fleming said he will have to analyse it.
"We will have to analyze but it is rare. When 3-4 batsmen fail others used to come good but we lost our composure. There were a couple of run-outs that added to our woes. The lower order brought us closer but we could not pull it through.
"A couple of guys strayed away from their designated roles. Ashwin did very well and Chris Morris supported him. The first few overs, the batsman batted well, and the other team knew the conditions better and I knew their bowlers were going to keep things tight," he said.
Fleming conceded that Rajasthan Royals played "smart cricket" and said that Pravin Tambe's three-wicket burst had caused maximum damage to his side.
"I feel Ajinkya Rahane and Pravin both were important. Rahane batted well to compile 70-odd runs on such a track and Pravin bowled beautifully but pick was the bowling. He bowled well and took three wickets to derail us when it looked like we were on track," said the former New Zealand captain. They (RR) had batted very well and looked set to go around 180 but we were able to restrict them to 159. That has been our strength."
Fleming, however, refused to believe that the itinerary, which saw CSK play at Ranchi, New Delhi and Jaipur in different conditions, was the reason behind his side's poor performance.
"Well, it was a good wicket and the Rajasthan Royals have been winning all their matches here but we were prepared for all these. Perhaps we could not cope with the conditions. Credit goes to the Rajasthan Royals who played smart cricket. We played poor cricket," said a dejected Fleming.
"Royals have won 12 consecutive matches here and that is not a joke. They were smart again using the conditions. They played really good cricket."